Related: the best of the rest of the web, mom bloggers, dad bloggers, parent humor, mommy shorts, motherhood later than sooner, common sense media, the nature conservancy, mo willems, knuffle bunny, happy big day ,



From our December issue, a selection of thought-provoking, laugh-inducing, and just plain interesting thoughts from the web and the world of parenting.
"I don't write for kids. I write for people who haven't learned how to be embarrassed yet."
—Mo Willems, hugely popular, award-winning children's book author, at a recent Manhattan book signing for his latest offering Happy Pig Day! (check out his site, www.mowillems.com, for links to his blog, games-including Knuffle Bunny's Baggage Claim Game, a bedtime game, and a memory game, plus lots more)
You Do the Math
"When you get right down to it, whether you become a mom at 25, 35, or 50...we are all faced with most of the same challenges and joys of parenting. Still, I often can't help doing the math. When I'm in my 60s, my son will graduate from college, and hopefully I'll still be cool enough to throw him one hell of a graduation party! When he's in his 40s, chances are I'll be in a nursing home, despite my efforts to stay fit and eat right. I probably won't be here for him like my parents are here for me today. That's reality, but I don't have to like it, and it makes me cry. But being a 'glass is half full' kind of person, I tell myself I'm doing everything I can to be the best parent, and hopefully when my time comes, I will have left my son with a legacy of independence, strength, courage, and love to face life's challenges without me."
—Margaret Hart blogging on Motherhood Later...than Sooner, for "moms with more life experience than baby experience"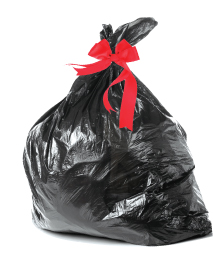 The average American spends about $800 on holiday gifts...and every year between Thanksgiving and New Year's Day, the United States creates
more than 5 million extra tons of trash.
—from The Nature Conservancy; visit their site to learn more about how to "

make your holiday season a little greener, a little lighter

" and learn how to join the fight to save nature in your own backyard and around the world
"My daughter has a new game. It's called 'Annoy the Crap Out Of Mom Until She Hands Over The iPad Or Buys Me An Ice Cream Cone.' She's incredibly good at it. Although, my husband says it's not the kind of skill I should put on her preschool applications. If that's the case, I need the behavior to end."
—Mommy Shorts blogger Ilana in a post called "10 Ways to Stop the Whining"; not much to say other than she's at the top of our must-read list around here, and often you'll laugh until you cry, other times you'll upload outrageous pix of your kids just to see what she may caption them-worth the effort, even if you don't win one of her awesome prizes, we swear
Frightful Facts
"A seminal University of Michigan study showed that teens who watched horror films experienced an increase in anxiety. Other studies about violence have shown that immersion in violent content-and today's horror movies are pretty much nonstop violence-reduces empathy and makes violence less impactful. Sure, our kids know that the movies are fantasy. But their bodies process the fright and gore as if it were real."
—from Common Sense Media, where you can find lots of truly valuable and insightful advice on youth media consumption (all kinds of screens, from TV to telephones), plus lists of horror movies "that will scare kids but not scar them"
---
Get Your FREE Indoor Activity eGuide!
---
More CHILD RAISING Articles
Indulge in Gift-Giving Instincts Without Spoiling You Kids
5 Negative Traits That Will Benefit Your Tween in the Future
NYMP Q&A: Do Fathers Matter?
What to Do About Your Child's Bad Language
Sick Day: A Plan for When Your Child Stays Home From School

Be a good fellow parent and share this with a friend who would be interested
Local CHILD RAISING Sponsors
See Our CHILD RAISING Directory