Dr. Seuss's most popular character stars in a new series on PBS that will lead preschoolers on adventures of scientific discovery.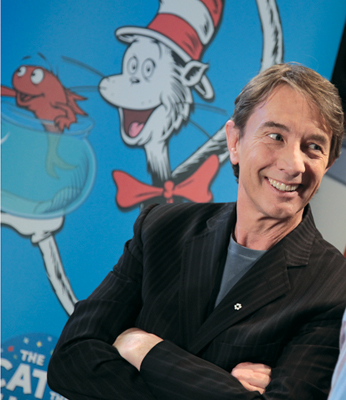 In 1957, a curious creature leapt from the mind of Theodor Seuss Geisel onto the pages of what became one of the most memorable children's storybooks of all time. That curious creature was a cap-touting feline fondly and soon famously known as The Cat in the Hat, a character who has since become synonymous with early literacy advocacy. Now, more than half a century later, Dr. Seuss's iconic cat will try his hand (ahem, paw) at promoting children's scientific exploration with a new television series dubbed The Cat in the Hat Knows A Lot About That!.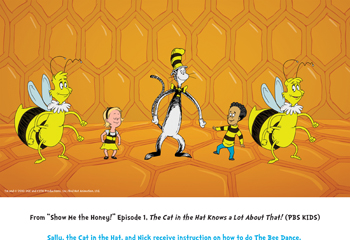 Set to premiere on PBS Kids this Labor Day (September 6), the new show is based both on the original book and the subsequent Learning Library book series published by Random House. The series' aim is as far-reaching as its literary counterparts, which strived to instill excitement about reading in a generation of American kids that were falling behind the rest of the world in basic literacy skills. But The Cat's move from books to television comes with a new mission: to promote scientific exploration and inquiry by encouraging preschoolers' natural curiosity about the world.
Each episode, The Cat guides his two original sidekicks, Sally and Nick (now neighbors instead of siblings), on fun-filled adventures meant to engage them in the process of scientific exploration and discovery. Using The Cat's magical machine, the Thinga-ma-jigger (plus a little help from the Fish, Thing 1, and Thing 2), the three companions set out to answer questions that many toddlers have stumbled across themselves, such as "How do bees make honey?" and "Why does an owl sleep during the day?"
"The show is based on the proposition that when kids are born, they're natural scientists - they automatically experiment and ask questions," says Kate Klimo, Dr. Seuss's Random House publisher and executive director of development for Random House Children's Entertainment. "But in the course of early education, kids somehow get turned off [from science]. Our goal is to give kids a lively start so that the scientists in them will be kept alive."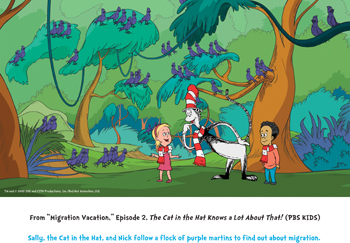 The series is a response to recent findings that children entering kindergarten have significantly lower readiness scores in science than any other topic. "The need is great in this area," says Lesli Rosenberg, senior vice president of children's media for PBS. "We were astounded by the fact that children in kindergarten have negative views about science and scientists - that could cast a shadow over their entire educational careers."
The show's goal, Rosenberg says, is to break down stereotypes and ultimately cultivate positive views about science among the next generation, or "the American children who will become tomorrow's innovators," as she calls them. "We want to give them the idea that they could be a scientist - not the stereotypical image of the nerdy man in a white lab coat, but someone like me or you - and that could be a really fun career."
The look and feel of the show will stay true to Dr. Seuss's original art, Rosenberg says. And while The Cat in the red-and-white-striped hat will maintain his mischievous ways, he will have a new voice, courtesy of Martin Short. "The Cat is mysterious, playful, and a little bit anarchic - all of those things come across in The Cat as voiced by Martin Short," Klimo says. "He's an adult who's not afraid to be silly."
Post-Show Learning
Both Rosenberg and Klimo agree that an important mission of the show is to get parents involved in their children's science education. "At this age, a lot of what helps kids learn is the encouragement and participation of their parents," Klimo says. With that in mind, PBS Kids offers a website component to the show that offers parents advice on how to engage their children in science inquiry and a host of activities that encourage further exploration. "[The website] is not just complementary, it's an immersive world," Rosenberg says. "We offer all kinds of activities that tie in with the series. Parents can come up with ways to take what their child has learned in the show and apply it to real life."

To learn more, visit www.pbskids.org or www.pbsparents.org.