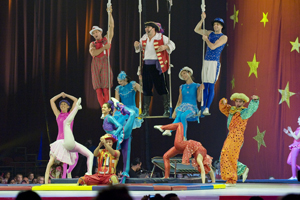 The Wiggles, international children's entertainers, will make cinema history on March 20, with the release of the first ever live-concert movie for preschoolers and their parents. The Wiggles - BIG, BIG SHOW In The Round is a circus-inspired concert that was filmed live at The Acer Arena in the group's hometown of Sydney, Australia, on December 20, 2009.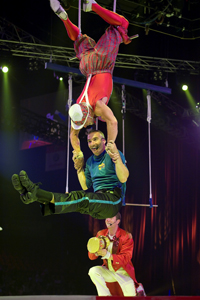 The wiggly extravaganza promises to capture all of the excitement of being at the Big Top; it will feature acrobats, gymnasts, dancers, trapeze artists, and a ringmaster. Of course, Sam, Jeff, Murray, and Anthony will be there too, along with Wags the Dog, Dorothy the Dinosaur, Henry the Octopus, Captain Feathersword, and the world famous Wiggly dancers.
Presented by The Wiggles and CinemaLive. For a complete listing of participating theaters, visit www.cinemalive.com. For further information on The Wiggles, visit www.thewiggles.com.