Related: school lunch, budget, save money, finance, family finances,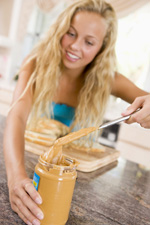 Is it possible to supply your child with a yummy, nutritious school lunch every day while still saving pennies? Yes, it is, according to the experts - that is, according to this sample of New York-area parents. Here are their tips that will help keep your family's annual school lunchbox expenses under control.
Dos
Buy in bulk - especially for those items you know your kids won't suddenly decide they detest. One time-and-money-saving idea is to buy large bags of frozen berries or sliced peaches: stick a few in your child's lunchbox each day and they'll defrost by lunchtime.
Invest in a reusable water bottle. Why not make the most of good quality tap water or filtered water? Providing water instead of a juice box or fruit drink not only saves a lot of money but is better for your child's teeth and health.
If you do give juice, buy in large boxes, transfer to your own bottles and, depending on how much your kids are likely to object, dilute. According to the American Academy of Pediatrics, children under 6 should be limited to four to six ounces of fruit juice a day, while older children should be limited to eight to 12 ounces. One typical eight-ounce juice box will wipe out that whole allowance for younger children, so why not just give them a small glassful at breakfast?
For all sorts of foods - applesauce, chips, air-popped popcorn - buying in large jars or bags instead of individual ones and transferring to your own small Tupperware boxes will save money and give you that inner glow of knowing you're doing the right thing for the planet.
How about making your own? Applesauce is pretty quick and easy to stir up. Treat foods like Rice Krispies squares or cookies will seem a little bit more virtuous if you know what ingredients went into them.
Celebrate peanut butter. Unless your child's class has a nut ban, peanut butter can be a miracle lunch staple. If you buy the unprocessed kind that doesn't have added sugar or trans fats, and when you buy in bulk, it's cheap and very healthy. Peanut butter is a powerhouse of protein (8g per serving), fiber (2g), vitamin E, magnesium, potassium, and vitamin B6. And you don't have to stick to the standard PB&J. Why not try peanut butter and cream cheese, peanut butter and honey, peanut butter and lettuce, peanut butter and banana (you don't have to do the deep-fried Elvis Presley thing for this to taste good)?
Embrace leftovers. If you're making something simple and delicious like homemade pizza for dinner, make a little extra and pop a slice in your child's lunchbox the next day. Or try this easy version of fried rice: heat up last night's rice with a little olive oil, an egg, salt and pepper, soy sauce and - if your child doesn't faint at the sight of anything green - perhaps some scallions or peas. Grate a little cheese on top and - voilà - all four food groups!
Don'ts
Don't pack more than your child will eat. That end-of-day ritual of emptying the soggy cantaloupe from Tupperware boxes is both dispiriting and a waste of money. Have a good think about what food breaks your child has during the day and how much they're likely to want, and stick to that.
Wean yourself from the Ziploc bag. Before school begins, buy some small reusable metal or plastic containers that will go in the dishwasher, and strike the disposable stuff from your shopping list. You'll feel ecologically responsible and you'll save money.
Did I mention juice boxes? Sorry to be repetitive, but ditto.
---
Get Your FREE Indoor Activity eGuide!
---
More Nutrition Articles
Fun And Easy Ways To Get Your Kids To Eat Breakfast
Family Fun in the Kitchen: Fake Out Food
A Parents' Guide to Raising Healthy Kids
How to Use Your Freezer: Tips from 'America's Dinner Mom'
Stuff We Like for Kids: Fun with Food

Be a good fellow parent and share this with a friend who would be interested
Local Nutrition Sponsors
See Our Nutrition Directory