Cancelled flights…lost luggage…delays and traffic…screaming kids. The list of challenges is endless. When it comes to travel, it seems that problems and delays are the norm, not the exception. The key is to be prepared for anything that comes your way. Only then will arriving at your destination be as simple as your morning drive to work or school.
   Unfortunately, most travelers are unprepared for even the smallest travel glitches. And although they may have made numerous trips in the past, each with its own problem or two, people still don't plan for setbacks when the next trip rolls around. As a result, they get frustrated when traveling and may even start to avoid it.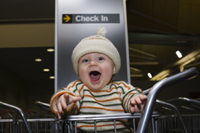 To make your next trip hassle-free, take the approach that everything will go wrong. That way you're prepared to handle whatever comes your way and no challenge will derail your plans for fun. Here are some key steps to take before, during, and after a trip to make travel as stress-free as possible:
1. YOUR PRE-FLIGHT PREPARATIONS
—Create your travel binder, a small binder (5" x 11") that will hold all your travel document essentials. Include your airline ticket (or electronic ticket confirmation), photo ID, passport (if needed), expense log, receipt envelope or pocket, cash, passes or membership cards, and your frequent flyer or frequent stay identification numbers. Laminate a single card that has all your frequent flyer information. Keep your travel binder with you at all times, in an outside pocket of your carry-on bag.
—When you choose your flight, never reserve the last flight scheduled before you need to be at your destination, even if that means arriving at your destination a day early. If you are trying to board a cruise ship or attend a specific event, make sure you have two flight times you can fall back on. Remember, flights get cancelled, grounded, and delayed every day. You need a backup so you can still make it to your destination on time.
—Pack lightly enough that you can personally carry all your luggage without assistance. You may not need to carry it all by yourself, but you want to be able to, should the need arise.
2. TRAVEL DAY ESSENTIALS
—Label everything, even your carry-on luggage. And don't forget kids' bags, too! Count on checked luggage not returning with you if you don't have your label and contact information on it. And always assume that you'll get separated from your carry-on bag for some reason. Make it as easy as possible for all your belongings to find their way back to you.
—Check with your airline for any travel or security measures. Each airline has different guidelines for number of checked and carry-on bags you're allowed, weight and/or size limitations for baggage, and restrictions on what items you can bring aboard the plane. Also check the TSA website (www.tsa.gov) for any updated security checkpoint guidelines.
—Plant a cash reserve in several different locations: on your body, in your travel binder, in your carry-on, etc. Items often get lost or stolen, and you don't want to be stranded without any money. Also remember to bring small bills for tips as well as larger bills for greater expenses.
—Allow ample time. Calculate the length of the drive to the airport, including traffic delays. Double the amount of time you think it will take. Calculate how long it will take you to shuttle from the parking area to the airport entrance. Double it. Calculate how long it will take you to get through security and to your gate. Double it. Plan on things going wrong and schedule time for delays.
3. TRAVELING WITH KIDS
—Don't wait until the night before the trip to get everything laundered and packed.  A common mistake parents make is to stay up late the night before their flight getting things ready for the trip — and then they are fatigued and agitated on the trip.  This affects the kids and makes them react to their agitated parent. Getting adequate rest before traveling is every bit as important for both parent and child as remembering to pack everything.
—Don't bring anything that has to be carried on your shoulder, such as a diaper bag or purse. Transfer everything to luggage that is on wheels. Traveling is fatiguing enough without wearing yourself out hauling luggage. Don't load backpacks for your kids to carry. A worn-out child can make a miserable travel companion.    
—Pack supplies to keep your children physically comfortable. Be mindful of how much space each item consumes. Use travel sizes whenever possible. Make sure everyone is wearing comfortable clothing that is not binding while sitting, and good footwear so all the walking in the airport doesn't make their feet hurt.  
—Pack foods that are filling but not bulky. Check your airline's website for guidelines on what security will allow in a carry-on bag.
—A small child on a flight may have a tendency to spill their drink, getting their clothes all wet, and ending up miserable for the rest of the trip. You may want to pack a change of clothes for small children in your carry-on luggage. Try to pack clothes that don't add much bulk to your luggage.
—Pack supplies to help your children pass the time. Again be mindful of how much space each item consumes. An iPod Video can entertain them just as well as a laptop or DVD player. Activity books and games come in travel sizes. Try to find a smaller version of each item you are considering packing. Pack twice as many activities as you think they will use. You'll be surprised at how quickly your children lose interest in one activity and are ready to move onto something else.  
—Be prepared with a list of discussion topics! An airplane provides a parent with a captive audience. Use your time on the plane as an opportunity to bond with your child. Talk with them about their activities — school or club, their dreams and ambitions, their worries, their friends, their needs.
4. POST-TRIP PLANNING
—Begin preparing for your next trip as soon as you return from the current one. Restock all your travel size toiletry containers so you're ready for your next flight. If you wait until the next trip to prepare, chances are that in your rush to get everything done, you'll forget some essential items.
—Clean out your travel binder and have it ready for the next vacation. Sort through your receipts. Restock your travel binder with any updated papers or cards, and replenish your cash reserve.    
Fly Through the Challenges of Air Travel


   Realize that you can use these same suggestions for business travel, thus making your business trips truly relaxing. All it takes is a little planning and forethought. In the end, airline travel, whether for business or pleasure, doesn't have to be the headache so many people make it out to be. By simply following a few guidelines before, during, and after your trip, you can make any travel experience stress-free and enjoyable.
CHRISTI YOUD is a speaker, trainer and organizer who helps companies and individuals increase productivity, with her company, Organize Enterprise, LLC. She is also the author of 'Organize Your Office for Success' and 'Organize Your Home in 10 Minutes a Day'. A free download of her "25 Quick Tips to Finally Get Control of Your Messy Environment" is available at www.OrganizeEnterprise.com/25quicktips. To contact her about keynotes or training, visit www.OrganizeEnterprise.com or call (801) 756-3382.