You don't just go through 47 years without learning a thing or two … and it's evident that the Paper Bag Players have crammed a whole lot of expertise into their almost five decades of performing live children's theater. Paper Bag performances are tot-sized vignettes for ages 4-8, fitting snugly into a small child's attention span, yet appealing to a parent's amusement and sense of humor. All props and costumes are created from some form of natural paper, like cardboard boxes and brightly painted brown craft paper.
Founder and artistic director Judith Martin strives to consistently create shows that mirror the unpredictability and spontaneity that children use naturally to play. A typical season consists of a series of weekend shows for the public, with weekday performances for schools. As of now, the theater company has 26 plays in their repertory and has toured 37 U.S. states and several foreign countries. In addition to winning numerous awards, they are the only children's theater to ever receive an OBIE, and last year Judith Martin was given the "Playful People Award" from Nick Jr.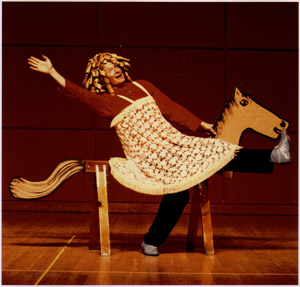 What makes the Paper Bag Players stand out among countless children's theater performances is that they have uniquely fine-tuned their plays to bring an elevated sense of excitement specially suited for children. The plays are combinations of skits that are neither patronizing nor simplistic; they are simply fun. Always part of the fun is the audience participation; lots of kids' theater includes this, but the Bags incorporate such active involvement, children end up playing an integral role in the storyline. Often, kids will have to jump or stamp or even scream in order to have a character resolve their problems. Live music is another strong component, and the lively and downright silly tunes get the kids — and most adults — up and dancing. Active, younger children aren't required to be quiet and sit still during the performance, which makes it fun for everyone!
Pineapple Soup! is the Bags' latest production. This show features one story of a girl and her little brother who learn how to ease their sibling rivalry (with the audience's help, of course!). Another sketch begins with a mundane laundry day that suddenly turns zany when the laundry runs away. The closing number, entitled 'Pineapple Soup', gets everyone up on their feet, jumping, dancing, and singing.
If you haven't yet caught a Paper Bag performance, Pineapple Soup! will be playing at various locations in the city through March 25: Kaufman Concert Hall at 92nd Street Y, Tribeca Performing Arts Center at Borough of Manhattan Community College, Symphony Space, Jewish Museum, Kingsborough Community College in Brooklyn, LaGuardia Community College in Long Island City, and College of Staten Island. Tickets range from $10-$25. For specific times and locations, call (800) 777-2247, or visit; www.paperbagplayers.org.