From holiday traditions new and old to gifts both classic and of the moment, we've got a seasonal smorgasbord of holiday tales and toy recommendations from NYMetroParents staff members and friends.
Traditions & Memories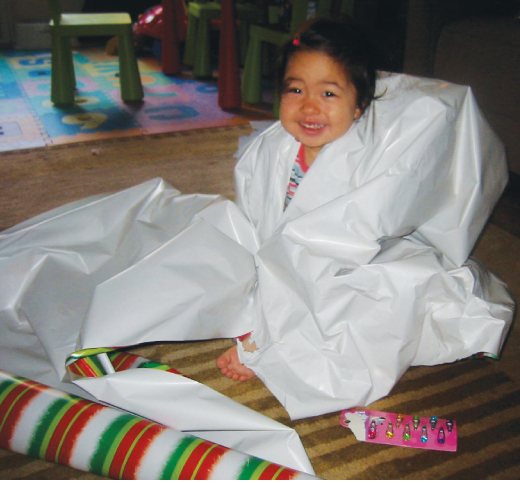 "My favorite holiday memory as a parent is when my daughter, Maddy, decided to wrap herself up with the paper I was about to use for her presents four years ago. I had just laid out the roll and turned around to get scissors and tape. Soon I heard the roll start unraveling and giggling. I decided to let her be for a few minutes and stepped away. When I returned, I found her peeking out from under the mound. I knew then that she was going to enjoy all the wrapping paper from the gifts more than the gifts themselves."
- Catherine, founder of Moms in Weston, CT, a blog for moms by moms (www.westonctmoms.wordpress.com) about her then-2-year-old daughter, pictured (Maddy is now 6 and enjoys makeshift dresses from embroidered scarves)
"We participate in a friend's toy drive each year, and the schools are great by providing a 'giving tree' where kids can buy a gift for a family in need."
- Judy Samuels, Westport mom to two girls (ages 12 and 16) and one boy (18), and an NYMetroParents senior account manager
See more holiday traditions and memories from NYMetroParents staffers and friends:
Holiday Mashup

Especially in NYC and its surrounding communities, dual-faith families are commonplace -- and each has its own personal approach to embracing the holiday season. See blog posts from some of our NYMetroParents staffers on how they strike the right balance between Christmas and Hanukkah:
Menorahs and Trimmed Trees in Fairfield

Seasonal Insights
"I'm sure you are already thinking of ways in which to create special holiday memories for your children, but when you do them together as a family, that joy is there for YOU to enjoy, too."
- Issa Mas, born-and-bred New Yorker, single parent life coach, fabulous single mom to a 4-year-old boy, and blogger at Single Mama NYC

See more advice for the holidays from NYMetroParents staffers and friends:
Tidings of Joy: A Mom of a Special Needs Child Counts Her Blessings
A Girly Girl Gives in to Guy Gifts
How to Get Holiday Shopping Done with a Toddler in Tow

Gift Recommendations
Whether you celebrate Christmas, Hanukkah, Kwanzaa, or a different winter holiday, we've got some great gifts to please even the most hard-to-buy-for kid or spouse.
10 Great Retro Toys for Kids of All Ages
Five Great Gifts Made in the NYC Area