The DR2 Theatre is home to two different parent rockers this fall.  On Sundays, it's Melissa Levis — 'Moey' — making her off-Broadway debut. On Saturdays, Morgan Taylor returns with Gustafer Yellowgold's Mellow Sensation.
   Moey has been rocking the city for three years, with repertoire culled from the songs she made up for her son, Monty, now 4.  Her new show, "Moey Live -- P is for Party!," combines funny, peppy songs with audience interaction – and an educational component.  She asks her audience for words that start with the letter 'p' so she can throw a party; kids can suggest things like pizza, princesses and pirates. Moey uses props, including puppets and pompoms, to get creative juices flowing.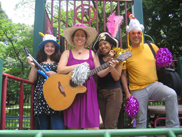 Levis is hoping to be for the preschool crowd what her aunt, Wendy Wasserstein, was for literary New York.  She has fond memories of attending the theater with her aunt and is motivating the under four-foot crowd with her high-energy shows. The Upper East Side mom has been teaching music at York Avenue Preschool, Gym Time Rhythm & Glues, and P.S. 158, and last summer created a Sandbox Sing-a-long series for the Central Park Conservancy.
   Meanwhile, Morgan Taylor, a new dad from Brooklyn, offers his multimedia show with a combo of new and old songs.   For those who don't know, Gustafer Yellowgold is a yellow cone-head from the sun that supposedly lives in the woods of Minnesota.  The show includes projections of giant animated illustrations, what Taylor calls a "musical moving book."  Taylor performs with his wife, Rachel Loshak.
   Both shows are appropriate for kids up to age 8.  And both offer special birthday parties. The theater offers two free tickets when you buy 10, so you can bring a group inexpensively.  Moey invites children who are celebrating their birthdays onstage for a personalized birthday song, and Taylor dedicates his song, "I Jump on Cake," to the birthday child.
Info:
When: Gustafer Yellowgold's Mellow Sensation is on Saturdays, September 20-December 6; Moey Live -- P is for Party! runs September 21-October 26. Showtimes are 11am and 1pm.
Where: 103 East 15th Street
How much:  $25 at www.telecharge.com
For more info: www.dr2theatre.com