Consider bypassing pricey hotel rooms in favor of the comforts, convenience, and amenities of your own vacation rental home. Check out some options near New York City, including Long Island and Connecticut, as well as those outside the New York metro area, and get tips on how to choose the best vacation home for your family.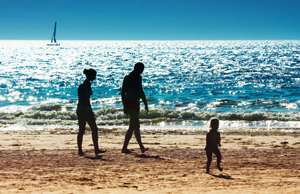 Do you want to spend half on your next vacation? If the answer to this is a resounding yes, then it is time to consider investing in a vacation rental home for your family. According to Homeaway Inc., families that opt to buy their own condo, timeshare, or beach house will be spending an average of 50 percent less per square-foot for their accommodations than those who typically stay in hotels.
Renting your own vacation home cannot only save you money in the long run, but it can also limit the amount of stress you encounter during your stay. Used to jamming your clan into a tiny hotel room? Forget it; you'll have lots more space. Do you scrimp on buying souvenirs because the cost of dining out adds up so quickly? Don't worry; you'll likely have a full kitchen in which to prepare at least some of your family meals (plus, bonus together time!). And while on-site laundry can be a double-edged sword (who wants to be folding clothes on vacation, after all?), the benefits outweigh the ick-factor - by packing less you avoid excess-baggage weight fees from airlines, give your back a break, and will spend less time prepping for your getaway, and you'll avoid the mound of laundry that would await upon your return home by getting it done on the last day of your trip (always worth the effort in hindsight).
In addition, as you will see from a few properties within driving distance from our region that we highlight below, amenities abound - and are typically included - with the purchase of your vacation rental home. Most resorts that have properties for sale also provide fun activities to keep all ages of your family content and busy, too.
How to Get Started
Just like planning a vacation, buying a condo starts with the same thought process. You must ask yourself: What kind of vacation am I looking for? If you want an escape by the sea, visit www.4rentbythebeach.com, where you are able to search for affordable vacation rentals that are close to the water. Or if a theme park vacation is more your family's speed, consider using www.endless-vacation-rentals.com, which features plenty of condos located along Disney's Boardwalk Villas or Animal Kingdom complexes in Orlando, FL. These vacation homes include air conditioning, a kitchen, and access to a child's pool, hot tub, game room, and childcare service.
There are many different companies and directories that can be of assistance to you and your family while you research what is right for you all across the country. The aforementioned Homeaway Inc., for example, operates a number of websites which list more than 300,000 condo rental options in the U.S., and a few international properties as well. Some of the tops sites are: HomeAway.com, Vacation Rental By Owner and VacationRentals.com.
Before you commit to any property, it is essential to determine that the space is right for you. Are there enough bedrooms for everyone to sleep comfortably? Are the accommodations nice and spacious? Does the property feature all the amenities you desire? Think about what incentives are important to you. Are cleaning services, childcare, or pet care requirements for you?
A Sampling in Driving Distance
There are plenty of vacation rental home options in the greater New York City metro area. Families can head out to the Eastern tip of Long Island and stay with The Cliff Side Resort or at Montauk Manor. Both of these properties have fun activities for children and also offer great opportunities for the parents to enjoy the great wine this region of Long Island is known for.
Just a two hour drive from New York City, families can find Lakeridge in Litchfield Hills, Connecticut.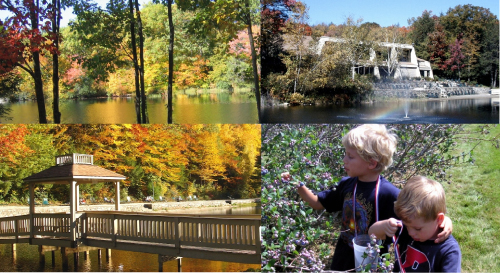 Lakeridge in nearby Litchfield, CT, is a gated community that has amenities including tennis courts, recreational lodges, indoor and outdoor swimming pools, and more for your family.
A 235-acre plot of protected forest preserve, this gated community features nearly 500 homes that are available for vacation rental. With two recreational lodges, nearly 20 tennis courts, indoor and outdoor swimming pools, a fitness center, private garden, and even a place to golf, Lakeridge is great for family members of all ages. It is also perfect for all seasons: There are riding stables on the premises for a summer trot, and snow-making capabilities for skiing in the colder months. For kids, there is a fishing dock, playground, and rowboats to amuse. There are plenty of organized activities including parades, cookouts, swim races and arts-and-crafts.
Jillian Ryan is a freelance travel writer who lives in Astoria, Queens. Her family never owned a vacation home while she was growing up, but they spent many of their trips renting one out for the week ("if only we'd known...!").