Got a little girl who loves to throw around a pigskin? A Billy Eliot-wannabe who dances his heart out? When your child takes the sports road less traveled by his peer group, there may be challenges along the way - but have no fear.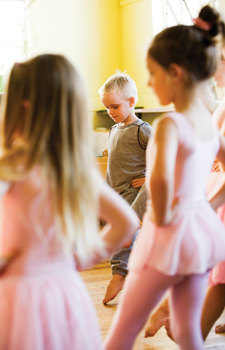 Kathy Campbell wasn't surprised when her daughter, Lauren, first got interested in hockey at age 5. In fact, she was proud Lauren chose to follow in her footsteps. Kathy had been a hockey player, and Lauren's older brother played as well. Yet when little girls choose rough-and-tumble sports like football or hockey and boys opt to don gymnastics attire or ballet shoes, their parents' reactions vary. Some are alarmed. They worry about whether their children will thrive in an environment that's dominated by opposite-sex peers, even whether they should encourage their child to test other more "appropriate" sports.
Parents need not be alarmed, however, says Joanna Dolgoff, a Midtown East pediatrician. All sports provide a chance for children to get exercise, gain a sense of achievement, and set and work toward goals. Additionally, children learn how to manage successes and failures. Most will gain self-confidence as they learn new skills, which can lead to a heightened level of self-esteem. Those that choose to participate in team sports learn leadership skills, and may have the opportunity to socialize outside of their school setting, which also allows them to meet children of different backgrounds.
Yet for boys or girls who choose to participate on an opposite-sex sports team, there may be disadvantages.
Boys who choose to pursue female-dominated sports such as dance or gymnastics have few advocates, which increases the need for parents to encourage their sons. Boys who want to be dancers may enjoy watching professional male dancers in performances like The Nutcracker, which has several male parts and features action-packed fight scenes. Watching Olympic athletes excel is often advantageous as well.
Parents who are worried about boys who choose these sports being at a disadvantage later on when it comes to physical fitness, though, should not fret. These sports, which help children get the recommended hour of physical activity a day, also help children build flexibility and strengthen muscles that don't get toned in many other sports.
There are also plenty of examples of more stereotypical sports stars who participate in these sports. Many professional football players take up ballet, yoga, and other more "feminine" sports in the offseason to make sure their bodies are strong enough to handle the pressures of competing during their regular seasons.
Girls who choose to participate in male-dominated sports may not stick out as much as boys who opt for female-dominated sports; but those who play on teams do have a slight disadvantage. For example, when girls play on hockey or football teams, many feel like they are being ignored by coaches who are more comfortable coaching boys. Often, in these cases, girls may feel frustrated because their teammates won't pass to them, or they ignore the girls' contributions. At times, the female participants feel like they are only noticed when they make mistakes, Dolgoff says.
Campbell, however, says Lauren has never faced discrimination. Instead, she played co-ed hockey for eight years and fit right in. When Lauren decided to move to an all-girls team, her decision was based on rule changes within the sport. Once boys reach a certain level, they are allowed to check, which is more likely to cause injuries. Women's hockey doesn't allow checking. In fact, Campbell's decisions align with the Women's Sports Foundation's guidelines that are geared at making sure females are given a chance to excel in all athletic avenues. The organization acknowledges there is no psychological reason to separate girls and boys in sports competitions before reaching puberty. Injuries, though, are more common for girls who play sports, especially after puberty when women's bodies acquire fat more readily and boy's bodies develop muscle more quickly.
According to Ohio State University researchers, while playing soccer, girls are 1.5 times more likely to suffer concussions. While playing basketball, they're three times more likely than their male counterparts to suffer the same injury. Also, because of body mechanics, girls are five times more likely to tear their anterior cruciate ligaments (A.C.L.s) than their male peers.
Girls who manage to play through or avoid injuries, however, can have incredibly bright futures. Earlier this year, Lauren Campbell helped New Canaan High School win the Fairfield County Interscholastic Athletic Conference Girls' Ice Hockey title as well as the Connecticut state title.
"Girls are looked upon as true athletes when they play hockey around here," says Campbell, of her Fairfield County community. "It's very accepted."