While most kids have at least a passing knowledge of the great dinosaurs that once roamed the Earth, probably very few know about what was going on below the surface. The giant creatures that swam there are the subject of
Sea Monsters 3D: A Prehistoric Adventure
, now showing at the IMAX Theatre Palisades Center, in the Palisades Center Mall in West Nyack.  
  The G-rated film, a National Geographic production, begins by explaining that 85 million years ago, America was split by a vast inland sea that covered what are now states, including Kansas and South Dakota. Through dramatization and animation, we follow the story of the weird and wonderful creatures that called this sea home.  
  With amazingly realistic computer-generated animation, we get to see up close creatures such as the lizard-like Platecarpus and the long-necked Styxosaurus (which had a neck 20 feet long!).  And with the magic of 3D, the animals seem as close as your nose. In fact, the film might be too intense for some younger children — the creatures are just too scary-looking as they appear to lunge out the water right at your seat.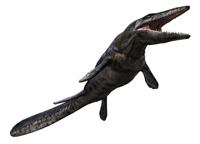 Intercut is documentary footage of amateur and professional fossil hunters who went about figuring out what these creatures looked like. We meet Charles Sternberg and his sons, who stumbled upon the bones of a Tylosaurus in Kansas in the early 1900s. At 40 feet long, it was at the top of the food chain in the prehistoric sea. As evidence, a six-foot fossil of a fish is found inside the Tylosaurus' belly, and we join the scientists in trying to figure out how the big creature could have died so soon after eating.   
  We also follow the story of a female Dolichorhynchops as she and her twin brother are born and then face the terrors in the open sea.  These were air-breathing creatures that glided along under the water. The Tylosaurus figures prominently in what happens to these little creatures; once again, the action might be too intense for some children.  
 The photorealistic computer-generated images are fabulous, just as you would expect from National Geographic, and the narration by actor Liev Schreiber strikes the right note.  The movie runs about 45 minutes — the right amount of time to hold most children's attention without overloading them with facts and special effects. And as an adult viewer, I learned how much more there is to pre-history than the tried-and-true Tyrannosaurus Rex.   
Info:


Where:
The IMAX Theatre Palisades Center, in the Palisades Center Mall, 4270 Palisades Center Drive, West Nyack
When:
Through February 2007. Check website for daily show times.
How much:
$9.75 adults, $8.50 seniors, $7.50 ages 3-12
For more info: (845) 358-4629;
www.imax.com/palisades