UPDATED JUNE 2014: Our guide features horseback riding stables in the New York City area, including NYC, Long Island, Connecticut, and the NYC suburbs of Westchester, Rockland, and Bergen County, NJ. Find where to take a riding lesson or pony ride near you.
If your child is begging for a pony, and all you see are dollar signs, it might be worth considering all the benefits horseback riding brings to kids.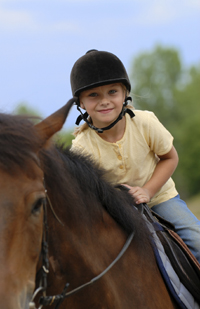 Exercise is one, of course. Riding is aerobic, but it also builds muscle strength and increases balance, not to mention coordination, visual spatial skills, faster reflexes, and all-round circulation.
But riding offers more than just physical benefits. A child who is able to master the skill of synthesis with such a graceful, large animal will have improved self-confidence, self-discipline, and the appropriate ability to take risks. A child caring for a horse learns patience, care, respect, and responsibility.
Here's a list of New York City-area horseback riding stables that offer children's riding lessons. Don't forget your helmet!
New York City

Bronx
Bronx Equestrian Center/Pelham Bit Stable
9 Shore Road
718-885-0551
English- and Western-style riding lessons available by appointment for ages 6 and older. Walk-only trail rides offered daily; trail riding lessons offered by appointment in Pelham Bay Park. A children's summer program is offered weekly from late June through mid-August for kids ages 6-17 interested in horses and horsemanship. Birthday parties and pony rides are also available.
Riverdale Equestrian Center
Van Cortlandt Park, West 254th Street and Broadway
718-548-4848
The center offers lesson programs for young riders as well as adults. An after-school riding program features lessons in riding, grooming, stable management, and horse care with pick-up at some Manhattan schools. The center's summer camp (offered weekly throughout the summer) features riding lessons, leisure rides, and horse care. Volunteer opportunities for teens ages 16 and older are also available.


Brooklyn
Kensington Stables
51 Caton Place, Kensington
718-972-4588
Offer English- and Western-style lessons for ages 6 and older in Prospect Park or a small indoor arena. Trail rides through Prospect Park are available for all riding levels. The stable also hosts a therapeutic riding program for kids with special needs through GallopNYC.


Jamaica Bay Riding Academy
7000 Shore Parkway, Mill Basin
718-531-8949
Private and family lessons are offered for kids of all ages and levels. Private and group trail rides, pony rides, and birthday parties are available. Summer camp for ages 5-15 includes daily lessons, beach riding, arts and crafts, and animal care. There is an elementary and middle school/high school riding team for appropriate ages and skill levels.
Queens
Lynne's Riding Center
8803 70th Road, Flushing
718-261-7679
Lessons are available to beginner and seasoned riders as young as 6 in Forest Park or the school's indoor arena. Birthday parties and pony rides are also offered. Beginner horse camps are offered in the summer and feature riding, horsemanship, grooming, arts and crafts, and more. School and scout programs are available upon request.
Staten Island
Richer Farm
322 Sharrotts Road
718-967-0742
Instruction available by specialized trainers. Located near Claypit State Park riding trails in a 300-acre preserve. The farm does not offer rental horses for trail rides.
Seguine Equestrian Center
440 Seguine Ave.
718-317-1121
The center offers riding lessons for all ages in English style. Trail rides are not available at this location.
NYC Suburbs
Bergen County, NJ
Bergen Equestrian Center
40 Fort Lee Road, Leonia
201-336-3370
Beginner to advanced riding lessons are available daily, except Mondays. For advanced riders, there are specialty trainers for each discipline, including jumping, hunters, equitation, and dressage. An after-school program and full-time summer camp are also offered.
Pony Power Therapies at Three Sisters Farm
1170 Ramapo Valley Road, Mahwah
201-934-1001
Offers therapeutic riding and hippotherapy for children with special needs. Sibling program and summer day programs are available. School groups are welcomed weekly for lessons and classroom activities.
Saddle Ridge Riding Center
900 Shadow Ridge Road, Franklin Lakes
201-847-9999
The center offers beginner to advanced lessons with experienced trainers. Guided trail rides are offered daily for a maximum of five people. Birthday parties and other parties for special occasions are available for up to 15 people. A summer camp for ages 5-15 is also offered.
Rockland County, NY
Country Lee Farm
103 Ladentown Road, Pomona
845-354-0133
This farm offers riding lessons for all ages and skill levels, including therapeutic riding with certified trainers. Instructors here specialize in dressage, hunters, jumpers, equitation, and Western. A daily summer riding program is offered for children ages 6-17.
Minetto's Stonehedge Farm
220 Spook Rock Road, Suffern
845-357-8887
Lessons are provided for all experience levels, as well as grooming/tacking and stable management lessons. The farm has both outdoor and indoor riding rings, and it features the RideKind therapeutic riding program for those with emotional, physical, and psychological special needs.
Nickel-O-Farm
369 Strawtown Road, West Nyack
845-358-8081
Private Western- and English-style riding lessons are offered for ages 4 and older. There is a petting zoo on site and "pony parties" are available. There is a summer riding program June through August in which kids ride, learn to groom the horses, and complete arts and crafts and special activities.
Ramapo Equestrian Center
1152 Route 202, Suffern
845-354-7669
Private English- and Western-style lessons, jumping, and dressage lessons are available. Birthday parties and horse/pony rentals are also offered. Summer camp runs daily through Aug. 30; campers take lessons, learn stable management, and participate in arts and crafts, games, and outdoor activities.
Top of the Line Stables
300 Schoolhouse Road, Chestnut Ridge
845-735-5979
Half-hour private lessons are offered six days a week for beginners to advanced riders. Riders are encouraged to learn horse care as well. After-school and summer programs are also available. Facility includes an indoor ring, two outdoor arenas, and a tack shop.


Westchester County, NY
Boulder Brook Equestrian Center
291 Mamaroneck Road, Scarsdale
914-725-3912
Private and group lessons for children and adults (ages 4 and older) are offered at Westchester's largest indoor riding ring. Its summer camp, teen camp, and winter camp include daily lessons in riding and stable management. Pony rides are given daily and birthday parties are available on Sunday afternoons.
Chicory Meadow Farm
76 Jack Road, Cortlandt Manor
914-737-7814; [email protected]
Group, semi-private, and private lessons are offered daily. Customized lessons are available based on a rider's specific needs, abilities, and goals. A summer camp is offered that features hands-on horsemanship, riding, horse care, arts and crafts, nature walks, picnics, and games. The facility includes indoor and outdoor arenas.

Fox Hill Farms
204 Old Sleepy Hollow Road, Pleasantville
914-769-9813
English-style riding lessons available in a group or private setting. All trail riders must be approved by an instructor; guided rides are available once per season in spring, summer, and fall. A weekly summer camp in June and July includes riding lessons, horse care, and games.
JT Farm
1125 Route 35, South Salem
914-763-3705
Provides lessons for all levels and all ages. Facility includes 45 miles of trails, an indoor ring, two outdoor rings, and a Grand Prix field.
Stratford Stables
120 Cottage Ave., Purchase
914-939-9294
Offers year-round lessons for ages 6 and older. Small mini-camps are available during school vacations and include lessons in horsemanship. A summer camp is offered June through August for ages 6-12 and features riding, grooming and tacking the horses, and art projects. Birthday parties are also available.
Twin Lakes Farm
960B California Road, Bronxville
914-961-2192
Private, semi-private, and group lessons are available daily, year round. The farm's summer camp includes riding lessons, horsemanship, and arts and crafts.
Westchester Trail Rides
6 Croton Lake Road, Croton-on-Hudson
914-827-9765
This stable offers guided horseback trail riding for all ages. Trails traverse more than 7,000 acres of land surrounding the Croton reservoir and dam. English and Western riding styles are accepted. The stable also has horses for sale.
Connecticut
Fairfield County, CT
Blue Spruce Farm
626 Wheeler Road, Monroe
203-268-6774
Lessons in English and Western riding are based on principles of yoga and tai chi. The farm has a therapeutic riding program for children with special needs, offers 45-minute guided trail rides, and hosts group events that include pony rides, hay rides, and theme parties. The farm's summer camp includes daily riding, grooming, saddling, therapeutic massage and meditation, swimming, and pizza parties.
Larkspur Farm
93 Silver Spring Road, Wilton
203-762-2995
Private and group lessons are available by appointment. There is a summer camp for ages 7-14 that allows campers to ride daily and learn about horse care and stable management. The facility includes indoor and outdoor rings for year-round lessons.
Sasco River Farm
203-292-8452
Sasco River Farm will open in September 2014. It will offer private and group lessons for adults and children (5 and older) of all abilities. Birthday parties and regular lessons will be available. Call for more information.
Silver Horseshoe Riding Stable
350 Wolf Harbor Road, Milford
203-874-2168
Group, private, and semi-private lessons are offered in English and Western styles. The stable has an indoor riding arena and a lighted outdoor arena. Birthday parties are offered but space and time is limited.
Spring Meadow Farm
918 Wheelers Farm Road, Milford
203-877-4784
Private and group lessons for ages 4 and older of all ability levels. The farm hosts a summer horsemanship and riding program. Therapeutic riding lessons are available based on NARHA standards.
Long Island
Nassau County
Bethpage Stables
499 Winding Road, Old Bethpage
516-531-8007
Offers Western and English riding lessons and trail rides for ages 12 and older in Bethpage State Park. Night rides are offered in the summer. A therapeutic riding program is available for ages 5-21 of all skill levels. A "mommy and me" program for ages 18 months to 5 years includes horsemanship and some riding instruction.
Nassau Equestrian Center
62 Route 106, Jericho
516-342-1771
Lessons are offered for ages 6 and older, beginners through advanced. Semi-annual horse shows are held to showcase students' progress. Summer camp is offered June-August for ages 8-14 in which kids ride twice a day and learn to care for a horse. Guided trail rides are given for two to four people ages 12 and older. The center also offers special programs/events for Girl Scouts.
New York Equestrian Center
633 Eagle Ave., West Hempstead
516-486-9673
Private English- and Western-style lessons are offered for all ability levels. Group lessons are for intermediate-level riders to advanced jumpers. Guided, hour-long trail rides are given through Hempstead Lake State Park for those ages 13 and older. Programs for Boy and Girl Scouts are offered, and birthday parties are available. Weekly summer camp programs are offered from late June through the first week of September, Monday-Friday from 9am-3pm. After-school fall and spring programs are also offered Monday-Friday (students choose one day per week to come in for an hour and a half).
Suffolk County
Babylon Riding Center
1500 Peconic Ave., West Babylon
631-587-7778
Lessons in Belmont State Park for beginners to advanced riders with private lessons, trail rides, and riding evaluations. Birthday parties are available at the ranch or your location in Suffolk County.
Country Farms Camp and Equestrian Center
200 Bellport Ave., Medford
631-345-9585
Lessons are taught to all ability levels. The facility includes 14 acres with an indoor arena. Summer camp runs Monday-Thursday in July and August for children who have completed at least five lessons. Birthday parties are available upon request.
Deep Hollow Ranch
Route 27 (3 miles east of Montauk Village), Montauk
631-668-2744
Western-style beach and trail rides are offered for beginners to advanced riders. Private, guided rides are also available. Tours, trail, and beach rides for school and group trips are offered upon request. Pony rides are offered on site.
East End Stables
171 Oak View Highway, East Hampton
631-324-9568
Riding lessons and horse training are offered on site. The facility includes an indoor ring and two outdoor rings. Pony camp runs through the summer, daily (except Wednesdays) from 9am-12pm.
Island Hills Stables
26 Rocky Point Road, Middle Island
631-924-4046
Group and private lessons are available. Toddler pony rides for ages 3-5 are given every Sunday from 12-3pm. There is a summer camp in July and August with riding lessons, grooming and tacking, and recreational activities (Monday-Friday 9am-2pm). Two-hour birthday parties are also available.
Rising Stars Equestrian Center
347 West Hills Road, West Hills
631-923-1313
Private and semi-private lessons, group lessons for intermediate/advanced riders, and mini lessons for kids are all available. After-school, holiday, customized, and birthday programs are offered. At the center's summer camp, which runs from June through August, kids can ride, groom, bathe, and tack a horse as well as play games.
Sagamore Hill Stables
7 Downs Road, Huntington
631-549-9178
Private riding lessons are offered Tuesday-Sunday by appointment for ages 5 and older of all experience levels.
Sweet Hills Riding Center
Sweet Hollow Road, Melville
631-351-9168
Private and group lessons are offered to riders from beginner to advanced level. The center gives hour-long guided trail rides in West Hills County Park for ages 8 and older, with a minimum of two people. Pony parties are offered at your location. A summer camp for children ages 6-14 includes daily riding lessons, trail riding, grooming, horse-themed activities, and more.