If you have a strong lock on your bathroom door, buy a copy of Peeing in Peace and settle in for one of the funniest mirrors on the dilemmas faced by modern moms.  Written by Westchester's Beth Feldman and Yvette Manessis Corporon, founders of Role Mommy, the book examines returning to work, multi-tasking, mom wardrobes, play-dates, and potty-mouthed toddlers. Feldman, a TV publicist, and Corporon, a TV producer, both have two children and have mined their experiences for a hilarious look at mom life in the work world.  Role Mommy.com, a website where moms can cyber-chat — their tagline is "parenting by experience, not expert opinion" — hosts events where moms can put down their Spongebob Squarepants backpacks and meet other like-minded women.  At a recent Role Mommy event at the Children's Museum of Manhattan, moms who had a crayon or an action figure in their purse won a special prize.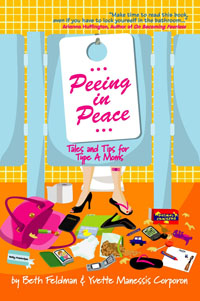 Feldman and Corporon, who each lived in NYC, have both settled in Westchester to raise their kids — Feldman in New Rochelle and Corporon in Bronxville. Feldman and her husband, Darin, have a daughter, Rebecca, 7, and a son, Dylan, 4. Corporon and her husband Dave, are the parents of Christiana, 5 and Nicholas, 3.

   Peeing in Peace:  Tale and Tips for Type A Moms (NK Publications, $13.95) reveals the dirty secret that "as much as you look forward to Fridays, to finally having the weekend home with your family, sometimes you look forward to Mondays even more…you know you're a working mom when you sometimes go to the office to relax."

   Throughout the book, they offer comparisons of "B. C. before children, and after diapers A.D."  For example:

Conference Calls:

"B.C. Those extremely productive phone calls where several bright, eloquent and successful professionals come together to share ideas, exchange information and ask for your input and opinion on making important business decisions.
"A.D.  Those maddening telephone conversations where your children are screaming in the background as you simultaneously speak on your cell phone, office phone and type away on your PDA and desktop, while trying to arrange your child's play-dates, carpool and soccer schedule.  Tip:  The mute button works extremely well in these situations."

   The funniest section in the book, on play-dates, something that every mom, working or not, can relate to:
Play-date Paranoia — "This is the most stressful play-date by far…
   'Are you kosher?  Is this a nut free environment?  Are those crayons non-toxic and do you use pesticides on your lawn?  Is that coloring book age appropriate? We don't believe in television and video games are out of the questions?  What about the beverages?  If you don't have 2% growth hormone free organic milk then he'll just have water, not bottled, fluorinated tap water that's been filtered, of course."

   A common theme throughout Peeing in Peace is the importance of finding like-minded moms, and the authors make sure to credit those who helped them.  At their Role Mommy events, they celebrate "Mothers of Reinvention", women who have changed their lives while raising a family.  The cover of the book was designed by Design-her Gals, which created the Gal to Gal Foundation to raise awareness and support for stage 4 breast cancer patients; a portion of each book sale benefits the Foundation.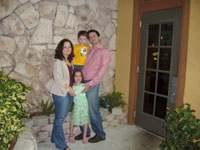 Author Feldman of New Rochelle, with her family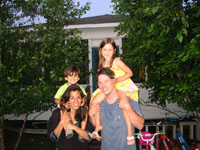 Author Corporon of Bronxville, with her family