We've hand-picked these winter-themed gift items to help ease your holiday shopping this year. Here's what should be on your list: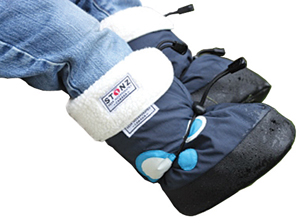 Bundle Up, Baby
These must-have Stonz Booties slide on easily over your child's bare feet, socks, slippers, footie pajamas, or Stonz Bootie Linerz (pictured on model) to keep toes toasty and dry. They're fleece-lined, water- and wind-resistant with a soft, skid-proof sole for developing feet, and have adjustable toggles at the calf and ankle for a custom fit. (Sized for newborn to age 3; $42.95 for booties; $17.95 for liners; www.stonzwear.com)
Hats off to The Children's Place for their latest line of fleece winter hats - they are so cute, kids might just keep them ON. Pictured is the ladybug, but there are plenty of other wild and wooly creatures to go around, from a monkey to a tiger, and a teeny penguin for newborns, too.(Sizes 6 months - 4T; $7.50 for hat, $7.50 for mittens; available at The Children's Place and www.childrensplace.com)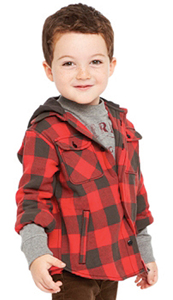 Get your camera out: Your boy wonder will be ready for his outdoor close-up in this cozy hooded shirt (and what could be better than lumberjack-inspired red plaid for trekking to cut down your own holiday tree?!). (Boys sizes 4-7; $36; available at JCPenney stores and www.jcpenney.com)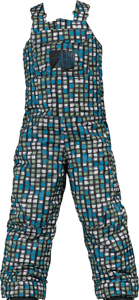 We hear you: Why invest tons in outerwear that they'll only outgrow...like, tomorrow? Well, this Cyclops Bib Pant is not only waterproof, lightweight, and breathable, it has Burton Snowboards' unique Room-To-Grow feature, allowing the product to extend a whole size (two extra inches of leg and arm length!) to keep up with growth spurts-and give you bang for your buck. ($89.95; available in Burton Snowboards stores and at www.burton.com)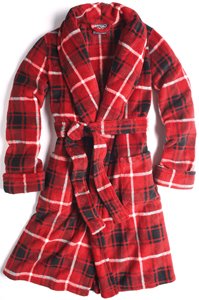 Home, Sweet Home
Dad's setting up the tree, the kids are in their jammies. Why not slip into something more comfortable yourself-like this ultra-soft plaid robe from American Living? ($58; available at JCPenney stores and at www.jcpenney.com)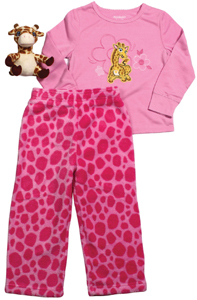 Cuddle up with the kids for hot cocoa and a bedtime story-but first, deck them out in Garanimals Sleepwear. The cute gift sets come with a mini plush animal. ($10; available at Walmart)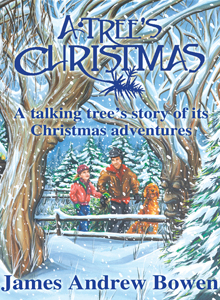 The hardcover children's chapter book "A Tree's Christmas" comes in a gold embossed case, making it a special gift-and the circle of life story about a family's beloved holiday tree, told by a 13-year-old narrator and inspired by author Andrew Bowen's own daughter, makes it memorable. ($9.95; available at Barnes & Noble stores and at www.atreeschristmas.com)
Hit the Snow!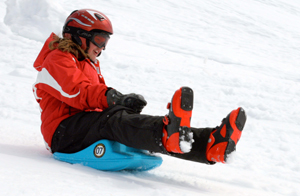 Treat the kids to the Zipfly Mini Luge Sled, a compact and lightweight ride that zips down hills and is easy to carry back up. Equipped with a special lever for stability and control, it's simple to maneuver and quick to stop. Comes in a variety of colors. (Ages 5 and up; $39.95; www.discoverystore.com)
Also see: Where to Cut Your Own Christmas Tree in NY, NJ, and CT