When your relatives don't live right around the corner, heed our tips to help your kids stay close to them in other ways.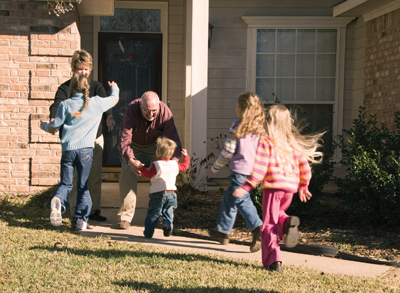 My mother recently came over with a bag of brightly-colored plastic eggs for my 3-year-old daughter Maren. Listening as they filled the eggs with beads and shook them while belting out made-up words to the tune of "La Cucaracha," my heart lifted...and fell. My daughter adores her grandmother. Yet, in a matter of hours, Grandma would be on a plane headed home, and it would be another four months before they would get to play again. And selfishly, my mother's departure also meant the end of a little reprieve for my husband and me. Four more months until my mother would again say something amazing like, "Let me take the kids this morning - you two go back to sleep." Don't get me wrong: I love raising my kids in the NYC metro area. But every time a relative visits, the excitement on my kids' faces and that window of help have me wishing that we lived around the corner, not across the country.
Coping with distance can be tough. The good news is that there are lots of ways to keep geographical distance from putting real emotional distance between your kids and their relatives. And if you ever find yourself curbing feelings of envy for friends who have a "built-in" support network of nearby family, we've got a few tips to deal with that too.
Words and Pictures
Talking about your far-flung family often is an easy way to keep them around. If something in your everyday life reminds you of your relatives, share it with your kids. "My father loves forsythia, so I started pointing it out to my daughters if we'd see it on our walks," says Jennifer Gilligan, mom of twin girls in Brooklyn. "Now they're always on the lookout for Pop Pop's favorite flower - and I love that it makes them think of him, even though he lives in Maryland and they don't see him every day."
Photos are especially helpful for babies and toddlers who don't see their relatives very often and sometimes forget between visits. Create a photo flip book using an online service like Shutterfly or Mixbook, or slide photos into the cushiony, wipeable pages of the Sassy Who Loves Baby? book (available at www.drugstore.com). As your child flips through, remind him of everyone's names and try to include details to help jog his memory.
Snail Mail
Kids love to get mail. Set up a pen pal relationship with one of your child's favorite relatives and then help him write a letter or make a special card. As you work, remind your child about the special times he and his relative have shared, or plan out what activities they can do on their next visit together.
The next time your little Picasso sidles up to his coloring book or easel, help her decide which relative will receive the finished product. For the cost of a postage stamp, faraway family will love the decorative additions to their refrigerators or office walls, and your kids will delight in seeing their masterpieces on display on their next visit yonder.
Another idea? Begin a progressive story to be completed with the help of distant relatives. Help your child write a line or two, then ship it off to Grandma and Grandpa so they can add a couple more sentences - and repeat until the story is complete.
My husband's parents send our kids a gingerbread house kit every Thanksgiving. After we construct it, Maren and her brother send back a thank-you note and plenty of photos capturing the fun-filled, sugar-coated construction. Why not create your own care package tradition?
Getting Wired
Kids of almost any age can get on the phone, even if they're just listening to the voice coming from the other end. "I've been putting the girls on the phone with my parents since they were babies," says Gilligan. "Now that they're older and can talk back, I make sure to fill my parents in on our recent activities beforehand so they have plenty of topics to get the girls chatting."
The pervasiveness of technology makes it simple to do one better: Free videoconference services like Skype or Gizmo Project enable you to have real-time, face-to-face chats with far-off family. Michelle Gurner, a Fairfield, CT, native and mother of one, says, "We have regular Skype dates with my son's grandparents. I love that he can hear their voices and actually see when they smile back at him." With videoconferencing, you and your kids have the opportunity to get imaginative and go beyond just chatting, too. Take storytime online, for instance, and ask Grandma to read a book to your toddler. Have your kids show off their latest school projects or even play a game of checkers with a distant loved one by aiming the webcam at the game board and talking through the moves.
Story Time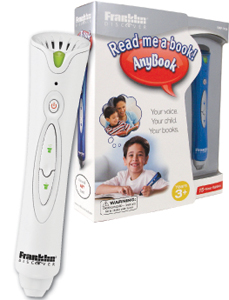 Reading to a young child is a wonderful bonding experience. When Grandma or Poppy can't be physically present for the bedtime ritual, their voices can still do the storytelling with these new products that help to keep families close. Military moms and dads who are away from their kids for long stretches of service will also appreciate knowing their warm voices will comfort their kids from afar.
This month, the company behind Record a Story (pictured below) is partnering with the USO and the United Through Reading Military Program to create Operation Record a Story in November. Since 1990, United Through Reading has been sending kids videotapes of their military parents reading books aloud for them. The program, which is free-of-charge for military members, also encourages parents or caretakers at home to photograph or videotape the child enjoying the book and DVD they receive, and then send the photos or videotapes back to the service member. Operation Record a Story takes the program to a new level by adding a recordable storybook to the mix. As a child turns the book pages, the story is literally read to them by their parent.
The AnyBook Reader (above) allows you to record your voice reading any book you love, in any language. The process is simple and opens your whole library up as options. ($39.99-$59.99; available at www.amazon.com and select Barnes & Noble stores)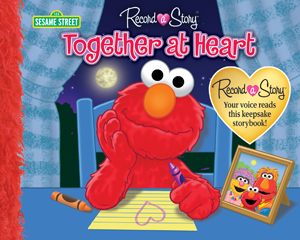 Family members can team up and narrate a Record a Story book (left), since each page is recorded separately. Our favorites: Guess How Much I Miss You, an original story about missing a loved one who is far away; and Sesame Street: Together at Heart, in which Elmo brings loved ones close. ($19.99 each, available at major retailers)
Can a mom get some help here?

Your kids aren't the only ones who miss their relatives. Without the comfort of family close by, it's easy to be envious of your friend who summons her mother to watch the kids every time she wants to meet her husband for a romantic dinner. Instead:

• Extend your "family." Build a support network out of parents and friends you already know and trust. Perhaps there is another family from your toddler's playgroup who would love to trade off Friday night babysitting once a month. Or if multiple moms are interested, consider starting a babysitting co-op where families exchange babysitting hours instead of money.
• Look on the bright side. Sure, you can't call Mom to swing by for last-minute sitting duty, and you've got to shell out hard-earned cash for your caregiver. But keep in mind that you're pretty assured to get the specific care you ask for in this arrangement. None of the frustration of family not respecting the house rules (extended bedtime hours thanks to Grandpa, or junk food doled out by Nana, anyone?)!
• Network. In all likelihood, your family doesn't want to hear every minor detail of your parenting life, anyway, no matter where they are. So check out online parents' forums or bulletin boards to swap potty-training woes and get real empathy for your perpetual lack of sleep!
• Act like the kids. It's sometimes easier to make sure our children are disciplined about keeping in touch - we can sit them down to write that letter, or plop them in front of the computer for a Skype date. Just remember to pick up the phone when you've got the itch for your parents' love or reassurance, too - don't deprioritize that so you can make the kids' lunches. The comfort of the connection will last a lot longer than the few minutes it takes to reach out.

Finally, remind yourself that the kids won't be young and completely dependent on you forever. One day you will send them off to summer camp or college and get that romantic weekend away. In the meantime, enjoy every minute of making that pen pal card or listening to the one-sided phone conversation with Grandma. Personally, I'm hoping that Maren's sweet little voice on the line will entice my mom to bump up her next visit a month or two. Cross your fingers for me!
Cora Waring is a freelance writer and full-time mom who lives with her husband and two kids just outside of New York City. When she's not writing or chasing her kids around, she teaches Spinning at a local gym chain.