UPDATED MAY 2014: Explore zoos, nature centers and botanical gardens in New York City, Long Island, Westchester County, Rockland County, Fairfield County, CT, New Jersey and the entire New York Metro area. Read through our guide to find petting zoos, arboretums, nature preserves, farms and public gardens, all packed with fun nature activities for the whole family. Let your little ones loose to try their hands at zoo feedings and touch tanks, explore wooded trails, and learn about exotic plants. The spring season is the perfect time to explore the outdoors.


Bronx
The Bronx Zoo
2300 Southern Blvd., Bronx
718-367-1010
Hours: (through Nov. 2) 10am-5:00pm Monday-Friday; 10am-5:30pm weekends and holidays
Admission: $16.95; $14.95 seniors $12.95 ages 3-12; free for children younger than 3; Wednesdays are suggested donation days
Immerse yourself in an animal adventure with the tropical residents inside JungleWorld, get up close with lemurs and crocs in Madagascar!, and see the scaly, spectacular World of Reptiles! Plus, hop a ride on a camel, watch penguins and sea lions enjoy mealtime, and ride the Bug Carousel year-round.

Manhattan
American Museum of Natural History: The Butterfly Conservatory?
Central Park West at 79th Street, Upper West Side
212-769-5100
Hours: 10am-5:45pm daily through June 22
Admission: $27; $22 seniors and students; $16 ages 2-12
Enter a re-created tropical forest environment filled with more than 500 live butterflies.
Central Park Zoo?
64th Street and 5th Avenue, Central Park
212-439-6500
Hours (through Nov. 2): 10am-5pm Monday-Friday; weekends and holidays 10am-5:30pm
Admission: $12; $9 seniors; $7 children ages 3-12; free for children younger than 3

This zoo is best known for the daily feedings of the sea lions at 11:30am, 2pm, and 4pm. You can also visit penguins and polar bears at the Polar Circle exhibit and meet snow leopards at the zoo's newest exhibit. The exotic indoor rainforest is home to endangered species such as Tamarin monkeys, Wyoming toads, thick-billed parrots, and red pandas. Admission includes entry to the Tisch Children's Zoo, where kids can feed and pet llamas, bunnies, and a barnyard full of friendly animals.


The Cloisters Museum and Gardens?
99 Margaret Corbin Drive, Fort Tryon Park?
212-923-3700;
Hours (March–October): Seven days a week, 9:30am-5:15pm
Admission (recommended): $25; $17 seniors; $12 students; free for children younger than 12 (when accompanied by an adult)??

A medieval annex of the Metropolitan Museum of Art, the Cloisters were designed based on horticultural information found in medieval treatises and poetry, garden documents, and works of art. A central garden is set in a courtyard with arcaded walkways, while another garden area contains nearly 300 plant species that were grown during the Middle Ages. A third, smaller garden blooms with flowers through the fall. The Cloisters regularly hosts programs and workshops for kids and families; check the website for upcoming events.


Conservatory Garden in Central Park
Central Park, entrance on Fifth Avenue at 105th Street, East Harlem
Hours: 8am to dusk daily
Admission: FREE
This six-acre garden features French, Italian, and English designs. The French North Garden contains the Three Dancing Maidens fountain. Seasonal plants include 20,000 tulips each spring and 2,000 Korean chrysanthemums each fall. An Italian Central Garden features crabapple trees, wisteria, and a lush lawn. The English-style South Garden, planted to be enjoyed year-round, features the Burnett Fountain, depicting a young boy and girl based on characters from The Secret Garden by Frances Hodgson Burnett. Conservatory Garden tours are offered on Saturdays at 11am from April through October. Tours meet inside the Park at Vanderbilt Gate, Fifth Avenue between 104th and 105th streets.
Parks across Manhattan, such as Theodore Roosevelt Park, Riverside Park, and Jackie Robinson Park?
Hours: April–September, daily, sunrise-1am
Admission: FREE

Every month, new flowers and trees bloom in these parks and others across the city. Plants such as crocus, daffodil, butterfly bush, Asiatic lilies, roses, Hollyhock, cherry trees, and many more can be seen and smelled by all.
Queens

Alley Pond Environmental Center?
228-06 Northern Blvd., Douglaston?
718-229-4000
Hours: Monday-Saturday 9am-4:30pm; Sunday 9:30am-3:30pm (closed Sundays during July and August)
Admission: FREE; donations accepted
The center is an aquatic and terrestrial habitat and nature preserve that features a learning center and environmental laboratory. The center offers animal, science, and nature programs for both children and adults. The site also hosts monthly events, including nature walks, workshops, and an Evening with the Stars astronomy program. There is also a small mini zoo/live animal room that has turtles and rabbits.
Corona
718-760-6565
At 1,255 acres, it's the largest park in Queens, which means there's plenty of recreational space. The park is home to the Queens Zoo, Queens Museum of Art, Queens Botanical Garden, New York Hall of Science, Arthur Ashe Stadium (home of tennis' U.S. Open), Queens Theatre, Citi Field (home of the Mets), an aquatic center, a carousel, six playgrounds (including a wheelchair-accessible playground for kids with all abilities), and two lakes. In the summer, trees and flowers in bloom include the Cornelian cherry tree, forsythia, redbud tree, tulips, horse chestnut tree, roses, and other planted beds.


Between Jackie Robinson Parkway and Park Lane South, Forest Hills/Woodhaven
718-235-0815
Hours: Dawn to dusk, unless otherwise posted
Admission: FREE, excluding golf course and carousel rides
In this large, multi-neighborhood park, there is a golf course, carousel ($3 per ride), seven playgrounds, a picnic area, hiking trails, and a walking and bike trail that weaves through the entire park. Visitors can also explore the park on horseback.


Between North Channel Bridge and Cross Bay Bridge on Cross Bay Boulevard, Broad Channel
718-318-4340
Hours: Sunrise to sunset daily; 9am-5pm daily for visitor center
Admission: FREE
A 1.75-mile loop trail features views of West Pond, Jamaica Bay, and an osprey nest. A shorter trail, a little less than a mile, features views of East Pond and bird life. There is a wide variety of programs offered at the site, including presentations on seasonal wildlife, sunset tours, hikes, boat trips, family programs, and an annual lecture series; check the website for details.


43-50 Main St., Flushing?
718-886-3800
Hours: (April–October): Tuesday-Sunday 8am-6pm. November–March: 8am-4:30pm Tuesday-Sunday (free admission during the winter)
Admission: $4; $3 seniors; $2 students and children ages 4-17; free for children ages 3 and younger; free for all Wednesdays 3-6pm and Sundays 4-6pm; group rates: 20% for groups of 10 or more
Includes the Queens Rose Garden, Green Roof Plant Collection, Fragrance Walk (shrubs, perennials, and bulbs that are especially fragrant during the growing season), Children's Garden, Bee Garden, and other thematic gardens and historic plantings. Visitors can see a variety of different plants in bloom each month. The garden regularly hosts programs that demonstrate environmental stewardship, promote sustainability, and celebrate the rich cultural connections between people and plants. Children can get involved by planting vegetables, herbs, and annual flowers in the Children's Garden during QBG's spring, summer, and fall Children's Garden sessions.


73-50 Little Neck Parkway, Floral Park
718-347-3276
Hours: Grounds open 10am-5pm daily. April through November: Hayrides ($2) and farmhouse tours offered weekends, 11am-4pm; farmer-led tours offered the first Saturday of the month.
Admission: FREE, except on special event days
The farm is the longest continuously farmed site in New York State. The site includes historic farm buildings, a greenhouse complex, livestock, farm vehicles and implements, planting fields, an orchard, and an herb garden. Each month offers new events and programs.


53-51 111th St., Flushing?
718-271-1500
Hours (April 4-Nov. 2): Monday-Friday 10am-5pm; weekends and holidays 10am-5:30pm.
Admission: $8; $6 seniors; $5 children ages 3-12; free for children 2 and younger; free parking
Besides being home to a wide variety of wildlife—from penguins, to mountain lions, to Andean bears—that visitors can view at their leisure, the zoo also offers a walk-through aviary and hands-on learning experiences for kids with an emphasis on wildlife conservation. Young children can also relax and explore in the Discovery Center, which offers projects and special activities along with a library full of animal-themed storybooks and games, a microscope and fossils, and a crafts station. Plus, watch California sea lions Taylor and Butch flip for fish during their 11:15am, 2pm, and 4pm feeding times at the sea lion pool in the center of the zoo.


32-01 Vernon Blvd. (at Broadway), Long Island City
718-956-1819
Hours: 10am–sunset, daily
Admission: FREE
This outdoor park features large-scale sculptures and hosts free weekly workshops for children, in which they can work with a different artist each week (workshop schedule is posted online). Popular family programs include the Kite Flight on May 10 and the Long Island City Bike Parade on June 7.

Brooklyn
Brooklyn Botanic Garden

990 Washington Ave., Crown Heights
718-623-7200
Hours: Tuesday-Friday 8am-6pm; Saturday-Sunday and holiday Mondays 10am-6pm
Admission: $10; $5 seniors and students; free for children younger than 12; free for all on Tuesday (all day) and Saturday 10am-12pm (except during special events). Combo tickets, which include admission to the Brooklyn Museum, are available at a 10 percent discount.
A 52-acre "living museum" with various plant collections and special gardens, BBG strives to teach visitors the importance of plants in our everyday lives. Must-see May highlights include Bluebell Wood, the Lilac Collection, tulips in the Annual Border, and azaleas and wisteria in the Osborne Garden. Check bbg.org/bloom for updates on what's in bloom. BBG also hosts nature-based educational programs and camps for young children and their caregivers from April through August.


Brooklyn Queens Expressway between Joralemon Street and Grace Court, Brooklyn Heights
212-639-9675
Hours: Open daily, dawn to 1am
Admission: FREE
This scenic/historic walking area features views of Staten Island, Governor's Island, the Statue of Liberty, Ellis Island, the South Street Seaport, Fulton Fish Market, and the Brooklyn Bridge. From April through September, see spring and summer trees and flowers in bloom, including azalea, daffodil, forsythia, Japanese skimmia, lily-of-the-valley, tulip, coral bells, and more.


Myrtle Avenue and De Kalb Avenue between Washington Park and St. Edward's Street, Fort Greene
718-722–3218
Hours: 9am-4pm daily
Admission: FREE
Visit the Prison Ship Martyrs Monument, which towers over the crypt where more than 11,000 people that died in the Revolutionary War are buried. The park also includes a basketball court, playgrounds, tennis courts, sloping hills, and majestic trees.
95 Prospect Park West
718-965-8999 (events hotline) or 718-965-8951 (general info)
Hours: Park is closed 1-5am daily. Carousel operates 12-5pm Thursday-Sunday and holidays (through June 29). Lefferts Historic House is open 12-5pm Thursday-Sunday (through June).
Admission: FREE park admission. Carousel is $2 per ride. Lefferts Historic House has a $3 suggested admission for adults.
This 585-acre park includes a 90-acre meadow, 60-acre lake, and Brooklyn's only forest. It's also home to four hiking trails; trail guides are available at the Audubon Center. The Audubon Center at the Boathouse, dedicated to wildlife preservation and natural education, houses the park's Visitor Center on the first floor, including a café and interactive exhibits, along with the Con Edison Discover Nature Theater and the Verizon Learning Lab on the second floor, where you can see live animals and more exhibits. The center also hosts interactive nature programs for kids and adults, including scavenger hunts for ages 8 and older. Lefferts Historic House is located in the park's Children's Corner, near the carousel and Prospect Park Zoo (see following entry), and encompasses a working garden, historic artifacts and documents, and period rooms and exhibits. Visitors can engage in pre-colonial activities such as candle making, sewing, butter churning, and children can engage in games played by their peers more than 100 years ago.


450 Flatbush Ave., Prospect Heights
718-399-7339
Hours (through Nov. 2): Monday-Friday 10am-5pm; weekends and holidays 10am-5:30pm
Admission: $8; $6 seniors; $5 children ages 3-12; free for children younger than 3
Meet a troop of Hamadryas baboons and watch their antics; experience various types of animal habitats, including gardens, marshes, and scrubland; visit the Barn & Garden area, where you'll find farm animals like sheep, cows, and llamas; and watch some high-fiving sea lions catch fish on the fly at 11:30am, 2pm, and 4pm daily in the Sea Lion Court.


3302 Avenue U, Marine Park
718-421-2021
Hours: Tuesday-Thursday 11am-5pm
Admission: FREE
The center houses nature exhibits and fish tanks for viewing. It serves as starting point for walking tours and workshop sites for nature-themed educational programs.
Underwood Park

Lafayette Avenue between Waverly and Washington avenues, Clinton Hill
Hours (April–September): Open daily
Admission: FREE
As one of Brooklyn's most blossom-filled parks, Underwood features daffodil, forsythia, flowering dogwood, mountain laurel, rose, butterfly bush, black-eyed Susan, and more in the spring and summer seasons. The park has two playground areas and public chess and checkers tables.
Staten Island
Blue Heron Park and Nature Center
222 Poillon Ave., Annadale
718-967-3542
Hours: 11am-4pm, Tuesday-Saturday
Admission: FREE
This 222-acre park surrounds wetland ponds, swamps, and streams that drain into the Raritan Bay. View the bird-feeding station at the edge of the woodlands, which attracts a wide variety of local birds, and stop in the Nature Library to browse its nature-themed collection of guidebooks, books, and magazines. Participate in nature-based educational programs run by urban park rangers at the nature center or visit the activity center, open to the public on the weekends. Naturalist-guided walks offered at 1:15pm and 2:15pm each Saturday and Sunday (call to verify availability). The park includes a handicap-accessible trail. Guided walks are available from 12-4pm Saturday and Sunday throughout the year.


Snug Harbor Cultural Center and Botanical Garden

1000 Richmond Terrace
718-448-2500
Hours: Dawn to dusk. Galleries: Wednesday-Sunday 12-5pm.
Admission: For gardens and galleries: $5; $4 students and seniors; free for children younger than 12
Snug Harbor's 83-acre park-like setting contains gardens, museums, theaters, educational opportunities, and seasonal festivals. It includes a Chinese Scholar's Garden, Healing Garden, Rose Garden, White Garden, and Tuscan Garden, and several other gardens, each of which feature aesthetic and functional flora. The center also features regular educational programs for kids as well as group tours. Educational programs include classes based on history, horticulture, architecture, performance and visual arts, as well as health and nutrition. There is also a Heritage Farm and New York Compost Project that includes environmentally-oriented classes and workshops on basic farming and composting techniques.


614 Broadway, West Brighton
718-442-3100
Hours: 10am-4:45pm daily; closed major holidays.
Admission: $8; $6 seniors; $5 children ages 3-14; free for children younger than 3; free for all on Wednesdays after 2pm. Free parking.
The zoo's mission is to instill in visitors, especially children, an understanding and appreciation of living creatures, through programs, camps, and various other events. Visitors can view small mammals, birds, reptiles, amphibians, and tropical fish in the zoo's exhibits. Zoo education programs are available for children of different age groups (see the website for details). All programs include live animal presentations and general admission to the zoo.
700 Rockland Ave. (at Brielle Avenue)
718-667-2165 (718-351-3450 for nature center)
Hours: Greenbelt is open dawn to dusk daily; nature center is open Tuesday-Sunday 10am-5pm (April–October). Carousel operates Friday-Sunday 11am-5:45pm in May, Wednesday-Sunday 11am-5:45pm in June ($1.50 per ride).
Admission: FREE
The Greenbelt consists of 2,800 acres of woodlands, wetlands, and meadows. It features four major foot trails, each marked on trail maps (available online and at the nature center), and includes three easy-to-moderate trails ranging in length from 3.8 to 8 miles. The nature center offers a variety of environmental education programs, summer camps, and other family-friendly events and programs; see the website for a full calendar of events.
NYC Suburbs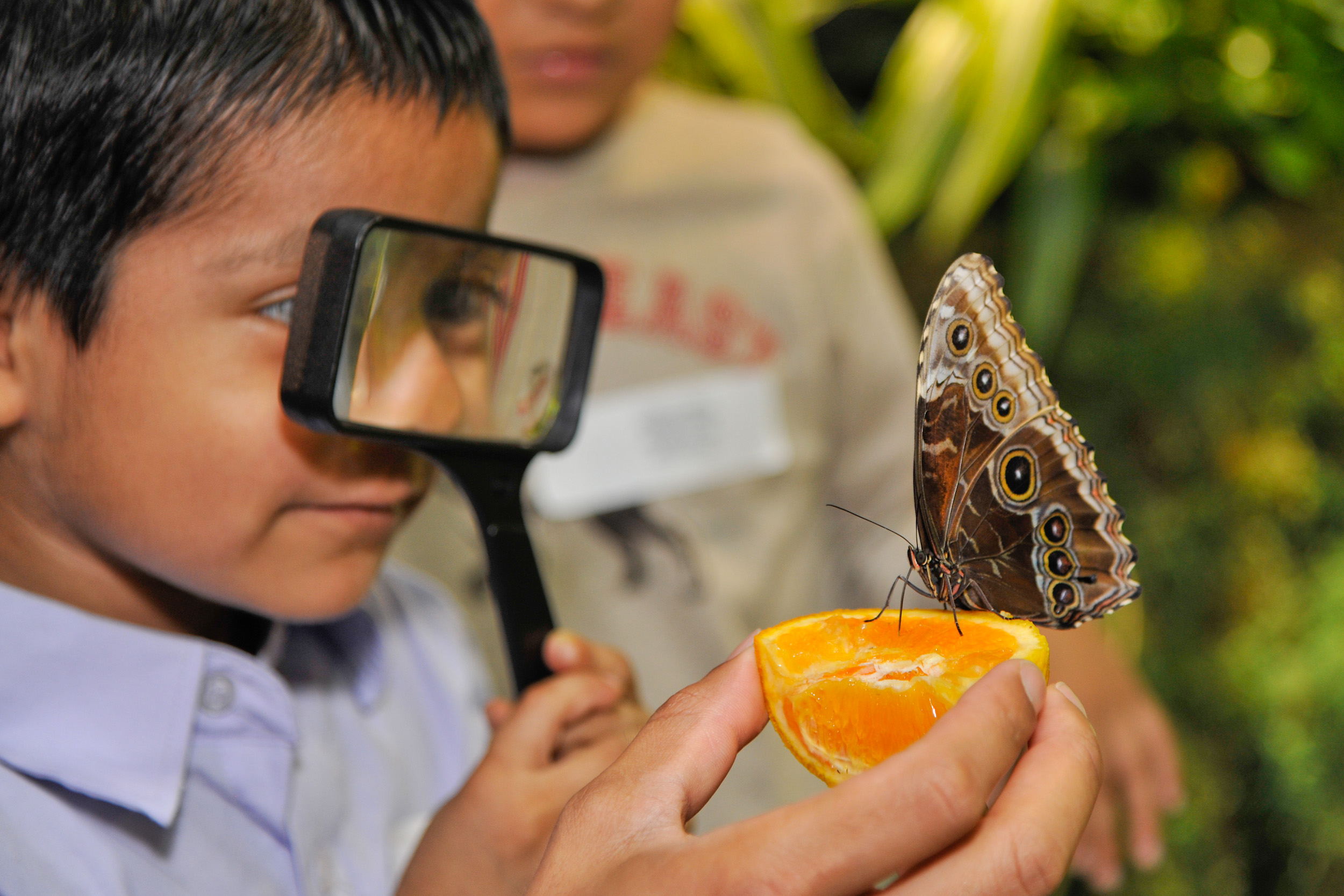 Rockland County, NY
Cornell Cooperative Extension of Rockland Education Center
10 Patriot Hills Drive, Stony Point
845-429-7085
Hours: Monday-Friday 8:30am-4:30pm
Admission: FREE tour of the gardens on the last Sunday of each month (April–October) at 1pm; prices vary for other educational programs.
The Master Gardener Volunteers of Rockland County design and maintain eight demonstration gardens at the CCE Rockland Education Center, including ferns, herbs, ornamental grasses, native plants, a cutting garden, and a container garden. Educational programs for children include 4-H youth development, gardening classes and workshops, and a horticulture lab.


299 Rockland Lake Road, Valley Cottage (pool entrance: 153 Rockland Lake Road)
845-268-3020
Hours: Dawn to dusk
Admission: FREE. Pool: $2; $1 children. Parking is $8 from mid-April through late October.
Rockland Lake State Park's lake is located on a ridge of Hook Mountain, above the west bank of the Hudson River. It is home to many species of fish, including largemouth and smallmouth bass, and birds such as raptors, water birds, and songbirds. The park has a 3.2-mile bicycle path. The pool will open in May and be open weekends and holidays 11am-6:45pm through September (also open weekdays, 10am-5:45pm, June–August).
Orange County, NY
Bear Mountain Trailside Museums and Zoo
Bear Mountain State Park, Palisades Parkway and Route 9W (55 Hessian Lake Drive, Bear Mountain)
845-786-2701 x265
Hours: 10am-4:30pm daily
Admission: FREE, but donations are appreciated. Parking is $8.
Enjoy paved walking trails, scenic views of the Hudson River, and learn about animals native to New York State. All the animals here are either permanently injured or orphaned and would not be able to survive in the wild. Trailside has four museums: The Reptile and Amphibian House is home to turtles, snakes, frogs, toads, salamanders, and skinks, as well as many species of fish. The Nature Study Museum houses specimens originally created by the Museum of Natural History to educate people about animal identification. Visitors can learn about geologic formations of the Hudson Highlands in the Geology Museum and local Native American and early settler culture in the History Museum.


Hudson Highlands Nature Museum
Outdoor Discovery Center: 100 Muser Drive (across from 174 Angola Road), Cornwall; 845-534-5506
Wildlife Education Center: 25 Boulevard, Cornwall-on-Hudson; 845-534-7781
Hours: Trails are open daily, dawn to dusk. Wildlife Education Center is open Friday-Sunday 12-4pm. Outdoor Discovery Center visitor center is open weekends 9am-1pm.
Admission: FREE; event/program costs vary
The nature museum includes the two centers listed above, 1.5 miles apart, along with pond, field, and woodland hiking trails. Visitors can go on interactive hikes called Discovery Quests ($5) each weekend through the end of November (9am-1pm). The museum also offers nature exhibits, nature programs for children and adults, an evening speaker series, and a summer nature camp for ages 4-15. The Wildlife Education Center houses live native animals. Grasshopper Grove, a new nature area especially for kids ages 2-6, is open 9am-4pm weekends at the Outdoor Discovery Center.


116 Old Forge Road, Tuxedo
845-351-5907
Hours: Dawn to dusk daily. Visitor center is open 8am-4:30pm daily.
Admission: FREE
The park offers a variety of hiking trails with scenic views of hills, valleys, and lakes. The Senator Frank R. Lautenberg Visitor Center overlooking Sterling Lake features exhibits about the local environment and history. Lectures and hikes are led by the nonprofit organization Friends of Sterling Forest.
Beczak Environmental Education Center
35 Alexander St., Yonkers
914-377-1900 x12
Hours: Monday-Friday 9am-5pm through October
Admission: FREE, but donations are appreciated. Program prices vary.
Beczak features a riverside park, sandy beach, and tidal marsh. It offers educational programs for children, adults, and groups about rivers, local beaches, marshes, fish, birds, and the weather. The Interpretive Center presents interactive exhibits, seasonal displays, and an aquarium with Hudson River species.


1609 Orchard St., White Plains
914-428-1005
Hours: Dawn to dusk daily. Nature lodge and front gate are open Tuesday-Sunday 10am-5pm (July–August: 9am-5pm daily).
Admission: FREE
This 190-acre park includes a variety of habitats, including a 4-acre lake, cliffs and scrubland, mixed hardwood forest, vernal pools, and a swamp. Visitors can follow the History Trail to the remains of a 19th-century farmhouse and early 20th-century stone-mining operation. The nature center offers free family-oriented nature programs on most weekends and houses a variety of interactive, educational displays. The preserve also offers a summer ecology program for children in first through ninth grades.


99 Dromore Road, Scarsdale
914-723-3470
Hours: Grounds open daily, dawn to dusk. Indoor exhibits open weekdays (except Friday) 9:30am-4:30pm and weekends 10am-4:30pm.
Admission: $7; $6 seniors and students; $5 children ages 2-12; free for children younger than 2
The nature center is a 33-acre woodland preserve with trails, a pond, gardens, and a variety of habitats. Its indoor exhibits include a live animal museum with more than 100 specimens, a greenhouse with a variety of plants from around the world, and a large exhibit room with changing nature-related art exhibits. It also offers nature summer camps for kids up to grade 7. Weekly programs include Nature Bugs for ages 2-5 and Critters, Crafts and Kids for ages 18 months to 5 years.


Lasdon Park, Arboretum and Veteran's Memorial
2610 Amawalk Road (Route 35), Katonah
914-864-7263; lasdonpark.org
Hours: Park is open 8am-4pm daily. Veteran's Memorial is open weekends 12-4pm. Veteran's Museum is open by appointment only. Garden Shop hours: Wednesdays-Sundays 11am-3:30pm from March to Christmas
Admission: FREE
This 234-acre property consists of woodlands, open grass meadow, and formal gardens with flower and shrub specimens from all over the world. The park includes the William and Mildred Lasdon Memorial Garden, the azalea garden, the 4-acre Chinese Friendship Pavilion, the Famous and Historic Tree Trail, the 22-acre Mildred D. Lasdon Bird Sanctuary, Garden Shop, and four memorials and a museum honoring Westchester veterans. The park offers botanical art classes, a plant sale in May, a Halloween train show in October, and a children's horticulture program in the summer.


19 Dudley St., Yonkers
914-968-5851
Information on this season's events was not available at press time. Please call or visit the website for updates.


220 Boston Post Road, Rye
914-835-4466
Hours: Nature center: 9am-4pm Wednesday-Sunday and most holidays; call to confirm Friday openings (July–August: 9am-5pm daily). Trails/grounds are open dawn to dusk daily.
Admission: FREE
The 140-acre wildlife sanctuary borders 35 acres of Jay property and is comprised of forest, meadow, salt marsh, and shore. There are 3 miles of trails and ½ mile of shoreline along the Long Island Sound. The nature center displays a small number of changing exhibits and saltwater aquaria containing representative species of marine life and offers environmental programs to schools and other groups by registration. The conservancy also offers a summer ecology program for children ages 4-12 and an ecologist-in-training summer program for kids in junior high school.


51 Route 100, Katonah
914-864-7282
Hours: 10am-4pm daily
Admission: FREE; small fee for groups.
Originally a "gentleman's farm," Muscoot is comprised of the original barns and farm buildings, including the main house, dairy barn, ice house, corn crib, wagon shed, farm museum, vegetable garden, and 7 miles of diverse hiking trails. It is home to cows, sheep, goats, turkeys, chickens, horses, and pigs (visit the newborn animals in the spring for a special treat). Muscoot also offers a variety of programs and special events for families throughout the year, including a farmers market (10am-3pm every Sunday from May through October). Group tours are available, and farmyard visits and hayrides are available by reservation. Public hayrides are offered on Sunday afternoons ($2), weather permitting, May through October. Young Farmer's Camp Program (grades 1-8) during summer gives children the opportunity to learn about the farm and the animals that reside on Muscoot. Children will collect eggs, milk cows, groom animals, and bake traditional Muscoot recipes.


Read Wildlife Sanctuary and Nature Center
Playland Parkway, Rye
914-967-8720
Hours: Trails open daily dawn to dusk; nature center hours 9am-5pm Tuesday-Saturday
Admission: FREE; parking fee in effect May-October
Three miles of trails navigate through the 179-acre sanctuary, which is full of diverse marine life, both plants and animals. Please call or visit the website for updates.


873 Boston Post Road, Rye
914-967-5150
Information for the season was not available at press time. Please call or visit the website for details.


Sheldrake Environmental Center
685 Weaver St., Larchmont
914-834-1443
Hours: Monday-Friday 9:30am-5pm
Admission: Free for hiking; program fees vary
Located at the 60-acre Larchmont Reservoir, Sheldrake offers hiking trails and environmental programs for families and schools. The children's programs combine in-class discussion with on-site visits to one of three local sites: Larchmont Reservoir, Sheldrake River Trail, or Dog Beach. At summer camps, children explore the trails, investigate pond life, and search for animals in nature's playground. Adults programs include composting, vegetable gardening, and volunteer environmental education.


1600 Spring Valley Road, Ossining
914-762-2912
Hours: Nature Center is open 9am-5pm daily; trails are open dawn to dusk daily
Admission: FREE; program prices vary
This 875-acre nature preserve hosts nearly 15 miles of marked hiking trails. The nature center contains nature education exhibits and a variety of amphibians, birds of prey, mammals, and reptiles. Wildflower Island, a 2-acre island sanctuary located within Teatown Lake, is home to more than 230 native and endangered species of wildflowers; guided tours available (by reservation) Saturdays at 11am and 1pm, Sundays at 1pm from April through September. Teatown offers a Natural Science Summer Day Camp throughout the season in two-week sessions.


Trailside Nature Museum at Ward Pound Ridge Reservation?
Routes 35 and 121, Cross River?
914-864-7322
Hours: Trails are open dawn to dusk daily; museum is open Tuesday-Saturday 9am-4pm
Admission: $2 suggested donation; car fees: $5 with Park Pass; $10 without Park Pass
Museum exhibits focus on aspects of the natural world along with the human history of Ward Pound Ridge Reservation and the surrounding area. Specimens of birds, mammals, plants, insects, and minerals are on display. The reservation features a wildflower garden behind the museum and 35 miles of hiking trails through a variety of habitats. You can pick up a trail map at the museum or download it from the website. The museum offers interpretive nature programs for children and adults.


Weinberg Nature Center and Trailside Museum?
455 Mamaroneck Road, Scarsdale
914-722-1289
Hours: Spring (March-May): Monday-Wednesday 10am-5pm; Thursday, Friday 10am-2pm. Summer (June-August): Monday-Friday 9am-5pm. Trails open dawn to dusk daily.
Admission: FREE, but donations are appreciated; program fees vary
This wildlife sanctuary consists of a meadow, fruit orchard, woodlots, swamp, a Japanese-style Zen garden and a Woodland Indian Village with several trails surrounding the Trailside Museum. The museum features permanent and rotating exhibits, including a live animal exhibit with more than 20 animal species. The center offers nature programs and special events for adults and children.


260 Chestnut Ridge Road, Bedford Corners?
914-666-8448
Hours: Monday-Saturday 9am-5pm; Sunday10:30am-5pm. Trails are open dawn to dusk daily.
Admission: FREE
This 640-acre sanctuary features more than 7 miles of trails, plus a museum and nature center. The sanctuary offers public programs for children and adults such as seasonal nature hikes, bird walks, turtle study, and pond study.


7 Buck Run, South Salem?
914-763-2373
Hours: Call or register online to arrange a visit.
Admission: Varies by program
The Wolf Conservation Center promotes wolf conservation by teaching about wolves, their relationship to the environment, and the human role in protecting their future. Visitors can observe gray wolves in spacious natural enclosures. A variety of age-appropriate daytime and evening programs for children and adults are offered (online registration required).
613 Riversville Road, Greenwich?
203-869-5272
Hours: Trails open sunrise to sunset daily; center open Monday-Friday 9am-5pm
Admission: $3; $1.50 children and seniors

The center's walking trails span 7 miles and 285 acres, past lakes, ponds, and rivers. The center also has bird blinds, which are spots to watch for birds—including the center's many species of hawks—where they can't see you.


151 Brookdale Road, Stamford?
203-322-6971
Hours: Grounds are open 9am-7pm daily. Check website for hours of operation for individual buildings.
Admission: $6; children under 12 are free; Wednesdays are free to all guests
The arboretum features extensive gardens and a collection of plants and trees, as well as hiking trails in the woodlands nearby.
Connecticut Audubon Society Nature Center?
2325 Burr St., Fairfield?
203-259-6305
Hours: Monday-Saturday 10am-3pm
Admission (suggested): $2; $1 children
The birds of prey compound is a viewing area for raptors. The center also includes a sanctuary, wigwam replicas, and hiking trails and is home to animals like snakes, turtles, and millipedes.


1875 Noble Ave., Bridgeport?
203-394-6565
Hours: 9am-4pm daily; closed major holidays
Admission: $14; $10 seniors and children ages 3-11; free for children younger than 3
The zoo includes the New England Farmyard, Wolf Observation Learning Facility, and South American Rainforest exhibits, with more than 300 animals representing mainly North and South America. Plus, keep a lookout for the peacocks wandering about!


120 Brookside Road, Darien
203-655-7459
Hours (summer): Monday-Thursday 9am-4pm; Friday 9am-1pm; closed during August
Admission: Minimum $5 donation suggested
The center features a small trail system, ideal for kids; a pond with ducks; and rotating exhibits as well as a permanent exhibit with more than 40 animal species.
10 Woodside Lane, Westport?
203-557-4400
Hours: Monday-Saturday 9am-5pm; Sunday 1-4pm; grounds open 7am to dusk daily
Admission: $7; $5 seniors and children younger than 12; free admission to the grounds
With a mission to educate the community about nature and the environment, Earthplace offers 62 acres of wildlife sanctuary, which include hiking trails, an interactive natural history museum with live animals, and public nature programs and events. For kids, there's the Explorer's Clubhouse, Tiny Tree House, Nature Lab, Backyard Resource Center, and Nature Theater.


Nature Conservancy's Devil's Den Preserve?
33 Pent Road, Weston
203-226-4991
Hours: Sunrise to sunset daily
Admission: FREE
The preserve is the largest tract of protected land in Fairfield County. It offers more than 20 miles of trails, acts as a habitat to about 40 bird species, and holds the remains of charcoal and lumber production sites. The area is deeply wooded, with rock formations, streams, and swamps.
144 Oenoke Ridge, New Canaan?
203-966-9577
Hours: Visitor center and greenhouse: Tuesday-Saturday 9am-4pm; Birds of Prey, Arboretum, and Gardens: dawn to dusk daily. Admission: FREE
The center includes 2 miles of hiking trails on the grounds, which include wet and dry meadows, two ponds, wet and dry woodlands, dense thickets, an old orchard, and a cattail marsh. The center also encompasses seven aviaries in its Birds of Prey exhibit, a world of bees exhibit, an arboretum full of native and nonnative trees, several specialty gardens including a Wildflower Garden and The Bird and Butterfly Garden, and a 4,000-square-foot greenhouse featuring exotic species of flora.


Stamford Museum & Nature Center?
39 Scofieldtown Road, Stamford?
203-322-1646
Hours: Monday-Saturday 9am-5pm; Sunday 11am-5pm
Admission: $10; $8 seniors; $6 students (with ID); $5 children ages 4-17; free for children 3 and younger. Observatory: $3; $2 children.
The center is a New England working farm with heirloom breeds of animals, an otter pond, an observatory with a 22-inch research telescope, changing exhibition galleries, a planetarium, early education classrooms, and a vast hardwood forest with 80 acres of hiking trails.


56 Deer Run Road, Wilton
203-762-7280
Hours: Monday-Friday 9:30am-4:30pm; trails open dawn to dusk daily
Admission: FREE
The Center sits on 149 acres with trails, boardwalk trails, a pond, live animals and birds of prey. It offers environmental education programs and summer programs for kids.
Bergen County Zoo?
216 Forest Ave., Paramus
201-262-3771
Hours: 10am-4:30pm daily
Admission (May–October): $8 ($4 for county residents); $5 children ages 3-14 ($2 for residents); $2 seniors and disabled ($1 for residents); free for children younger than 3 and active military members.
See farm animals, reptiles, birds, and much more. The zoo hosts a variety of special events throughout the year as well as a wide range of children's programs. The zoo is part of the Van Saun County Park, which also includes the historic Washington Spring Garden as well as a train ride, carousel, pony rides, and picnic and fishing areas.


154 Ruckman Road, Closter?
201-750-2778
Hours: Vary by activity
Admission: Donations appreciated
A nature haven in suburban New Jersey, the center includes 136 acres of ponds, brooks, meadows, and forests, as well as 3 miles of hiking trails. Visitors can explore the area on their own, or attend a lecture, guided nature walk, or other educational environmental program, including after-school programs for children during the school year.


Flat Rock Brook Nature Center?
443 Van Nostrand Ave., Englewood
201-567-1265
Hours: Trails and picnic area are open dawn to dusk daily. The center is open 9am-5pm Monday-Friday, 1pm-5pm weekends. Admission: FREE
A 150-acre preserve and education center committed to land conservation and environmental education, this natural sanctuary is open to the public for self-guided trail walks and nature study. It also offers environmental education programs for all ages, including guided hikes and gardening programs.


Skylands/New Jersey Botanical Garden?
2 Morris Road, Ringwood
973-962-9534
Hours: 8am-8pm daily
Admission: FREE; parking is $5 on weekends and holidays from Memorial Day to Labor Day.
Visitors can wander through formal gardens or along paths through the woods and see unusual plant species from around the world. Skylands' specialty gardens include the Annual Garden, Perennial Border, Crab Apple Allée, Wildflower Garden, Lilac Garden (the largest in the country), Peony Garden, and Octagonal Garden. The Rhododendron Garden and Hosta Garden are new this year, and a Succulent Garden is in the works. Free, guided garden tours are available at 2pm on Sundays from May through October. The botanical garden also offers tours especially designed for families. Visitors can also call ahead and arrange to take guided tours of the 1920s Tudor Revival Skylands Manor House for $7; $5 for seniors and students.


313 Hudson Ave., Tenafly?
201-568-6093
Hours: 9am-5pm weekdays; 11am-4pm weekends
Admission: FREE, but donations are appreciated
This nature preserve encompasses nearly 400 acres, including several nature trails (open dawn till dusk) where you may catch sight of red foxes, white-tailed deer, or the more than 50 species of birds that reside there, not to mention an impressive display of trees and other local flora. The visitors' center in the John A. Redfield Building houses natural history exhibits and live animals; it also offers public programs for children and families throughout the year.
560 Northfield Ave., West Orange?
973-731-5801
Hours: 10am-4:30pm Monday-Saturday; 11am-5:30pm Sunday
Admission: $11; $8 seniors and children ages 2-17; free for children younger than 2
This expansive zoo houses a wide variety of animals, from kangaroos and emus in the Australian exhibit to leopards and red pandas in the Southeast Asia exhibit. You'll also see penguins, otters, sea lions, wolves, bears, a large collection of reptiles, an assortment of farm animals on Essex Farm, and all manner of sea creatures in the Tropical Currents Aquarium. During the warmer months, the zoo also offers rides and attractions including a playground; a train ride through the South Mountain Reservation (price included with admission); and pony rides at Essex Farm ($2). The Endangered Species Carousel is open year-round ($2). See the zoo's online calendar for regular special events.
Nassau County
193 I. U. Willets Road, Albertson?
516-484-2208
Hours: 10am-4pm daily
Admission: Donations appreciated
A 12-acre living museum and educational facility dedicated to understanding and appreciating the world's plant life through horticulture, education, and research. Garden collections include native spring wildflowers, conifers, roses, perennials, daylilies, wetland plants, rock garden plants, herbs, butterfly plants, medicinal plants, and more than a dozen collections of particular plant families. The garden offers regular programs for families and children (registration required).


Garvies Point Museum & Preserve?
50 Barry Drive, Glen Cove?
516-571-8010; garviespointmuseum.com
Hours: Tuesday-Saturday 10am-4pm; closed Sundays, Mondays, and holidays
Admission: $3; $2 children ages 5-12; free for children younger than 5 with an adult
A 62-acre site set along Hempstead Harbor, Garvies Point has permanent exhibits and educational programs about Long Island and New York state geology and Long Island Native American culture and archaeology. Changing exhibits cover a variety of natural history subjects, including the glacial exhibit, which illustrates and explains the formation of contemporary land features. The Discovery Room is an interactive Native American-themed exhibit for kids in second grade and below.
Hofstra University, Hempstead ?
516-463-6623
Hours: Dawn to dusk daily
Admission: FREE
This 240-acre, nationally recognized arboretum houses more than 12,000 evergreen and deciduous trees that represent in excess of 625 species and varieties, including both Native American and rare exotic trees. Two acres of the campus are home to a distinctive bird sanctuary featuring hummingbirds and a naturalistic rock waterfall.


720 Northern Blvd., Brookville?
516-299-3500
Hours: Dawn to dusk daily
Admission: FREE??
Forty acres of the LIU campus is designated as an arboretum, which features more than 125 trees (some very rare). Each tree is labeled with interesting horticultural facts and origin information. The trees are located along a self-guided walking trail that encircles the campus' main academic buildings. One of the landmarks along the trail is the breathtaking Tudor mansion that was once the home of cereal heiress Marjorie Merriweather Post. The self-guided walking trail starts and ends at Hillwood Commons and takes about 30 to 45 minutes to complete. Pick up a free map at the Hillwood Commons Information Desk.
71 Old Westbury Road, Old Westbury?
516-333-0048; oldwestburygardens.org
Hours (April 28–Oct. 31): 10am-5pm daily, except Tuesday
Admission: $10; $8 seniors; $5 children ages 7-15; free for children 6 and younger
This historical site features a Gold Coast mansion among 200 acres of formal gardens, landscaped grounds, woodlands, ponds, and lakes. Summer activities include outdoor concerts, the Long Island Scottish Festival (Aug. 24), and environmental educational programs that teach children about plants, wildlife, and agriculture.


1395 Planting Fields Road, Oyster Bay?
516-922-9200
Hours: 9am-5pm daily until Nov. 18
Admission: $8 per car
This site is home to one of the few remaining Gold Coast estates on Long Island's North Shore to retain its original 409 acres of historic buildings and landscape. Families can visit rolling lawns, formal gardens, hiking trails, and specimen plantings as well as the Camellia Greenhouse and the Main Greenhouse, which have seasonal displays. The grounds are both wheelchair- and stroller-accessible.


Science Museum of Long Island?
1526 N. Plandome Road, Manhasset
516-627-9400
Hours: Monday-Friday 8am-3:30pm
Admission: Varies by program
A science activity center located on the Leeds Pond Preserve, this museum offers hands-on science workshops for children. All programs and workshops are by registration only.


1 Tanglewood Road between Ocean Avenue and Lakeview Road, Lakeview
516-764-0045
Hours: Park is open dawn to dusk daily; Center for Science Teaching and Learning is open Wednesday-Sunday 10am-4pm
Admission: Park is free; center is $6
The 17-acre park and preserve allows families to enjoy a lovely nature trail and a beautifully renovated brick walkway surrounding a pond. The pond permits fishing (children ages 16 and younger are not required to have a fishing license). Tanglewood also houses the nonprofit educational organization Center for Science Teaching and Learning, which hosts regular science learning programs for kids.
Suffolk County
296 Wading River Road, Manorville?
631-878-1785
Hours: Weekdays 10am-5pm; weekends 10am-6pm April 5-Nov. 11
Admission: $14.50; $12.50 seniors and children ages 2-16; free for children younger than 2
See a large selection of rare and unusual birds, monkeys, llamas, reptiles, and other exotic animals. Bottle-feed baby cows, goats, pigs, and lambs. There are also pony rides, a musical puppet show, and the Safari Tour Train ($2.50).


440 Montauk Highway, Great River?
631-581-1002
Hours: Tuesday-Sunday 10am-5pm through October.
Admission: FREE. $8 parking fee per car
Located along the Connetquot River, the arboretum contains more than 690 acres of meadows, centennial oaks, and brightly colored nature walks among rhododendron and swamp cypress. Don't miss the Pinetum—it has one of Long Island's largest collections of fir, spruce, pine, and hemlock trees. The arboretum is also home to many varieties of bird species. For information on classes and programs, visit bcahs.net.


36 Mitchell Lane, Bridgehampton?
631-537-7440
Hours (April 5–October): Weekends 2-5pm
Admission: $10; $20 for groups of four or more
Bridge Gardens is five acres of lush Long Island landscape. Not only are there traditional gardens of seasonal flowers and herbs, there are also unique garden mazes, a knot garden, and beds of culinary, medicinal, ornamental, textile, and dyeing herbs. Learn how herbs and plants are cultivated and used in kitchens, hospitals, and factories. Walk through the woodland paths, smell the lavender and roses, and view the water garden.


Brookhaven Ecological Site and Animal Preserve/Holtsville Park and Zoo?
249 Buckley Road, Holtsville?
631-758-9664
Hours: 9am-3pm daily
Information for the season was not available at press time. Please call or visit the website for details.
Caleb Smith State Park Preserve?
581 W. Jericho Turnpike, Smithtown?
631-265-1054
Hours: 8am-4pm Wednesday-Sunday, year round except holidays
Admission: FREE. $8 parking fee per car. Interpretive program fee: $4; $3 children ages 3-17; free for children 2 and younger
Most of the preserve's 543 acres are undeveloped, allowing views of its many different habitats, including freshwater wetlands, ponds, streams, fields, and woods. The preserve is a refuge for wildlife and its diverse habitats support a variety of trees, shrubs, wildflowers, and ferns. It offers hiking opportunities, trout fly fishing ($20 per session; must have a permit and proper fishing gear), and also operates a nature museum with wildlife displays and nature programs for children and adults.
Cold Spring Harbor Fish Hatchery & Aquarium?
1660 Route 25A, Cold Spring Harbor?
516-692-6768
Hours: 10am-5pm daily; extended weekend hours (10am-6pm) June–August
Price: $6; $4 seniors and children ages 3-12; free for children 2 and younger
This nonprofit center is dedicated to educating visitors about the freshwater ecosystems of New York. It has the largest living collection of New York state freshwater reptiles, fish, and amphibians. Tour two aquarium buildings and eight outdoor ponds, or feed the hungry trout.
Long Island Game Farm Wildlife and Children's Zoo?
638 Chapman Blvd., Manorville?
631-878-6670
Hours: May 24-Sept. 1, seven days a week
Information for the season was not available at press time. Please call or visit the website for details.
Suffolk County Farm and Education Center ?
350 Yaphank Ave., Yaphank?
631-852-4600
Hours: 9am-3pm daily, except Thanksgiving, Christmas, Easter
Admission: Donations accepted
Youth development programs are available to children of all ages, including hands-on learning activities taught by professionals. The farm features a seasonal butterfly house, a nature explore classroom, weekend wagon rides, and an animal discovery area. Summer camp and birthday party options are also available for children all ages.
62 Eckernkamp Drive, Smithtown?
631-979-6344
Hours: Preserve open 9am-4:30pm daily; Butterfly House open 10am-4pm daily (June through September)
Admission: Free for preserve (donations accepted). Butterfly House: $3; $2 seniors and children younger than 12.
The center is located on 54 acres, with nature trails winding through diverse areas that include wetlands, fields, and forests along the Nissequogue River. It is home to a large rehabilitation aviary, public gardens, a nature museum, and the Butterfly House that contains about 20 species of native North American butterflies and moths.
Uplands Farm Nature Sanctuary?
The Nature Conservancy, Long Island Chapter, 250 Lawrence Hill Road, Cold Spring Harbor?
631-367-3225
Hours: Grounds open dawn to dusk daily
Admission: FREE
Walk trails through 97 acres of fields; the marked, mostly level trails make this a good place for family-friendly hikes. Red maple, black cherry, red cedar, and hickory trees are in the eastern woodlands, while tulip trees, black birch, and maple-leaf viburnum are in the western woodlands. The fields and hedgerows provide habitats for a wide variety of animals, including birds, small mammals, and 40 species of butterflies.