Author Danah Boyd shares what's really going on with teens and social media, including whether social media addiction is real, cyber bullying, online privacy, and how technology impacts teens.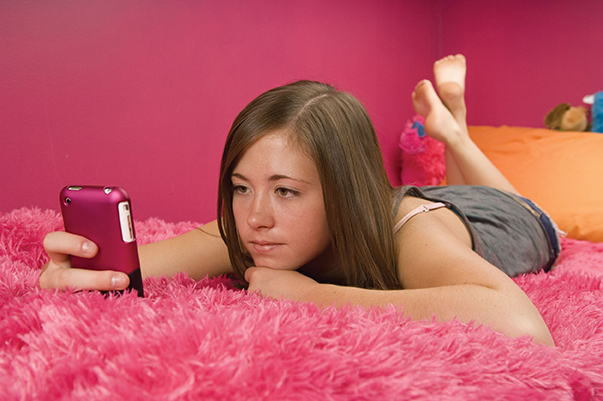 Facebook, Pinterest, Snapchat, Twitter, Vine… Wait, what the heck is a Vine? Your teen has signed on to every possible digital offering, while you're still trying to figure out Google+. Of course you want her to be safe 'out there' and you're maybe even her friend and follower on these platforms, but is that really enough? First of all, just breathe! Then take a piece of advice from Danah Boyd, author of the newly released It's Complicated: The Social Lives of Networked Teens. "Parents should try to look past technology and instead understand that their kids are struggling with the same issues that generations of teens have faced, including personal development, peer and academic pressure, and sexuality." Read on for more of what's going on behind the screen.


Does social media affect a teen's well-being? Or should parents relax on this point?
For the most part, social media offers kids a tool to connect with their peers. So for many teens it's a great way to relate, spout off, get information, and even make friends. Yet in the process, social media makes visible all sorts of group dynamics, both good and ugly. The technology itself isn't a threat, but there are some teens out there who aren't doing well, and they're using technology in problematic ways.


What do parents worry about that isn't such a big deal?
It's really more a matter of actual risks being obscured by imagined ones. For example, sexual crimes against kids are a very real and horrible thing. But when parents think that a random stranger will jump off the Internet and suddenly attack their unsuspecting child, they're looking at the issue the wrong way. Instead, parents need to help teens understand what constitutes a healthy sexual encounter and to develop strategies to handle sexual coercion, whether it takes place online or off. The sad thing is that kids who are most at risk for scary online situations rarely have anyone looking out for them at home.


Can social networks exacerbate online bullying?
The data seem to suggest that bullying happens more frequently, with greater emotional duress and with greater consequences, in school than online. However, online bullying tends to be more visible, so we as parents and teachers need to spend more time leveraging that visibility to collectively intervene and support our youth.


What are some of the positives that come from digital platforms?
It really depends on the individual, but plenty of kids do engage digitally in very productive ways, like raising money, lobbying for social change, and other forms of activism. But just as technology doesn't destroy kids' well-being, it doesn't make them into healthy and engaged citizens either.


Is social media addiction real?
By and large, teens aren't addicted to technology, but are instead deeply drawn to their peers. They want to socialize whenever they can, and this creates the appearance of tech addiction precisely because technology provides one of the few avenues for teens to simply hang out. So rather than focus on the tech part, take a look at the practices. Is your teen worried about her status in her particular social group? If so, then addressing insecurity is critical. Or is she involved in a lot of drama at school? If the answer is yes, it's time to talk about respect and resilience.


Do you think parents should use the threat of taking away their teen's technology to deter them from certain behaviors?
The key is for parents to remember that the trust they have with their kids is an essential tool for navigating the most turbulent waters. I've seen parents use tech restriction as a punishment in ways that undermine that trust and result in teens engaging in even more problematic activities. For example, taking away your kid's phone under the guise of trying to get her to focus on homework or hang out with the family more often doesn't work. Social media is a teen's lifeline, and she'll just end up sneaking around a parental restriction to get access—and ultimately distrust your judgment. Furthermore, these teens are more likely to engage in risky behaviors online because their parents aren't engaging them holistically; rather, they're just trying to address the challenges by banning tech entirely.


How do the challenges of technology impact a teen's already crazed life?
Kids are still expected to succeed, and tech can exacerbate this pressure. How they go about achieving is made much more visible than it's ever been before. Kids also have bigger demands on their time with technology—everything is seen or reported instantly! And because they are always connected, teens feel pressure as to the kind of person they are, or should be, with their peers.


How can parents limit the amount of personal information that their teens make public?
This is a conversation that needs to have happened well before high school. Parents need to talk about what teens are facing with their peers and how to cope with the desire to over-share. For example, are they sharing personal details to connect with friends, or do they feel pressured to do so? Are they sharing to hang out or to seem cool? Kids tend to understand the meaning of privacy in terms of their parents, not corporations or the government. So instead of limiting access to their content or personal information, they make the meaning cryptic so mom and dad won't understand what they are posting.

How can parents allow their teens some privacy online, yet also protect and monitor them?
As kids grow into their teenage years, they yearn for more independence and space. The key to this time period is to focus on building a strong sense of mutual respect. I always recommend that parents switch from trying to spy on everything their child does to asking more questions and getting a sense of what their child is thinking and how she's making decisions.

Read the latest advice and advocacy issues about Internet safety and privacy relating specifically to teens at commonsensemedia.org.
Jennifer Kelly Geddes is a mom of two girls and a freelance writer whose work has appeared in Parenting, Scholastic Parent & Child, and EverydayHealth.com. She lives with her family in West Harlem.