UPDATED JUNE 2014: Our list includes carousels and merry-go-rounds in Rockland County and Westchester County in New York as well as Bergen County, NJ. Get details on carousels in Bear Mountain, Rye, and West Nyack, NY, as well as nearby in Paramus, NJ.
Rockland County, NY Carousels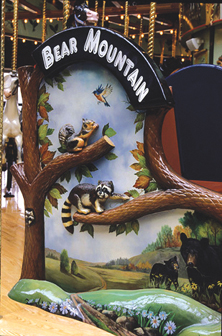 The Bear Mountain Carousel's accessible chariot
Bear Mountain State Park Carousel
3006 Seven Lakes Drive, Bear Mountain
845-786-2701 x242
Hours: Open Saturday-Sunday 10am-5pm
Price: $1 per ride
Built in 2001, the carousel is located on the southwest side of the baseball field. The 42-seat ride features detailed portrayals of local animals such as turkeys, deer, bobcats, rabbits, and black bears.
Palisades Center Mall Carousel
Exit 12 off Route 303, West Nyack
845-353-2595
Hours: Open Monday-Saturday 10am-9:30pm and Sunday 11am-7pm
Price: $2 per ride; free for children shorter than 44 inches tall. Six tickets for $10; 10 tickets for $15.
Palisades Mall is the 10th largest mall in the United States. The carousel, a double-decker Venetian model by Bertazzon, is located in the food court next to the Ferris wheel.
Westchester County, NY Carousels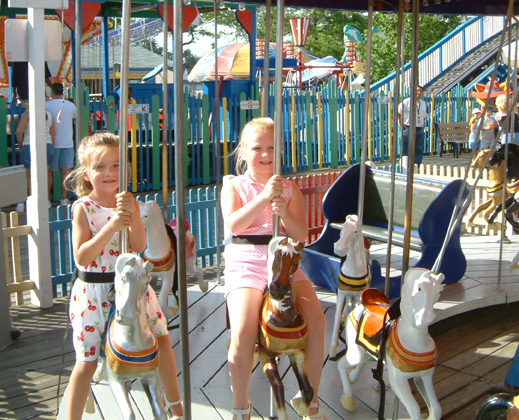 Playland's Grand Carousel and Kiddy Carousel
Exit 19 off I-95, Rye
914-813-7000
Hours: Open 10am-10pm most days; check the website for a full schedule
Price: Admission to Playland is $30; $20 for Westchester residents and children shorter than 48 inches; $10 for spectators (no rides); free for children younger than 2.
Playland's Grand Carousel, constructed in 1915, features 66 horses with jewel-studded harnesses and three handicap-accessible chariots, all of which circle a rare Gavioli band organ. Riders must be at least 42 inches tall; kids shorter than 42 inches must ride with an adult.
Little ones between 36 and 48 inches tall can choose to ride the Kiddy Carousel, one of many rides in the park's Kiddyland section meant for the youngest set of thrill-seekers.
Bergen County, NJ Carousels
Millenium Carousel at the Bergen County Zoo
Van Saun County Park, 216 Forest Ave., Paramus
201-262-3771
Hours: April–October: Open 10am-5pm daily, except Tuesday mornings
Price: $1.50 per ride plus zoo admission: $8 ($4 for county residents); $5 children ages 3-14 ($2 for county residents); free for children younger than 3. Tickets must be purchased at the zoo's train station.
Watch animals all day at the zoo and then ride their likeness.
Find more carousels in: