The Gateway Park Community Organic Garden in the heart of Huntington Station is a multi-generational, multi-ethnic community project that brings the area's residents together and teaches children to garden, exposing them to fresh, locally grown produce.
Children flit among the 7-foot-tall sunflowers, chasing butterflies that try to land on flowering vegetables. Parents, grandparents, and neighbors weed and water a variety of tomatoes, peppers, okra, onions, green beans, and deliciously scented basil. At a once-a-year market, these growers sell sun-warmed produce straight from their gardens.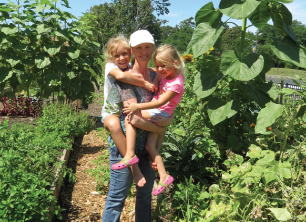 Cathrine Abbate and her daughters Elise (left) and Vivian tend to their bed at Gateway Park Organic Community Garden. Liza N. Burby

Though the scenery is pastoral, Gateway Park Community Organic Garden is in the heart of bustling Huntington Station, not far from the LIRR. It's a multi-generational, multi-ethnic community project by and for Huntington residents, seeded on what was until 2010 an unkempt acre lot on the corner of Lowndes and New York avenues. But its roots extend far beyond that to include numerous volunteers and organizations that helped build the garden.
Co-founder and activist Frances Cerra Whittelsey, a mother of two concerned for those in her community dependent on food banks, wanted to find a way to provide them with fresh produce, something not usually available through pantries. A chance meeting with Lawrence Foglia, farmer and co-owner of the nearby Fox Hollow Farm and CSA, led to the idea of creating a community garden.
Whittelsey and Foglia, Foglia's wife, Heather Forest, and several other volunteers, formed the Long Island Community Agriculture Network and were able to get both permission and funding for materials from the Town of Huntington as well as a start-up grant from the Stony Brook University Department of Family Medicine.
"LICAN is an educational organization dedicated to increasing public awareness and knowledge of the art, science, and social benefits of community agriculture," says Whittelsey, who serves as executive director.
There is a constantly renewing waiting list for Gateway's 115 gardening beds, 24 of which are set up for children and eight that are built higher for physically challenged gardeners. The garden provides thousands of pounds of food for the gardeners, most of them from Huntington Station, and three of the beds are used to grow fresh produce that is donated to people in need.
Budding Green Thumbs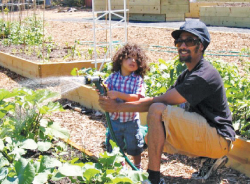 Andre Boxwill and son Isaac
Liza N. Burby

There's a consistent educational component to the community garden. LICAN's EcoLiteracy Project uses the site as a resource for two programs targeted to low-income children who attend the nearby Tri Community & Youth Agency and the town day camp, Project Play. On a recent Saturday, staff from the Cold Spring Harbor Whaling Museum showed children at the garden how to paint with pigments made from vegetables and fruit. And chefs and nutritionists have given vegetable cooking demonstrations.
Last fall, as part of a series of social events, gardeners Andre Boxwill and his then-4-year-old son Isaac created "Stone Soup" day, based on the popular story, when all the gardeners contributed vegetables to a community soup.
Boxwill says Isaac became famous at that event "because he ate vegetables the other kids didn't want to at first. He was a good influence because he got the other kids to eat okra soup."
Boxwill was among the first to sign up for a bed, even though he also has a home garden. Isaac, now 5, can identify the vegetables he eats, including the broccoli he and his father grow together—something Boxwill remembers doing with his own mother.
"Isaac takes care of the seeds. He makes his own way. He knows where to step and he takes ownership and responsibility for watering, weeding, and harvesting," Boxwill says. "The garden teaches him patience and care and the value of working with others and reaping the benefits."
Growing Together
One of the main appeals of the garden is that everyone works together, from the most experienced to the novice gardener. Cathrine Abbate had never gardened before she stopped by last summer with her young daughters.
"If you're not someone who knows how to garden, you're surrounded by other people who do. Also, we're not just learning about growing foods we already ate, we're expanding our palate," Abbate says, pointing to a vegetable new to her family, a tomatillo (a mild-flavored, green tomato look-a-like). They now have a thriving garden that includes eggplant, scallions, and cucumbers.
"I wanted to teach my children the value of where our food comes from and how much work it is to grow food," says Abbate, who comes with her girls Elise, 7, and Vivian, 4, at least three nights a week. "It turned out to be a lot more fun than I thought. We've made a lot of friends here. It started as a way to teach my children, but I've learned so much too. And I didn't even realize they were learning and paying attention. Elise went for a walk with her dad and came across a garden and she could identify all the plants."
Elise says her favorite part is seeing all the vegetables that are ready to eat. "I like seeing the cucumbers get bigger and bigger."
Perennial Plans
The garden experience has spread beyond the Gateway corner. In 2011, LICAN began rebuilding a second town garden in Greenlawn. The Clifford Soergel Memorial Garden is dedicated to providing donations of organic vegetables to local food banks and is also a home for Girl Scout garden projects, Whittelsey says. Further, LICAN began a project in 2012 to help churches, synagogues, and mosques create community service gardens on their congregational lands to grow fresh produce for donations.
"In a garden, children quickly establish connections with nature by planting seeds, observing good and bad insects, seeing vegetables grow and tasting them," says LICAN co-founder Foglia, explaining the priority of children's programs. "Gardening can improve science test scores and motivate children to eat healthier foods and develop an appreciation for the environment."
To apply for a garden bed, go to lican.org.