The Greenburgh Nature Center in Scarsdale, NY is a 33-acre nature preserve that serves as both a wildlife refuge and environmental educational center. The center holds fun family activities during each season of the year, from maple sugaring in early spring to a holiday train show in December.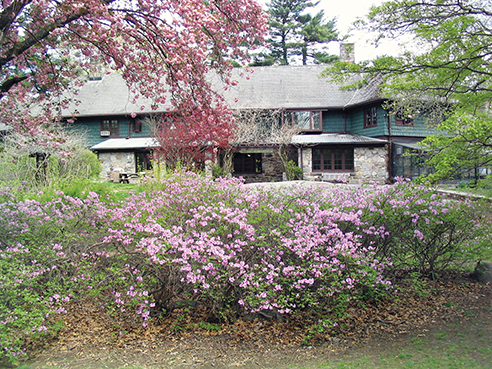 Once farmland, the nature center was a family estate for several decades before it was bought by the Town of Greenburgh in 1975 and developed as a nonprofit wildlife and nature preserve with a focus on education.
Just off Central Avenue, on a busy strip of road in Scarsdale that boasts shopping malls, businesses, and restaurants, lies 33 acres of green oasis known as the Greenburgh Nature Center.
Founded as a nonprofit in 1975, the GNC serves as both a wildlife refuge and an educational center that works to promote the appreciation and understanding of nature and the environment, with a focus on hands-on learning activities.
Year-Round Fun at the GNC
The GNC's grounds include outdoor fun in the form of a nature-themed playground, birds of prey aviary, working beehives, organic garden, barnyard, pond, and nature trails, as well a stone manor house that has a rotating art exhibit, a discovery room with interactive exhibits for kids, and a live animal museum featuring more than 100 critters—from bugs and snakes to ferrets and chinchillas. There's also a greenhouse with botanical exhibits and a gift shop on the premises.
The center hosts educational programs with a nature theme during every season, including about 150 classes for school groups (throughout the NYC area) during the week and close to 70 different public events on weekends.
Because it's a nonprofit, the center relies on volunteers of all ages to help out with gardening, clearing trails, and a variety of other projects.
Annual Events at the GNC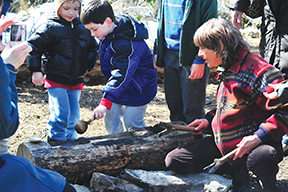 In early March, the center hosts an annual Maple Sugaring Party to celebrate the peak of maple sugaring season and the end of winter. Families can help collect sap, make maple-themed treats and crafts, and learn how maple sugaring was done by Native and colonial Americans.
GNC's Earth Day/Arbor Day Celebration, typically held the Sunday after Earth Day, features a tree planting ceremony, fun activities that teach visitors about the environment, and opportunities for volunteers to help clean up the grounds and prepare them for spring.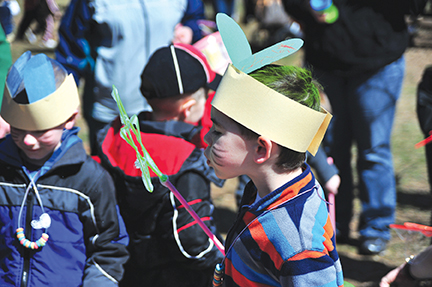 The center hosts a Spring Celebration and Egg Hunt the Sunday before Easter. Kids venture into the woods to collect eggs, which they can trade in for Easter treats (the hunt is split into age categories so tiny tots don't get trampled by the bigger kids). And the whole family can enjoy spring-themed crafts and activities throughout the day.
The newest staple in GNC's calendar is a Farm to Table Fundraiser in mid-May, when area restaurants come together to prepare locally sourced food and drink to support the center.
From late June through early September, families can stop by the grounds for a Storywalk. A nature-themed story is chosen, and pages of the book are mounted on trees along the center's trails, so little ones and parents can read together while taking a walk through the woods.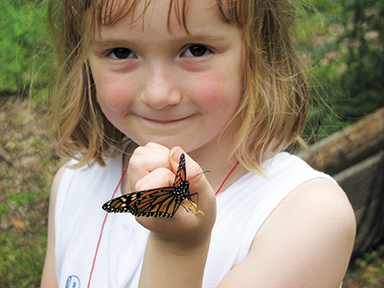 The popular Butterfly Exhibit, now held outside in the meadow, kicks off in late June and stays on view through early August. The exhibit features several kinds of native butterflies, all in different stages of metamorphosis.
During the Harvest Party in early September, visitors can watch the beekeepers extract honey from the hives, learn about gardening, and get hands-on with the produce grown in the GNC's organic patch.
In October, stop by for the Fall Festival to build scarecrows, carve and paint pumpkins, and make apple cider.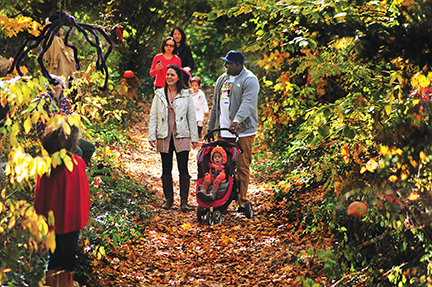 Kids ages 10 and younger are invited to wear their costumes to the GNC in late October for the Scarecrow and Pumpkins Parade featuring Halloween-themed crafts, activities, and nature walks.
Just before Thanksgiving, young children can participate in a Turkey Scavenger Hunt through the woods, and the year rounds out with a Holiday Train Show in December where you can see miniature model trains chug along among mini replicas of area landmarks.
The center also hosts camps and special programs for kids during all school breaks, and birthday parties are offered throughout the year.
Hours and Admission
Address: 99 Dromore Road (off Central Avenue), Scarsdale
Hours: Grounds are open daily, dawn to dusk. Indoor exhibits: 9:30am-4:30pm weekdays (closed Friday); 10am-4:30pm weekends.
Admission: $7; $6 seniors and students; $5 children ages 2-12; free for children younger than 2 and for members
For more information: 914-723-3470 or greenburghnaturecenter.org