healthEhabitats, a Long Island-based indoor environmental wellness company, focuses on helping families reduce unhealthy environmental factors in their homes and maintain a healthy living environment.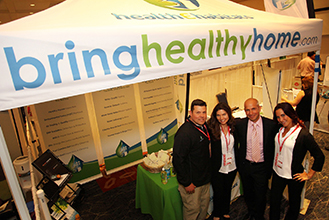 From left: Director and co-founder Toomas Niemann, Annette Napolitano, Alex Lubarsky, and Jaime Lynn promote the new indoor environmental wellness organization at Navel Expo, a convention for health and wellness professionals.
healthEhabitats has introduced a new way of looking at wellness in the home. The company focuses on four areas of maintaining a healthy living environment, including high air and water quality, surface sanitation, and the reduction of electromagnetic radiation.
Toomas Niemann, president and co-founder, explains that people spend approximately 90 percent of their time in the home, and that environmental factors such as allergens, bacteria, carbon monoxide, and chlorine in a home's water supply can contribute to fatigue, respiratory illnesses, sleep disorders, and allergies.
healthEhabitats begins by evaluating air, water, surfaces, and radiation in the home environment and works with homeowners to find and implement solutions. After the initial inspection, healthEhabitats operates on a monthly membership, starting at $19.99, or "roughly the cost of a gym membership," Niemann says. With membership, technicians will return to re-evaluate and maintain the quality of the home environment four to 12 times a year, depending on need.
The company employs an extensive list of services and strategic partners, working on solutions from complete water filtration systems and cleaning ventilation to its organic surface disinfectant that breaks down pathogens into harmless molecules such as H20. "You can actually lick it, and it won't harm you," says marketing manager Annette Napolitano.
healthEhabitats is built on Niemann's experience in the medical industry and commercial sanitation. He created the company to meet requests he received from private organizations and individuals, and receives many new clients on recommendation from medical professionals to help with ailments like fatigue and asthma.