Try these healthy and fun snack recipes by a celebrity caterer for your next family football party or Super Bowl watching party at home. Kids and adults alike will enjoy mac and cheese muffins, beef "lollipops," mini guacamole parfaits, turkey tacos with virgin margaritas, and more.
A game-watching party—whether it's during the regular season or for the Super Bowl—is a great excuse for your family to get together and indulge in your favorite tasty bites, such as pizza, guacamole, and everything in between!
But this year, up the health factor with my simple and nutritious all-star recipes that the whole family can munch on while watching the big game. Each of these items are simple and quick to prepare, so you won't be stuck in the kitchen at kickoff. Each recipe pays homage to a traditional football party favorite, such as mac and cheese and pigs in a blanket, but they're made with a nutritious spin so you don't have to feel guilty about letting your little ones (and yourself!) indulge.
Healthier Macaroni and Cheese Muffins
Makes: 72 muffins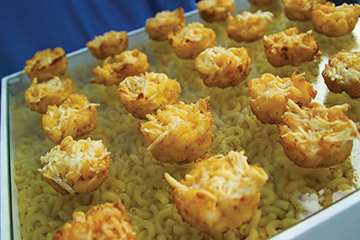 Ingredients
2 cups whole wheat elbow macaroni
1 tablespoon olive oil
1 egg, beaten
1 cup skim milk
1½ cups reduced-fat cheddar cheese, shredded
1½ cups part-skim mozzarella cheese, shredded
Topping
½ cup whole wheat breadcrumbs
1 tablespoon olive oil
½ teaspoon salt
Directions
1. Preheat the oven to 350º. Grease a muffin tin with nonstick cooking spray.
2. In a small bowl, mix breadcrumbs, 1 tablespoon olive oil, and salt together. Set aside.
3. Bring a large pot of lightly salted water to a boil. Add the macaroni and cook for 8 minutes, until al dente. Remove from the heat, drain, and return to the pan. Add 1 tablespoon of olive oil and the egg and stir until the pasta is evenly coated.
4. Add cheddar cheese (reserve some on the side for the top), milk, and mozzarella cheese into the pasta and mix until completely coated. Spoon the pasta mixture into the prepared muffin tin. Sprinkle remaining cheese and breadcrumb mixture on top of muffins.
5. Bake for 30 minutes, or until the cheese and breadcrumbs are brown. Let cool for 10 minutes before serving.
Kobe Beef Frank 'Lollipops'
Makes: 48 pops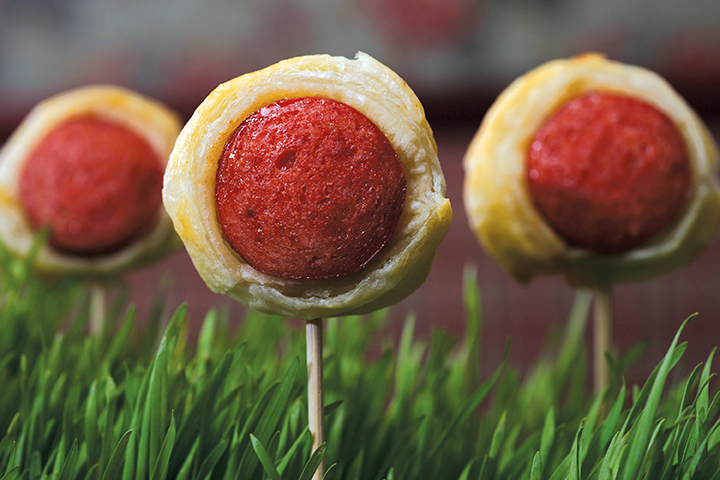 Ingredients
1 sheet puff pastry dough
Flour for dusting
1 cup low-fat cheddar cheese, shredded
3 eggs
6 tablespoons Dijon mustard
6 all-beef hot dogs
Directions
1. Preheat oven to 400º. Line a baking sheet with parchment paper.
2. Dust work surface with flour and place puff pastry sheet on top. Sprinkle one half of the puff pastry sheet with cheddar cheese, spreading evenly. Fold the puff pastry dough in half, sealing the cheese inside.
3. Using a floured rolling pin, roll out dough until approximately ¼-inch thick.
4. Beat eggs together in a medium bowl, and add Dijon mustard to make a Dijon egg wash. Mix well, then brush evenly over dough.
5. Place one hot dog at the edge of the dough. Roll the dough once over the hot dog and seal, using egg wash to help the dough adhere. Using a knife, cut the dough-covered hot dog away from the rest of the dough, pinching the dough together to seal around the hot dog.
6. Repeat with remaining hot dogs.
7. Cut off the ends of each hot dog (including any excess dough), then slice into ¾-inch thick pieces. Place on baking sheet and bake for 8-12 minutes or until golden brown.
8. Serving suggestion: Insert the flat side of a wooden skewer into each frank "pop," then place the pointed end of the skewer into a tray filled with wheatgrass.
Mini Guacamole Parfaits
Makes: 10 parfaits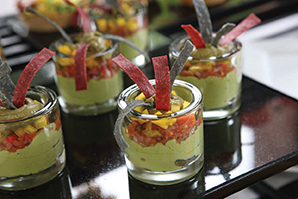 Guacamole
4 ripe Hass avocados
3 tablespoons lime juice
8 dashes hot sauce
½ cup red onion, diced
1 teaspoon kosher salt
1 teaspoon ground black pepper
Pico De Gallo
4 plum tomatoes, seeded and chopped
1 jalapeño, seeded and finely chopped
½ white onion, finely chopped
¼ cup cilantro, roughly chopped
1 tablespoon lime juice
Salt and pepper
Topping
Whole wheat tortilla strips
Low-fat cheddar cheese
For the Guacamole:
1. Cut the avocado in half, remove the pit, and scoop into a large bowl.
2. Add hot sauce, lime juice, onion, salt, and pepper to the avocado, and toss well.
3. Mash the mixture with a fork until all ingredients are mixed together.
For the Pico de Gallo:
1. Combine all ingredients and
mix well.
To Assemble:
Parfaits can be served in votive glasses or plastic cups for kids. Layer the guacamole and pico de gallo in your vessel of choice, then top each parfait with low-fat cheddar cheese and whole-grain tortilla strips.
Turkey Tacos with Virgin Margaritas
Makes: 8 regular tacos or 16 mini tacos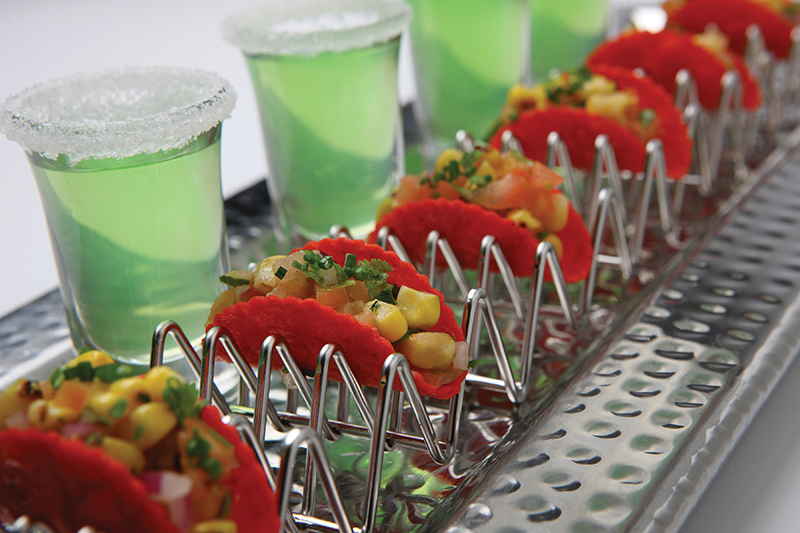 Turkey Filling
1 tablespoon extra virgin olive oil
1 pound ground turkey
1 small onion, chopped
1 tablespoon chili powder
Kosher salt to taste
Corn & Tomato Salad
5 ears fresh corn
2 plum tomatoes, diced
1/3 cup finely chopped red onion
1/3 cup finely chopped cilantro
1 tablespoon extra virgin olive oil
2 limes, juiced
16 mini or 8 regular taco shells
1 cup reduced-fat cheddar
cheese, shredded
Virgin Lime Margaritas
4 cups water
1 cup lime juice
2 teaspoons stevia
2 limes, for garnish
Sugar, for garnish
For the Turkey Filling:
1. Heat olive oil in pan. Add onions and lightly sauté.
2. Add ground turkey and cook through until brown.
3. Add the salt and chili powder, and mix well.
For the Corn & Tomato Salad:
1. Shuck the corn and place in boiling, salted water. Boil until tender, approximately 10 minutes. Let cool.
2. Shave off corn kernels and combine with the remaining ingredients.
3. Set the mixture aside to marinate.
To Assemble:
Fill the taco shells with the turkey filling, top with the Corn & Tomato Salad and cheddar cheese.
For the Virgin Margaritas:
1. Combine all ingredients and allow stevia to dissolve. Place in refrigerator to chill.
2. Dip rim of each glass in water and then dip in sugar. Pour margarita mixture into each glass and garnish with a lime wedge.
Blackberry Plum Hoisin Turkey Meatballs
Makes: 32 mini meatballs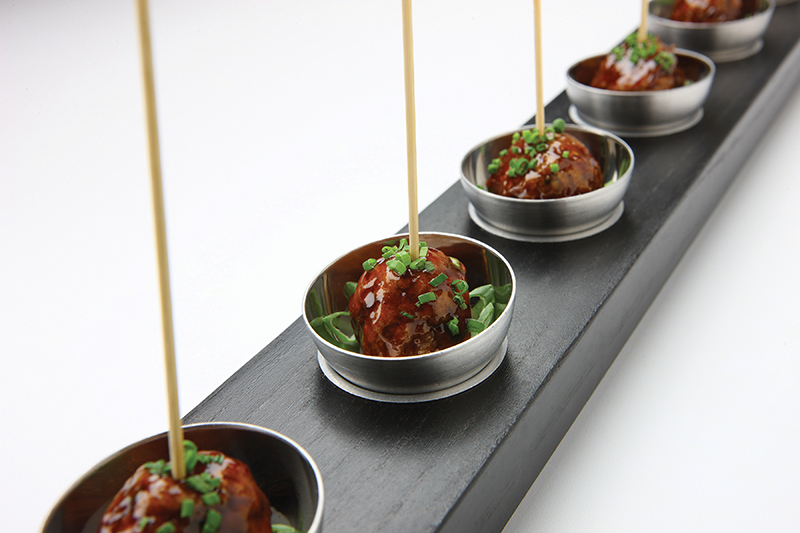 Ingredients
¼ cup milk
¼ cup whole-wheat breadcrumbs
1½ pounds ground turkey
2 garlic cloves, minced
2 teaspoons Chinese five-spice powder
½ cup finely chopped scallions
1 large egg, lightly beaten
2 tablespoons soy sauce
2 teaspoons sesame oil
½ cup hoisin sauce
¼ cup blackberry jam
Directions
1. Preheat the oven to 500º. Grease a mini muffin pan with cooking spray.
2. In a large bowl, stir together the milk and whole-wheat breadcrumbs and let stand for 5 minutes.
3. Add the ground turkey, minced garlic, Chinese five-spice powder, chopped scallions, beaten egg, soy sauce, and sesame sauce to the bowl. Use your hands to thoroughly combine the meat mixture, and then shape it into balls using approximately 3 tablespoons of meat for each.
4. Place the meatballs into the baking pan and bake for 15 minutes, or until fully cooked.
5. While the meatballs are baking, whisk together the hoisin sauce and blackberry preserves in a small sauce pan over medium heat.
6. Remove the meatballs from the oven and toss them in the blackberry hoisin sauce.
Whole Wheat Mini Pizzas in Boxes
Makes: 6 pizzas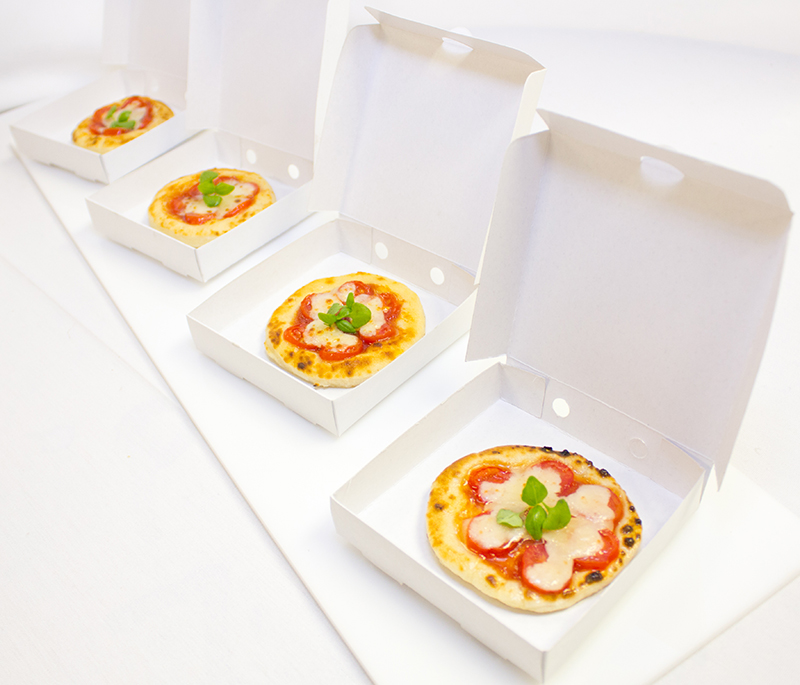 Dough
1½ cups whole wheat flour
½ teaspoon fresh yeast
1 packet stevia
1 teaspoon salt
Pizza Sauce
1 teaspoon extra virgin olive oil
½ cup chopped onion
1 teaspoon chopped garlic
1 can crushed plum tomatoes
Salt to taste
1 teaspoon dried oregano
1 cup part-skim mozzarella cheese
½ cup basil, chopped
Mini pizza boxes (can be purchased at any craft store)
Directions
1. Preheat oven to 375 degrees. Grease a sheet pan with non-stick cooking spray.
2. Mix all ingredients for the dough together until smooth and elastic. Place in a bowl, cover with a wet paper towel, and set aside. Let the dough rest until it doubles in size.
3. In a pan, heat oil and lightly sauté onions and garlic. Add tomatoes and salt. Allow all ingredients to simmer together and reduce, about 10 minutes. Stir in oregano and set aside.
4. Divide the pizza dough into six even portions. Roll each portion into a 4-inch circle with a floured rolling pin.
5. Spread 1 tablespoon of tomato sauce onto each circle and sprinkle with part-skim mozzarella. Top with chopped basil.
6. Cook the pizzas on the greased sheet pan for 20 minutes, until dough is golden brown and crispy. Allow to cool, then place in mini pizza boxes and serve.
Mini Buffalo Chicken Stuffed Bell Peppers
Makes: 12 servings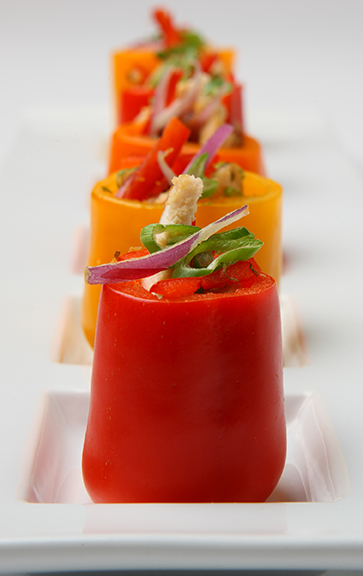 Ingredients
12 small bell peppers
2 cloves garlic, smashed
1 tablespoon salt
1 teaspoon thyme (fresh or dried)
4 cups water
1 pound boneless, skinless chicken breast
¼ cup hot sauce
2 tablespoons coconut oil
2 celery stalks, shredded
Directions
1. Cut tops off peppers and remove all seeds. Rinse and set aside.
2. In a pot, combine water, garlic, salt, thyme, and chicken. Bring to a boil and simmer partly covered for 12 minutes. Remove the chicken and let rest for 15-20 minutes. Shred well with a fork.
3. Add coconut oil to a pan over medium heat. Add shredded chicken and stir. Add hot sauce and toss until coated.
4. Stuff each pepper with chicken salad and top with shredded celery
Mini Tomato and Mozzarella Pita Pockets
Makes: 12 pitas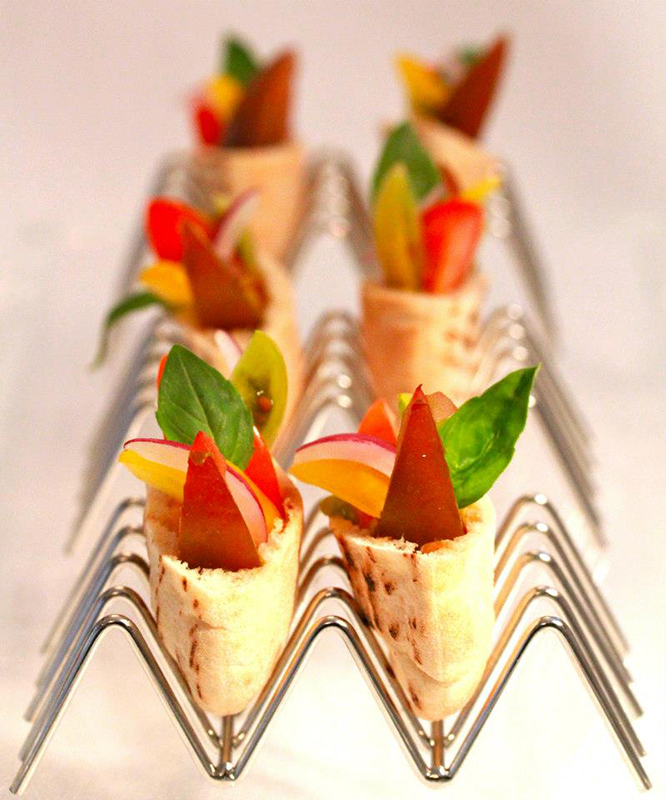 Ingredients
12 mini whole-wheat pita pockets
? cup basil, chopped
8 oz. fresh mozzarella cheese, cubed
2 tablespoons extra virgin olive oil
½ cup sliced grape tomatoes
Salt and pepper to taste
Directions
1. Combine basil, mozzarella, olive oil, and grape tomatoes, and toss well. Add salt and pepper to taste. Allow the mixture to marinate for about 30 minutes.
2. Stuff pitas with salad mixture. Serve and enjoy!
Andrea Correale is an entrepreneur, celebrity caterer, and the president and founder of Elegant Affairs Caterers, a catering and event planning company that serves New York, New Jersey, and Connecticut. During her career, Correale has worked with celebrities such as Mariah Carey, Russell Simmons, Jimmy Fallon, P. Diddy, L.A. Reid, and Donald Trump.
Also See:
How to Throw a Kid-Friendly Super Bowl Party