The top gifts for kids this year are apps, digital games and music, and e-books, says a 2012 PBS Kids survey. Here are 5 tips to help you choose the best downloadable gifts and determine which apps are right for your kids.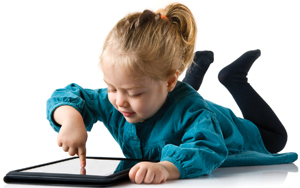 In its annual holiday survey of parents of children ages 2-10, PBS Kids found that the leading trend in gifts for kids this year will be downloadable, such as apps, games, e-books, and digital music. Fifty-eight percent of parents reported that they will "most likely" or "definitely" be purchasing downloadable gifts this season. Of these parents, almost all (95 percent) plan to spend more or the same as last year on downloads.
Since 86 percent of parents report that their kids already have access to a computer, smartphone, or tablet, the focus this year is less on giving new devices and more on the downloadable items that will keep these gadgets fresh and exciting. Parents are gifting downloadables in two primary ways: by selecting and pre-loading apps and games onto devices for their kids (74 percent) and with gift cards that enable the purchase of downloads (57 percent).
"As parents plan to give children downloadable gifts this holiday season, it is important to remember that content is key," says Lesli Rotenberg, senior vice president of children's media for PBS. "Tablet and mobile devices can provide learning opportunities when they are loaded with curriculum-based apps and games that are both fun and educational, but it can be overwhelming for parents to determine which apps are the right apps for their kids."
This holiday season, PBS offers the following tips to help parents navigate successful selection and use of downloadable gifts:
Keep it Fresh: A good app is the perfect combination of education and entertainment, and it should be appropriate for your child's age and stage of development. Kids are most engaged when the features in an app address as many senses as possible and when these features offer variations on a theme, and are not too repetitive. Keep in mind your child's age and skill set and choose games that present the right amount of challenge without becoming frustrating.
Safety First: Parenting today includes teaching kids how to use digital media responsibly. Help children recognize the difference between information worth sharing and private information. There are many ways you can share your ideas and creativity online, but personal information should remain private.
Avoid apps that try to sell: A 6- or 7-year-old can't be expected to distinguish between an entertaining game and advertising. Select apps from trusted, reliable sources, and make sure that they are not trying to market to your child.
Play Together: 56 percent of surveyed parents reported that they co-play mobile apps with their children "often" or "sometimes." This is a great habit to start early in a child's exposure to media. Talking with kids about the game or activity as you play offers both the opportunity to bond as a family and also identify teachable moments.
Set limits: As with any new toy, parents should set expectations and limitations with their kids. Enjoying downloadable apps and games should be balanced with other offline activities and play.
For 24 educational mobile apps from PBS Kids, plus more tips and tools for parents, visit pbsparents.org.
Also See:
Top 5 Educational Apps for Kids
How to Find the Best Apps for Children with Special Needs
5 Tips for Using Technology to Teach Kids Philanthropy