More and more parents are pushing their bodies in fun and healthy ways, from 5Ks to mud runs, inspiring their kids to want in on the action. Here's how to find triathlons for kids and help them train in a fun and healthy way.
When Briarcliff Manor mom Caroline McCaffery's husband signed up to do the ToughMan triathlon in Croton-on-Hudson last year, her 7-year-old daughter Tess and 5-year-old son PJ begged her to sign them up for the race too. The kids' section of the race, dubbed the ToughKids triathlon, consisted of a 20-yard swim, 1-mile bike ride, and 100-yard run. "I was a little nervous at first because they had never done such a strenuous race before, but they had such a blast training with their dad," McCaffery says. "It turned out to be a great family bonding experience and my kids are already researching triathlons that they can compete in this year."
Youth triathlons are a growing trend both locally and across the country. In fact, the number of these races nationwide is five times higher than just 10 years ago. And the New York metro area is a hotbed of kids' triathlon activities, with at least one event a month scheduled from now through the fall. Getting your little ones ready for a race like this might seem daunting, but it can actually be a great way for the whole family to get fit together.
Preparation and training are key to completing a triathlon, but keep in mind that your young athlete won't be training for an IronMan race. Triathlon distances tend to increase with the participants' age. For a reasonably active child, the distances in a youth triathlon can be achieved easily with a fun and structured training plan that gradually builds endurance.
And, when kids train appropriately, the risk of injury is low. "When triathlons are done in moderation (perhaps two to three events a year) with appropriate guidance from a well-educated parent or youth organization, they are probably safer than repetitive sports like soccer which tend to be played for multiple seasons," says Ruth Alejandro, M.D., a pediatric physiatrist at Valhalla's Blythedale Children's Hospital. "The most common injuries in younger patients [who compete in triathlons] are abrasions and bruises, while teenagers might have muscle strains or sprains with longer-distance triathlons."
Think your kids would dig doing a tri? With the help of Ken Axford, USA Triathlon certified coach, and Joanne Orce, president of the Northern Westchester Triathlon Club, we've put together everything you need to know to make sure your child has a safe and fun race day.
3-4 months before the race:

Research races and sign up

If your kids are truly committed to completing a triathlon this season, it's not too early to begin planning even three to four months before race day.

Find a race: There are two great websites that list events locally and nationwide: trifind.com and kidstri.com. Be sure to thoroughly check out entry fees and race descriptions. Some races allow on-site registration while others permit advanced registration only.

What to look for: A well-designed youth triathlon will have incremental age divisions. For the youngest participants (usually ages 4-6), a race might consist of a 20-yard swim, 1-mile bike ride, and 100-yard dash, while a preteen might be expected to swim 200 yards, bike 4 miles, and run 1 mile. You'll also want to find out what medical personnel will be on-site and how many race marshals will be guiding participants along the course so that everyone stays safe; if this info isn't included with the site listing, inquire using the contact info for the race.

Research the rules: For the youngest participants, training wheels or flotation devices in the water may be permitted. In addition, parents can sometimes accompany their child in each segment of the race. Other races only allow a parent to help with transitions, such as putting on a bicycle helmet or getting out of a wetsuit. Knowing the rules will help you train appropriately.

Purchase equipment: Bicycle helmets approved by the U.S. Product Safety Commission and wetsuits may be required in order to participate.
6-8 weeks before the race:

Get 'em training!

Even little kids need to prepare. A six- to eight-week training program before the race will help your child build stamina.

Swimming: Of all three segments, the swim can be the toughest. Determine whether your child can swim the race distance with ease; if not, lessons will be needed to teach technique and ensure a safe swim. Even if your child can physically swim three times the distance in the pool, an open water swim can be mentally challenging. Building confidence in the water is key.

Biking: Start with a slow bike ride about half the distance required in the race, and focus on safety skills such as braking and how to pass other bikers safely. Gradually increase the distance each week until your child can easily bike the race distance.

Running: Start by slowly running half the distance required by the event and walking the remaining distance. With each week, increase running time and decrease walking time. Three running sessions per week is plenty. Make sure to train on soft surfaces, if possible (rather than concrete), to avoid injury.

During training, the focus should be on having fun, learning proper form, and building the workload gradually. Be sure to include "brick" sessions in your child's training. Bricks are two segments of the race completed back to back. So for example, follow a swim with a bike ride. As race day approaches, be sure to include "brick" workouts two to three times per week in your child's training regimen. It's also important that your child have at least one day of rest per week to avoid overuse injuries.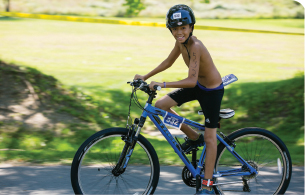 Marcus Deknatel of Scarsdale, age 14, on the bike portion of a ToughKids triathlon.
3-7 days before the race:
Get familiar with the course
Now is the time to pick up your child's registration packet, review start times, and review the racecourse to determine where your child's gear needs to be set up along the course.
Race day:

Ready, Set, Go!

All that training has finally paid off for race day. For a fun-filled day, make sure your child hits the restroom before the race and encourage him or her to fight fatigue and dehydration at food stations where water and fruit are often distributed. Set up a designated meeting spot to find your child at the end of the race. Perhaps most importantly, appoint a family photographer. Nothing beats a picture of your child's beaming face with a medal around his or her neck at the finish line.
Resources
Coaching Kids Sports: coaching-kids-sports.com
Northern Westchester Triathlon Club: 914-318-5658; nwtriclub.com
USA Triathlon Kid Zone: usatriathlon.org