A music therapist and award-winning children's musician offers tips on bringing your child to a concert or other live music performance, including how to choose the best venue, prepare kids for the show, and help them engage with the music.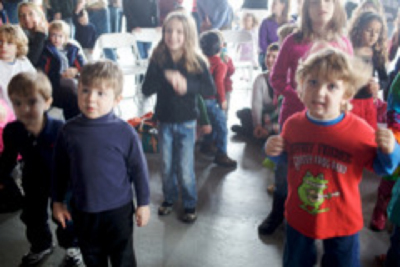 Match the performance length with your child's age.
Don't overdo it or undercut your child's ability to manage a music performance. Recommended length of performances:

- 30 – 50 minutes for toddlers
- 60 – 75 minutes for preschoolers
Explore different music venues.
Sharing live music with children doesn't have to be expensive or at a fancy theater. Take the kids to listen to music at:

- performing arts centers
- community performances at libraries and local parks
- performances by students or parents at schools or in the classroom
- or in your living room—dust off your high school flute and share some songs!
Prepare kids for the show.

- Use the bathroom!
- Teach audience manners (clap after a song to show appreciation, try to sit with your hands to yourself, ask an adult in quiet voice if you have a question or need to leave during the performance).
During the performance:
- Model good audience behavior (no texting!).
- In a quiet voice, point out names of instruments and explain the ways they produce sound.
After the performance:
- Talk about what you saw and review impressions—ask children what they liked best and least about the performance.
- Answer your child's questions.
- Read books about subjects related to the performance, such as the type of music performed or the instruments used.
Jeffrey Friedberg, MA, MT-BC, is a certified music therapist and award-winning children's musician who performs with the Rockland County-based Bossy Frog Band. Friedberg received his MA in music therapy from NYU and has 15 years experience as a music therapist. He has more than 30 years experience performing as a professional musician. As part of the Bossy Frog Band, Friedberg sings and plays banjo, guitar, saxophone, flute, harmonica, and piano.
Also see:
Live Music is Good for Child Development
Ask the Expert: Can Music Improve My Child's Reading Skills?