The Junior League of Long Island hosted the Kids in the Kitchen event in Amityville on Long Island to help end childhood obesity.
The Junior League of Long Island, a nonprofit organization of women volunteers, joined the battle to help end childhood obesity on Long Island by hosting Kids in the Kitchen, an educational and fitness-themed event, on March 9.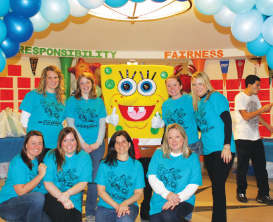 Members of the Junior League of Long Island share the spotlight with SpongeBob SquarePants at the organization's Kids in the Kitchen event. Courtesy JLLI
Fifty students from Park Avenue Memorial Elementary School in Amityville and their families enjoyed an action-packed, fun-filled day learning good eating habits, exercise options, and the importance of establishing healthy habits at an early age.
"The Junior League has always been about improving the lives of children, and our Kids in the Kitchen initiative empowers Long Island children to adopt healthy habits," says president Kelly Morgano. "Educating children is the key to reducing the obesity trend in our nation and its associated health issues, such as diabetes and heart disease."
The event addressed the urgent issues surrounding childhood obesity on Long Island through interactive, hands-on activities and demonstrations from local nutrition and fitness experts. The fourth-, fifth-, and sixth-grade students enjoyed instructional sessions led by Keren Gilbert of Decision Nutrition; Yousef Alawadhi, D.D.S.; staff from Yoga Rocks; fitness instructors Dean and Bernadette Bourazeris; and Myachi instructor Cody Hatch. Party Train DJs and DJ Jonathon Page provided music throughout the day.
Kids in the Kitchen was made possible by donations from many local businesses, including Microsoft at the Walt Whitman Mall, American Girl, Smoothie King of Carle Place, Giovanni's of Massapequa, Matteo's of Roslyn, and Park Avenue Grill of Huntington.