Celebrate a first birthday with this adorable cake featuring a friendly face and enough yummy frosting to smush all over baby's face, making for the sweetest before-and-after photos ever!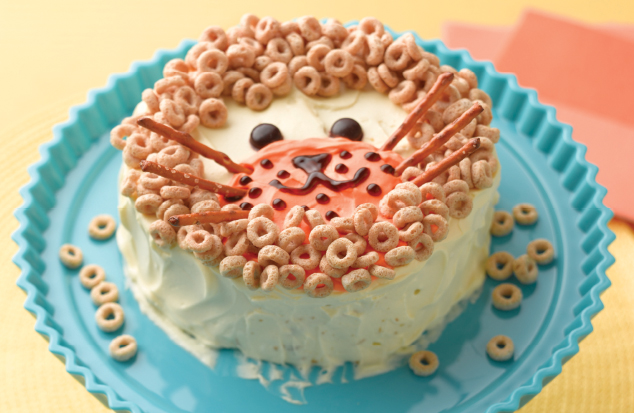 What's better than watching your little one dive into his first birthday cake? All concerns for manners and a clean carpet suddenly disappear as your twinkle-eyed babe plunges into that first layer of frosting, eyes alight with mischief and sheer glee. And if he's not a willing participant, well, all the funnier, right?
In honor of that moment, Betty Crocker has created a line-up of easy-to-make first-birthday cake recipes, each designed to be smashed and smushed to bits by your tiny cake monster. Here, get the recipe for an adorable lion cake, and for more first birthday cake recipes, including a rubber ducky cake and sweet mini cakes, go to bettycrocker.com.


Serves: 8
Prep Time: 40 minutes
Total Time: 1 hour, 55 minutes
Ingredients
1 box Betty Crocker Super Moist yellow cake mix
1 cup mashed very ripe bananas (two medium)
½ cup vegetable oil
¼ cup water
3 eggs
1 package (8 oz.) cream cheese, softened
1 container (6 oz.) vanilla yogurt
Decorations
Golden yellow gel or paste food color
Orange gel or paste food color
¾ cup Cheerios cereal
6 pretzel sticks
2 brown candy coated pieces
Brown decorating gel

Directions
1. Heat oven to 350 degrees (325 degrees for dark or nonstick pans). Using shortening or cooking spray, grease the bottom only of one (6-inch) round cake pan and place paper baking cups in 16 regular-size muffin cups.

2. In a large bowl, beat cake mix, bananas, oil, water, and eggs with electric mixer on low speed. Beat on medium speed for 2 minutes, scraping bowl occasionally, until smooth. Place 1¾ cups batter in the 6-inch round pan. Spoon remaining batter into 16 lined muffin cups. Bake round cake 35-40 minutes and cupcakes 18-23 minutes or until toothpick inserted in cake comes out clean. Cool 10 minutes; remove from pans to cooling rack. Cool completely, approximately 30 minutes.
3. In a small bowl, beat cream cheese and yogurt on medium speed with electric mixer until creamy and smooth. Stir in yellow food color until mixture is desired color. Place 3 tablespoons of yellow frosting in a small bowl; stir in orange food color until mixture is desired orange color.

4. To frost and decorate the cake, slice the 6-inch round cake horizontally to remove rounded top. Place cake cut side down on a plate. Use yellow frosting to frost top and sides of cake. Use orange frosting to make muzzle of lion. Place cereal around top edges of cake to form the lion's mane. Add brown candy coated pieces for eyes. Insert pretzel sticks into cake near muzzle for whiskers. Use brown decorating gel to make mouth, nose, and whisker spots on the lion face. Use remaining frosting to frost cupcakes. If desired, use cereal to decorate the cupcakes. Store cake and cupcakes in refrigerator.
Expert Tips
• Short on time? Substitute Betty Crocker Whipped fluffy white frosting in place of the cream cheese-based frosting in this recipe. Add food color to get desired color.

• No 6-inch round cake pan? Use an 8-inch round cake pan. Fill pan with 2½ cups batter; bake 25-30 minutes. Use remaining batter to make 15 cupcakes. Make a paper template for a 6-inch circle. Place template on 8-inch cake and use it to cut out 6-inch round cake.