One Long Island dad is making it his mission to teach children about pool and swimming safety through the Long Island Drowning Prevention Task Force.
On a recent morning at the Grundy Elementary School in Holbrook on Long Island, Bobby Hazen, founder of the Long Island Drowning Prevention Task Force, asked approximately 100 fourth- and fifth-graders how many of them had a backyard pool. Nearly three-quarters of the students raised their hands. But when Hazen asked how many also had poolside safety equipment like a shepherd's hook or life ring, only six students responded.
Answers like that are of great concern to Hazen, who has made swim safety his mission since he learned that drowning is a leading cause of death for children ages 1 to 4 on Long Island.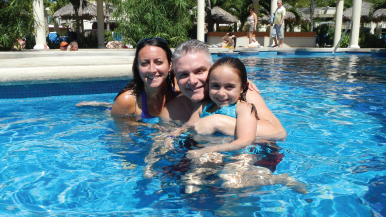 Bobby Hazen (center) with wife Lisa and daughter Caylee
Courtesy Bobby Hazen
"Too few children know how to keep themselves safe around the water," says the Shirley, Long Island resident. "I'm trying to raise awareness about water safety to kids, but also to make their parents more aware of what they need to do to keep their children safer. Early education is crucial."
By partnering with a water safety program created by the Safer 3 Water Safety Foundation in California, Hazen is making local children aware of the dangers and risks associated with being in, on, or near the water, as well as strategies and safety equipment that help prevent drowning.
How Long Island Drowning Prevention Task Force Was Created
In 1997 Hazen began working for his uncle, managing one of Long Island's Saf-T-Swim schools, which offers water programs for children as young as 2 months. And for several years, that was enough. But in 2001, when the business was short-staffed, Hazen literally had to jump in the water to become an instructor.
"I had never had that teaching background before, but I enjoy the process of teaching children how to save themselves," says Hazen, who had his 6-year-old daughter Caylee begin taking swim lessons when she was just 6 months old.
"And then every year I'd hear these horror stories of children drowning in their backyard pools. Our phone would ring off the hook after each incident as parents wanted to give their children lessons. It occurred to me that as a public we're not doing something right," he says. "There are a lot of good safety programs out there, but there wasn't one coordinated way to get the word out [about drowning prevention]."
Hazen then decided to create the Long Island Drowning Prevention Task Force. It includes Saf-T-Swim, North Shore LIJ Health Systems, Safe Kids (New York State, Nassau and Suffolk counties), Stony Brook Children's Hospital, Steven & Alexandra Cohen Children's Medical Center, New York State Lifeguard Corps, Jones Beach Lifeguard Corps, New York State Department of Parks, Northeast Spa & Pool Association, Long Island Spa & Pool Association, and Kids Swim Long Island.
Resources from the Long Island Drowning Prevention Task Force
LIDPTF compiled a 16-page booklet (available at lidptf.org) that is distributed to parents and caregivers through their children's schools, pediatricians' offices, and many local businesses. The goal, Hazen says, is to educate parents and caregivers about how to keep children safer around the water, including the importance of and where to find appropriate pool safety equipment, first aid and CPR education, and swimming lessons.
"The one key ingredient is to have an early education program," says Hazen, a member of the Infant/Toddler Committee of the United States Swim School Association. "It's great to educate parents, but kids can be a big part of the learning experience. They should notice what is going on at the pool, beach, pond, and even the water park, and point it out to their parents."
To that end, with the help of sponsors like Saf-T-Swim, North Shore LIJ, and Long Island Pool and Spa's Kids Swim, Hazen has organized an early educational water safety presentation with the Safer 3 Program and brought it into local schools. He visited 40 schools this semester and will be doing the same at camps this summer.
Safer 3 uses characters Sammy Starfish, Timmy Tadpole, and Gilbert Guppy to teach kids water safety through a presentation, coloring books, DVDs, and an online curriculum.
The message is simple:
Safer Water: Install, maintain, and utilize proper fencing, gate latches, alarms, and other safety equipment around the pool.

Safer Kids: Year-round swimming lessons promote water safety and survival skills for children of all ages. Provide constant adult supervision. Learn proper behavior in, on, and around the water.

Safer Response: Parents should know how to administer CPR, first-aid, and rescue techniques. Keep an emergency action plan and phone by the pool at all times.
Keith Fasciana, principal of William Floyd Elementary School in Shirley, was the first to bring the Safer 3 Program into his school last year for kids in kindergarten through second grade. It was so well received by the kids, parents, and teachers that this year, he says, they named the week before Memorial Day "Water Safety Awareness Week."
"It's usually after Memorial Day Weekend, after parents have opened their pools, that you start to hear the stories of drowning," Fasciana says. "Our goal is to make kids think before they swim."
Fasciana says he admires Hazen's commitment to drowning prevention. "He's involved with Saf-T-Swim, but to take this to the volunteer level, to commit so much of his time to it—he really believes in keeping children safe."
Hazen says the effort is well worth it. "If my efforts save one child, it is worth it," Hazen says. "As a dad, I think it's important to make sure to educate children to be as safe as they can be. Water safety education is an important part of that."
For those interested in becoming an LIDPTF partner or sponsoring the booklet, email [email protected]