A Long Island family opens up their home each summer to host a Fresh Air child through The Fresh Air Fund, a nonprofit that provides free summer experiences to more than 1.7 million NYC children from low-income communities.
"I never forgot when my parents invited a Fresh Air child to our house one summer when I was growing-up," Pamela Desmond, of Commack, NY on Long Island said about her decision to become a volunteer host. "I knew it would be a meaningful experience for my family in the future."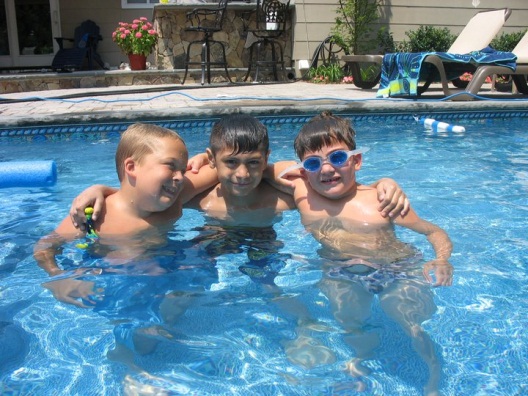 The Fresh Air Fund is an independent, not-for-profit agency that has provided free summer experiences to more than 1.7 million New York City children from low-income communities since 1877. Each summer, more than 4,000 children visit volunteer host families in rural, suburban, and small town communities across 13 states from Virginia to Maine and Canada.

The Desmond family has been hosting 10-year-old Elton, of Elmhurst, NY in Queens, since 2010.
"He really is part of our extended family. Elton definitely has made a difference in my family's life," said Pamela whose sons are close in age to Elton. "They love hanging out on the front lawn, playing Legos, and jumping in the pool. Honestly, they enjoy the simple things."
On a typical summer day, the kids are outside, enjoying the beatiful warm weather.
"Just swimming in the pool is really fun because we get to relax and cool-off," says Elton's host sibling Daniel. "I don't consider Elton a friend anymore, I consider him a member of my family."

When Elton arrived for his first visit in 2010, he was afraid of the family's dog Buddy. "After he overcame his fear, he would come walk the dog around the block with us. Now, it's definitely one of his favorite pastimes," says Pamela. "He'll say 'Hey! Take a picture of me with Buddy!'"

The Desmonds and Elton talk frequently throughout the year and occasionally see each other. They call each other on holidays and when exciting events occur in their lives.
"Elton will call us when he performs well on a test or when he needs help with math. We'll try to help him by making flashcards when he comes to visit and I think he really appreciates that," Pamela said. "This has been an amazing experience and I love how it's taught my children to think of others and to welcome people into our home."

The Fresh Air Fund, an independent, nonprofit agency, is always seeking host families to enable as many New York City children as possible to benefit from a summer experience outside of the city.
To learn more about how to become a host family in the Huntington area, please contact Joan Giusto at 631-683-4010 or visit The Fresh Air Fund online at freshair.org.