This Long Islander, who has autism, courageously crossed the finish line of his 26-mile dream. Matthew started running when he found it calmed his anxiety, and with the help of a dedicated coach, he completed the New York City Marathon.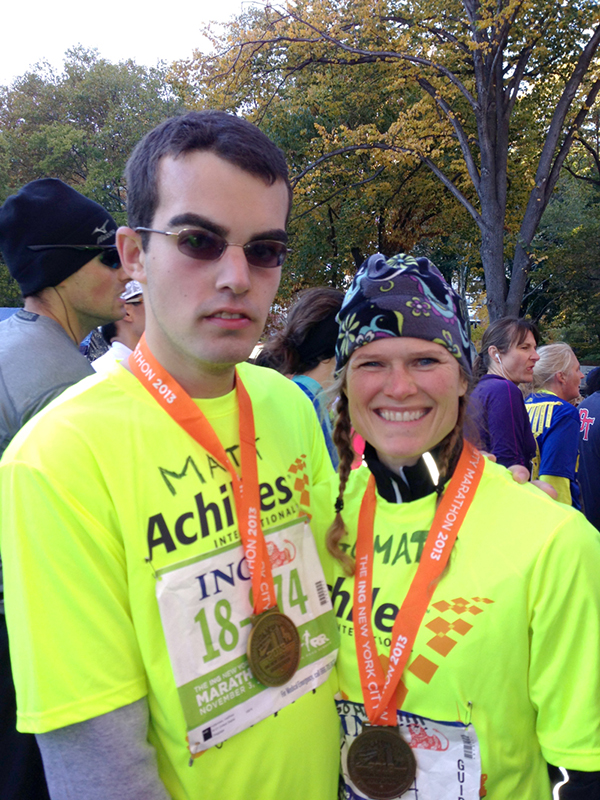 Matthew Futterman (left) and coach Valerie Rosen after completing the 2013 NYC Marathon
Training for and ultimately competing in and finishing a marathon is undeniably a remarkable achievement; it is about enduring the unendurable.
For many years, I have had the distinct pleasure of sharing the experience with a few very special runners. In 2012, I trained with the extraordinary Matthew Futterman. Now 21, Matthew, who has autism, lives on the north shore of Long Island and participates in the Jewish Child Care Association's Compass Project there; I am a social worker at the JCCA Compass Project in Westchester. The Compass Project, which also serves Manhattan and Queens, is designed to help young adults with learning differences, executive functioning and social communication challenges, autism spectrum disorders, and related disabilities make a successful transition from school or unemployment to the workplace and independent adulthood.
I first met Matthew at an airport when we were both going to Israel as part of a JCCA Birthright trip. His dad asked me if I could make sure Matt got out a few times for a run because this eased his anxiety. Matt and I ran together in Israel, and then when we came home we arranged to run together in preparation for Matt's first marathon. Matt's goal was to train and complete the 2012 New York City Marathon. Due to Hurricane Sandy, his dream was delayed a year, but he kept his focus and trained even harder for 2013. Matthew and I worked on his nutrition and training, and ultimately, hand in hand, we ran the 26.2 miles of the 2013 NYC Marathon.
Like any athlete preparing for the marathon, Matthew faced a number of challenges, including emotional stress and worry. He was concerned about what to wear, what to eat, and how to prepare for bad weather. We discussed his concerns until he felt more comfortable and confident. There were physical challenges, too, as he tended to tense up when we trained. I had to remind him regularly to relax his shoulders. Finally, most runners want to bolt off the starting line at the beginning of the race. Having run many marathons, I knew it was important to pace ourselves, so I told him to slow down—and we wound up at the finish line!
We experienced the throngs of cheering fans, the different neighborhoods and smells and terrain, and the mental and physical changes together. Matthew ran beautifully and finished with a smile from ear to ear. "Running in the marathon made me feel like a super athlete," Matthew says. "It freed my life."
Also see:
The Benefits of Sports for Kids with Special Needs