Supermodel and mom of four Niki Taylor visited NewYork-Presbyterian Hospital and the New York Stock Exchange to show her support and help kick off the 2014 March of Dimes' March for Babies, which will be held in nearly 700 communities at the end of April.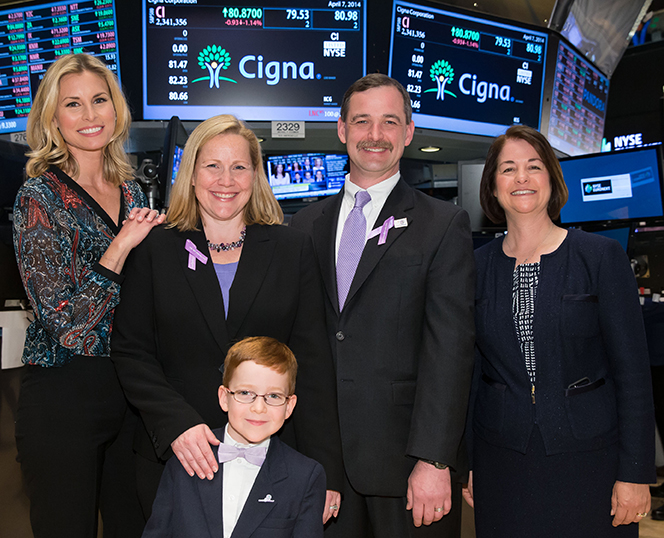 Niki Taylor (left) with March of Dimes national ambassador family Jill Teeters-Lamothe, David Lamothe, and their son Aidan at the New York Stock Exchange, kicking off the 2014 March for Babies.
Supermodel and mother of four Niki Taylor joined March of Dimes, Cigna officials, and other corporate supporters to kick off this year's March for Babies, the March of Dimes' signature fundraising event, ringing The Closing Bell at the New York Stock Exchange on April 7.
March for Babies will take place in nearly 700 communities in all 50 states, the District of Columbia, and Puerto Rico on the last weekend in April. March for Babies has been held annually since 1970 and has raised a combined total of more than $2.3 billion. The goal for this year's event is to raise $106 million to support the research, education, and community service programs that help mothers and babies nationwide.
Preterm birth is a serious health problem that costs the nation more than $26 billion annually, according to a report from the Institute of Medicine. More than 450,000 babies – one out of every nine – are born too soon each year in the United States.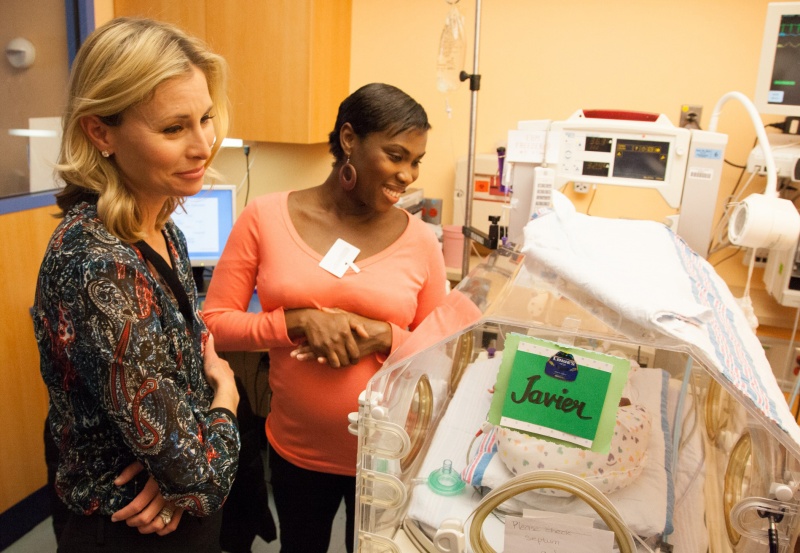 Niki Taylor visited the NICU at NewYork-Presbyterian Hospital, where she met a mother whose son is currently being cared for there.
On Monday morning, Taylor joined Briana and Matthew Tortoso and their son John Carlo at a press conference at NewYork-Presbyterian Hospital to discuss why they volunteer with the March of Dimes. "I'm so proud to be a March of Dimes mom," Taylor says. "I'm lucky because I have four healthy children, but that's because of the amazing work the March of Dimes has done to improve mom and baby health."
Briana Tortoso then took Taylor on a tour of the hospital's NICU, where John Carlo spent nearly three months as a newborn. There, the pair met Nadia Guirand-Jean, whose son Javier Jean is currently in the NICU.
Taylor ended the day by closing the New York Stock Exchange with corporate sponsor Cigna and the March of Dimes' national ambassador family: Jill Teeters-Lamothe, her husband David Lamothe, and their son Aidan. Taylor helped ring The Closing Bell as a way to kick off the March for Babies 2014 fundraiser.
As a celebrity volunteer, Taylor says she is proud to lend her voice in support of stronger, healthier babies. For the third consecutive year she will march for babies in her home state of Florida. "As a family we are very excited to be participating in March for Babies," Taylor says, "and I urge everyone to sign up now."
For more information about the March of Dimes' March for Babies, visit marchforbabies.org.