Find miniature golf courses in New Jersey, including indoor and outdoor mini golf and putt-putt courses from Bergen County to Monmouth to Atlantic County. You'll find address, contact info, hours, prices, and a description for each course in our list.
Note: Hours for outdoor courses are subject to change depending on the weather. In case of inclement weather, we recommend calling ahead before visiting an outdoor course.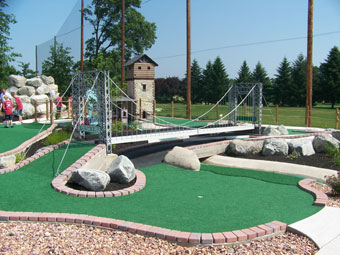 At the New Jersey-themed Paramus Miniature Golf Course in Bergen County, you can play alongside mini replicas of landmarks like the George Washington Bridge.
Atlantic City Miniature Golf
1 Kennedy Plaza, Atlantic City
855-255-2997
Hours: Summer: Sunday-Thursday, 9am-12am; Friday and Saturday, 9am-1am
Price: $10; $8 children
This is an 18-hole mini golf course with realistic landscapes, elevating greens, and real waterfalls. The course is well-lit, which makes it easy and fun to play at night.
Blackbeard's Cave
136 Atlantic City Blvd., Bayville
732-914-1896
Summer hours: Daily, 11am-9pm
Price: $6 per person
The miniature golf course is just one of many family-friendly attractions at this theme park.
Bogota Golf Center
30 Cross St., Bogota
201-489-2400
Hours: Daily, 6am-11pm
Price: $7 ($4 to replay); $5 children younger than 12 ($3 to replay)
This 18-hole course is indoor and open throughout the year. There is a one-hour limit on all games. The center also offers golf lessons and has batting cages, a driving range, "bankshot" basketball, and a golf shop.
Closter Golf Center
153 Homans Ave., Closter
845-359-0642
Hours: Daily, 6am-11pm
Price: $6; $5 children younger than 12
This center has an 18-hole mini golf course and a driving range.
Golden Galleon Pirate Golf at Playland's Castaway Cove
10th Street and the Boardwalk, Ocean City
609-399-4751
Summer hours: Daily, 8am-11pm
Price: $6 per person before 6pm; $7 after 6pm
There are two 19-hole, pirate-themed courses with their own unique challenges. A hole-in-one on the 19th hole gets you a free round of golf.
Congo Falls Adventure Golf
1132 Boardwalk, Ocean City
609-398-1211
Hours: Summer: Daily, 8am-12am. Spring and fall: Friday, 4-10pm; Saturday, 11am-10pm; Sunday, 11am-6pm.
Price: Call for rates
Congo Falls features three 18-hole miniature golf courses: Congo Queen, Solomon's Mine, and the Lost City. The courses are indoor and the facility is air-conditioned. Special effects such as waterfalls, caves, and a snake pit add to the excitement of playing these courses.

Dynamite Falls Adventure Golf
400 Fairfield Road, Fairfield
973-808-0300 or 973-882-9777
Hours: Weekdays, 12-9pm; Saturday, 10-11pm; Sunday 11am-10pm (hours are seasonal and subject to change)
Price: $7.75; $6.75 children ages 3-11 and seniors ages 62 and older (with AARP card); free for children younger than 3 (with paying adult). Second round: $5.25 per person. Discount book (10 rounds for 10 people): $62.
Dynamite Falls offers an 18-hole course with waterfalls, fountains, walk-through cave, river hole, water hole, drop holes, and an interactive 18th hole that offers a chance to win a free game. Every hole is different. The course is designed for all ages and skills levels.
Edgewater Golf Range
575 River Road, Edgewater
201-840-4001
Hours: Daily, 7am-11pm
Price: $7; $5 children younger than 12
This 18-hole course offers views of the New York City waterfront. There is a snack bar on site, as well as a driving range and pro shop.

Farmer Brown's Golf Center
1191 State Route 33, Farmingdale
732-938-6110
Hours: Opens weekdays at 10am and weekends at 9am; last group out at 8:45pm for weekdays and weekends
Price: $7 per person
This 19-hole mini golf course features water hazards, sand traps, and some rough areas. If you get a hole-in-one on the 19th hole, you get to come back again and play for free the next time.
The Golf Zone
239 US Highway 206, Flanders
973-252-1266
Hours: Daily, 9am-10pm
Price: 18 holes: $8; $6 children younger than 10. 36 holes: $14; $10 children younger than 10.
You can choose to play an 18-hole or 36-hole course.


Gino's Drive Range & Miniature Golf
669 Bridgeton Pike, Mantua
856-468-1643
Hours: May-August: Daily, 11am-10pm
Price: $5 per person
Features a 19-hole miniature golf course. Hit a hole-in-one on the 19th hole and you can win a pass for one free game.
Golfland
801 Haddonfield Berlin Road, Voorhees
856-783-8700
Hours: May to Labor Day: Daily, 10am-10pm
Price: $5.50; $4.50 children younger than 12
This center offers entertaining but not-too-challenging courses that families can play together.
Hole In One Golf Center
530 State Highway 33 West., Millstone Township
732-792-2818
Hours: Daily, 10am – dusk
Price: $7.50; $7 seniors ages 65 and older; $6.75 children ages 10 and younger; replay the course for half price
This golf center features an 18-hole miniature golf course with colored turf, waterfall, streams, and ponds. Putters and balls are provided.
Little Pond Golf Center
1110 Chews Landing Road, Clementon
856-435-3700
Hours: Daily, 10am-7pm
Price: $7; $6 children ages 11 and younger
This Southern New Jersey golf facility includes a miniature golf course with 36 holes. There are also more than 70 driving range stalls as well as five batting cage stations.
Monster Mini Golf
49 E. Midland Ave., Paramus, NJ
201-261-0032
Hours: Summer: Monday-Thursday, 12-9pm; Friday-Saturday, 12-10pm; Sunday, 12-8pm
Prices: $9; $8 children between 3 to 5 feet tall; free for children shorter than 3 feet tall
Play 18 holes at this glow-in-the-dark indoor course featuring otherworldly creatures. This location also has an arcade.
Paramus Miniature Golf Course
314 Paramus Road, Paramus, NJ
201-447-6079 x13
Hours: Friday, 4-9pm; weekends, 10am-9pm (hours are subject to change in the summer; call or check the website for updates)
Price: $8; $6 children and seniors
This 18-hole mini golf course is located on the grounds of the Paramus Golf Course. It's New Jersey-themed, and players can cross a small-scale replica of the George Washington Bridge, take the Paramus exits on the Garden State Parkway, visit the miniaturized Boardwalk, and more, all with the Statue of Liberty in the background.

More Fun
Find more miniature golf courses in the NYC area
Search for more fun family activities in our full calendar of events