Dietitians at NewYork-Presbyterian Hospital share summer grilling tips and tasty recipe ideas for a healthy backyard barbecue cookout with friends and family.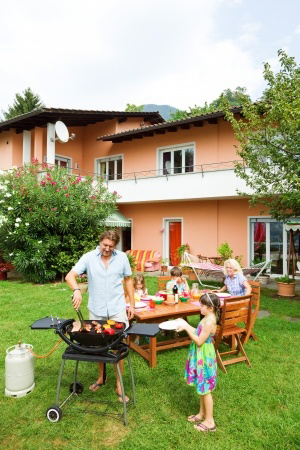 An old-fashioned summer cookout is not always a healthy affair, but these 10 tips from the registered dietitians at NewYork-Presbyterian Hospital can easily convert a fatty-food blitz into a healthy and tasty menu:
Throw some unexpected foods on the grill such as peaches, asparagus or even bread.
Incorporate veggies into your BBQ menu by making kebabs instead of burgers.
Cut the calories in your potato salad, coleslaw and macaroni salad by using mustard, vinegar, or low-fat yogurt instead of mayonnaise.
Alcohol may stimulate your appetite. Try creating nonalcoholic drinks by blending fresh squeezed juices and flavored seltzer waters.
Turkey burgers, veggie burgers, and Portobello mushroom burgers are all tasty and lower in calories than traditional beef burgers .
Cut back on the salt and give chicken a fresh burst of flavor by seasoning it with fresh or dried herbs, vinegars, or citrus juices.
Make refreshing smoothies with fresh or frozen berries, peach nectar, and ice.
Eat healthy fats by adding fish to the menu, salmon or tuna.
Tofu is delicious on the grill—make sure you get the extra-firm type.
Keep the food at a separate buffet table. Everyone will be less tempted to go for seconds if food is not in front of them while eating.
NewYork-Presbyterian Hospital, based in New York City, is the nation's largest not-for-profit, non-sectarian hospital, with 2,353 beds. NewYork-Presbyterian provides state-of-the-art inpatient, ambulatory and preventive care in all areas of medicine. One of the most comprehensive health care institutions in the world, the hospital is committed to excellence in patient care, research, education and community service.


Also see:
10 Tips for Cooking on the Grill