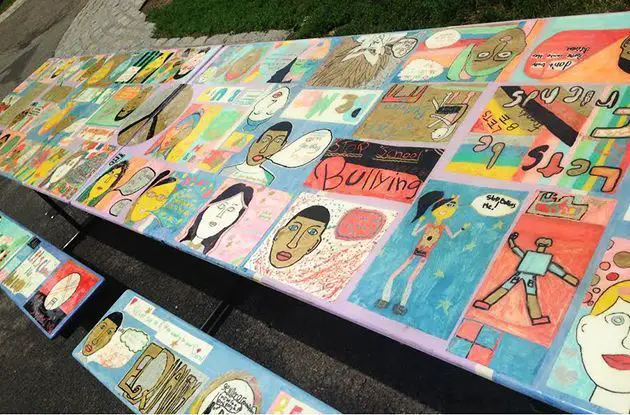 NYC Students Debut Citywide Art Exhibit on Bullying, Racism, Discrimination
Get can't-miss family activities sent to you!
Get the Best Kid-Friendly Activities
Sent to You Weekly!
Danica Baptiste and Skyler Hart, sixth-graders at Robert E. Simon School, said participating in the program has made them feel empowered when it comes to bullying. Skyler's contribution to the table collage is of a young girl who gets bullied by boys. After completing the LeAp program, she says she is more confident.
At the kickoff event today in Morningside Park, many students said they believe the lunchroom tables will inspire those who see the exhibit.
"This table is going to inspire some people to stop bullying in schools," sixth-grader Azariah Edwards said.
"I think the table we created is going to stop bullying because the table reminds people that we need to step up and do something about [it]," sixth-grader Breanna Ureña said.
Robert E. Simon School art teacher and artist Alix Delinois, known to his middle-schoolers as "Mr. D," said he and his students witnessed the table transform from artwork into a form of activism.
Tables will be on display through Aug. 31 at the following locations:
Brooklyn
Tiger Playground, featuring 53K
Washington Park, featuring Park Slope School 282K
Bronx
Crotona Park, featuring New Venture Academy 219X
Old Fort Four Park, The New School for Leadership and Journalism 244X
Manhattan
Seward Park, featuring University Neighborhood Middle School 332M
Morningside Park, featuring Robert E. Simon School 165M
Queens
Juniper Valley Park, featuring Walter Reed School 9Q
Evergreen Park, featuring Robert E. Peary School 75Q
Staten Island
Snug Harbor Cultural Center, featuring PS/IS 25R
Silver Lake Park, featuring William A. Morris 61R
For more information, visit leapnyc.org or call 212-769-4160.