Related: nymetroparents cover contest, cover contest photo shoot, photoop nyc,




Introducing Emily, the winner of the 2014 NYMetroParents cover contest, and the eight finalists, including Fan Favorites and sisters Milani and Lola! Get to know these cute kids, take a behind-the-scenes peek of the photo shoot at PhotoOp NYC, plus a video that captures the kids' spirit—and cuteness!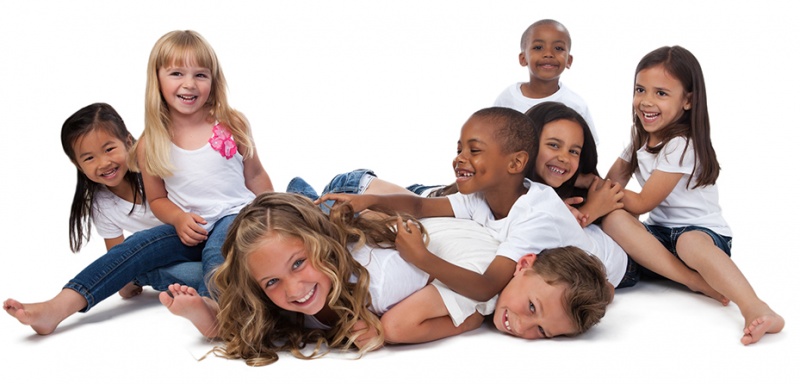 Before changing into their stylish Appaman duds, the kids got to roughhouse a little and muck it up for the camera in their jeans and tees. From left: grand prize winner Emily, Ella, Toni, Blake, Sam (on bottom of pile), Luke (kneeling in back), and fan favorite sisters Milani and Lola. Our September cover boy Alex is absent from the group shot because he got a case of nerves that had him clinging to mom and dad in an adjacent room; fortunately for us, he got over his shyness for the few minutes it took to capture him reading—and sharing that precious smile!

Though NYMetroParents doesn't let out for the summer like schools do, we got to take what could be considered a 'vacation' day during our 2014 Kids' Cover Contest photo shoot—spending the afternoon with the nine contest finalists at PhotoOp NYC's welcoming Upper East Side studio in Manhattan, after all, was about as fun as it gets on a work day!
Our editors had a wonderful time looking through the more than 1,000 submissions entered during the six weeks the contest ran (sheesh, all you readers have such adorable kids!). Bronx sisters Lola and Milani ran away with the Fan Favorite positions with more than 1,000 combined votes, and our editors took on the extremely challenging task of picking seven more cuties to complete our local lineup.
We're proud to introduce you to finalists from across the New York metro area (our pick from Brooklyn was unable to make it because she was days away from becoming a big sister—congrats!). The kids became fast pals, and the PhotoOp NYC photographers kept them entertained with their inner-child inspired antics—the word "boogers" was uttered more than once—resulting in raucous laughter and the most genuine of smiles.
Grand Prize winner Emily of Queens won us over with her charming smile and bubbly personality; she received a Sony Cyber-shot DSC-RX100 Digital Camera courtesy of B&H Photo Video. Each finalist was given a gift card to our sponsor Appaman and an 8-by-10-inch retouched photo from PhotoOp NYC. In between takes, the children were able to replenish their energy with healthy grab-n-go lunch box meals provided by Westside Market NYC.
Thank you to all of our sponsors, everyone who entered and voted, and especially, to all the incredible kids!



Now, a little more about the NYMetroParents Cover Contest winner and finalists!
Emily W.

Birthday: Sept. 28
Age: Almost 5
Lives: Queens
Loves: In between making silly faces Emily let slip that her favorite thing to do is "to make up songs." Alas, she doesn't take requests.
Fan Club: "Emily loves to be a goofball," mom Mirlene says. She clearly enjoys making people laugh—and her laugh is contagious! One of mom's favorite traits? Emily's


"bubbly personality."


Outfit: Queen B sweater, $62; pants, similar style available online; appaman.com
Fan Favorites!


Milani L. (Left)

Birthday: Aug. 4
Age: Just turned 7
Lives: The Bronx
Loves: "I like to paint my nails because it feels nice and grown-up," says Milani, who often refers to herself as a "big girl." She prefers science because she gets to "do fun stuff" in class, and "I like doing my hair a lot, too," she says.
Outfit: Sparkle dress, $75; appaman.com


Lola L. (Right)

Birthday: April 2
Age: 5
Lives: The Bronx
Loves: "I like to play in the sprinklers 'cause it's fun, and I like to play with my dog because she's funny," Lola says. She's also really excited about learning to read when she starts kindergarten this fall!
Outfit: Willow ruffle hoodie, $66; appaman.com
Fan Club: "What I like best about each of my daughters is how different they are, but how evident the love is that they have for one another and how well they get along," says mom Melissa. "Milani is very independent, mature for her age—a girly girl to the umpteenth power and everything I hoped for when I found out I was having a girl. Lola is my spunky, sassy, and extremely funny girl and a constant reminder of my father who passed away. She can be a girly girl at times, but she's definitely okay with playing with dirt, Matchbox cars, and doing all the things that a boy would do—which my husband definitely loves."


Luke B.

Birthday: May 13
Age: 5
Lives: Nassau County, Long Island
Loves: Luke is a basketball fanatic. "He dribbles the ball all the time practicing his in-and-out crossover," his mom Kesh reveals. Luke says he hopes to one day be the best in the world, even "better than Michael Jordan."
Fan Club: "Luke has the most outgoing and inquisitive personality a little boy can have," Kesh says. "He carries a long conversation with anyone he meets once he warms up to them. He is really a young little man in his own right."
Outfit: 2-Piece Mod suit, $150; Standard red-check shirt, $51; appaman.com
Sammy S.

Birthday: Nov. 12
Age: Almost 8
Lives: Fairfield County, CT
Loves: "Gym!" enthuses Sammy. "I like sports and we play sports all the time in gym." His favorite? Soccer, definitively.
Fan Club: "He's really a kind kid. He thinks about other people first," dotes mom Brittany. "And he's really funny," dad Rob adds.
Outfit: Hockey jersey, $40; skinny cords, $51; appaman.com
Toni O.

Birthday: Aug. 5
Age: Just turned 9
Lives: Rockland County
Loves: From ice-skating to soccer to playing on the swings, Toni says she's an outdoorsy kind of girl. She's also an excellent speller.
Fan Club: "Toni's very outgoing," says mom Gina. "She's a lot of fun, creative, and artsy. She's just the best."
Outfit: Ellie pants, $53; infinity scarf, $26; sweater, similar styles available online; appaman.com
Alex D.

Birthday: March 4
Age: 3
Lives: Westchester County
Loves: Trains! "I like to play with my engines," Alex says. "My favorites are Thomas and Spencer! I like to ride my tricycle, too."
Fan Club: "Alex is super-sweet and affectionate and very expressive. He always keeps us guessing...who knows what he will do or say next!" says mom Jessica. "He loves learning new things and being read to."
Outfit: Long-sleeve graphic tee, $38; appaman.com
Ella C.

Birthday: Aug. 11
Age: Just turned 5
Lives: Suffolk County, Long Island
Loves: Her Lalaloopsy doll and her little brother, A.J., 3 (not necessarily in that order, of course).
Fan Club: Mom Amanda says apart from Ella's tiny voice, she loves her daughter's sense of independence. "She's a strong, independent girl and I think she's going to be a strong, independent woman." Dad keeps it simple, saying he loves her little laugh.
Outfit: Tillary sweater, $60; appaman.com
Blake N.

Birthday: Feb. 16
Age: 6½
Lives: Manhattan
Loves: He's not a fan of sitting still, but he loves Spider-Man, building with Legos, dancing, and soccer.
Fan Club: "Blake is a smart, energetic, outgoing, and fantastic boy who is loving and caring," says proud mom Nina.
Outfit: Flannel shirt, $53; pants and long-sleeve T-shirt, similar styles available online; appaman.com
---
Get Your FREE Indoor Activity eGuide!
---
More NYMP News (not region specific) Articles
Holiday Fashions for Boys and Girls
Indulge in Gift-Giving Instincts Without Spoiling You Kids
Holiday Gifts That Keep Giving
Three Games That Encourage Kindness
5 Negative Traits That Will Benefit Your Tween in the Future

Be a good fellow parent and share this with a friend who would be interested
Local NYMP News (not region specific) Sponsors
See Our NYMP News (not region specific) Directory