Python Printable Games, an online game resource, offers party games that are perfect for last-minute birthday party entertainment ideas.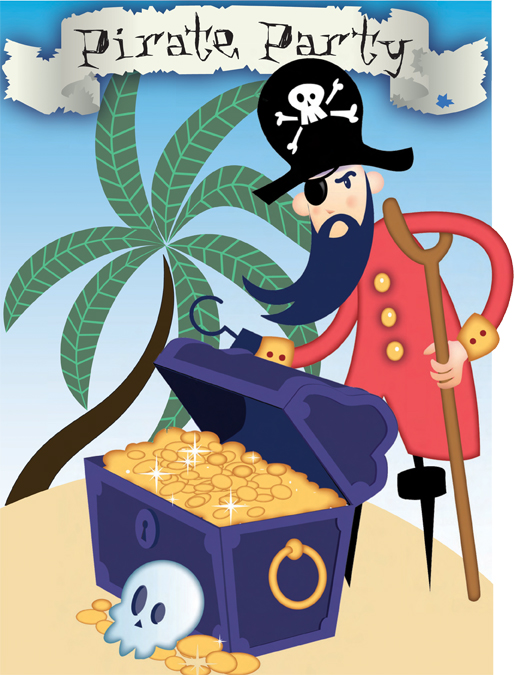 Birthday Booty ›› Python Printable Games has a variety of themed party games, from luaus and barbecues to baby shower and Thanksgiving activities. Its birthday-themed games, including "Decorating Cupcakes Chaos" and "Pin a Head on the Monster," are sure to be hits at your celebration. But shiver me timbers! The pirate party games pack is a treasure chest of entertainment.
The game pack includes 13 pirate activities, including a balloon craft, a pirate language game, pin the parrot on the pirate, a nature scavenger hunt, and treasure map templates, as well as a few games to keep adults at the party entertained, plus two bonus exclusives: a pirate poster and placemats ($14.95).
If you're looking for one or two supplemental games for your little matey's party, Python sells 11 of the pirate games individually, including treasure maps, a balloon craft, jokes, and "Pin the Parrot on the Pirate" ($3.95-$6.95).
Once you buy the games, they're instantly emailed to you—great if you're in need of a few more activities at the last minute. Simply print the games at home or a local office supply store. You keep the games forever and can reuse and print as many or as often as you like.
For pirate party planning inspiration, including grub recipes, decorations, and outfitting the little mateys, visit nymetroparents.com/pirate-party.
Happy NOVEMBER Birthday to…

Cookie Monster (Nov. 2) … Hugo director Martin Scorsese (Nov. 17) … Mickey Mouse (Nov. 18) … Franklin Pierce, the 14th president of the U.S. (Nov. 23) … C.S. Lewis, author of The Chronicles of Narnia (Nov. 29) ... Samuel Clemens aka Mark Twain, author of The Adventures of Huckleberry Finn (Nov. 30)
Your Party Planner
Search our extensive directory of resources including party places, entertainment, and more.
Get ideas: We've got cupcake decorating tips, how to host a charitable party, new birthday traditions to start, and so much more.