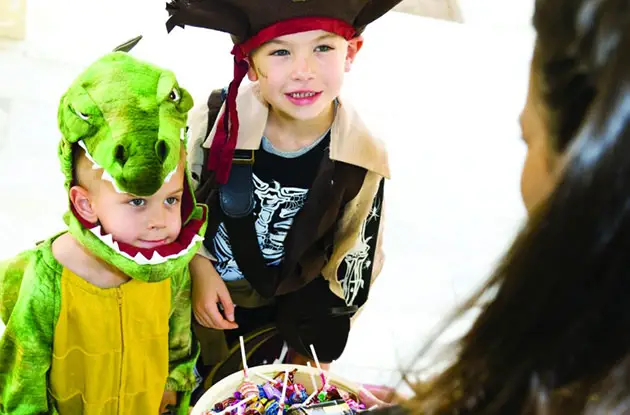 Maybe Just a Treat
Get kid-friendly activities sent to you!
Get the Best Kid-Friendly Activities
Sent to You Weekly!
3. Teach empathy. When you get to a dark house or unresponsive door bell, don't permit the kids in your group to speak negatively about the people that might be behind the door. Instead, explain that there are many reasons someone may not open their door. Perhaps they are ill, can't afford to purchase candy to give away, or they have to work. Your goal is to teach your child to have empathy rather than anger.
4. Teach satisfaction. When you return home with goodies, your child may complain that she did not get as much candy as she wanted, or the selection she had hoped for. This is a perfect time to help her focus on learning to feel content with what she did receive. Try not to become frustrated or angry about her lack of appreciation. Instead, talk to her about how lucky she is to have the opportunity to dress up and go trick or treating. Remind her that not every child gets to go and that she is very, very fortunate. Most importantly, resist the urge to 'rescue' your child by offering to trade her 'bad' candy for something she would like; instead, suggest that she keep what she likes and give away the rest.
Remember that the goal is to teach your child to be satisfied with and appreciative of what she has, to not demand more; and to appreciate others, not resent them, if they don't meet her desires immediately—or ever. Happy Halloween!

Dr. Susan Bartell is a Long Island-based, nationally recognized child psychologist, speaker, and award-winning author. Her latest book is The Top 50 Questions Kids Ask. Read more of Dr. Bartell's advice at nymetroparents.com/bartell.
Here at NYMetroParents, we've got everything you need to have a safe, fun, and festive fall and Halloween season. Whether it is pumpkin or apple picking, getting lost in a corn maze, making Halloween crafts or finding costumes and decorations, we're here to help.