Sesame Street characters including Elmo, Big Bird, and Abby Cadabby help kids understand divorce through new videos, stories, and multimedia resources in Sesame Workshop's Little Children, Big Challenges: Divorce.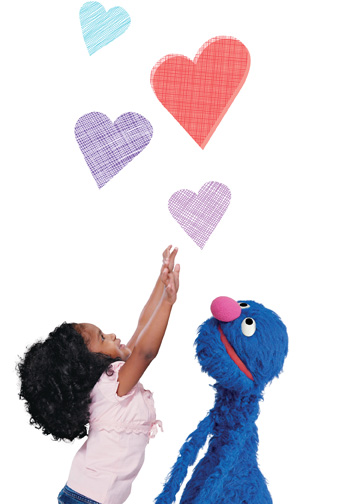 While 40 percent of families experience divorce, there are few resources to show children they are not the only ones with big questions and feelings about divorce. In response, Sesame Workshop has launched Little Children, Big Challenges: Divorce, a series of free multi-media resources, to support families through this transition, which can be very difficult for young children.
These new materials are a continuation of Sesame Workshop's award-winning Military Families Initiative launched in 2006 that provides resources and emotional support to military families with children ages 2-8 who are coping with challenging transitions in their lives.
This new outreach initiative began with a thorough research process, which included consulting with an advisory board of key experts in child development, early childhood, and mental health fields to guide and shape key content messages. Sesame Workshop conducted focus groups with parents and service providers to ensure that all of the resources effectively meet the needs of children and families.
Sesame Workshop created Little Children, Big Challenges: Divorce, in order to:
- Provide tools and language to help young children (ages 2–8) cope with and understand divorce at an age-appropriate level
- Aid families in communicating and expressing feelings around divorce
- Reassure children that they will be cared for, and that—together with their families—they can learn ways to adjust to their new life and have hope for the future
"During difficult times, it's vitally important that children feel supported and develop coping skills that will help them throughout their entire lives," says H. Melvin Ming, president and CEO of Sesame Workshop.
Little Children, Big Challenges: Divorce includes:

- A new Sesame Street DVD, featuring the Muppets and real families, that highlights strategies around expressing emotions and how to talk to children about divorce

- A Parent/Caregiver Guide providing helpful resources, language, and advice for discussing divorce with children and helping them navigate changes

- A Children's Storybook, Two-Hug Day, about a young boy named Niko who is transitioning between his parents' two homes

- An online toolkit at sesamestreet.org/divorce providing access to all project resources, as well as additional online-only materials:
- An Extended Family & Friends tip sheet

- Webinars and online discussion sessions for service providers and families

- A Facebook page called Sesame Street in Communities

- A mobile app: Sesame Street: Divorce, featuring resources for parents and caregivers
"With the frequency of children experiencing divorce and/or separation today, it is critical to help children understand that the feelings or questions they may have are typical and should be discussed with a parent or caregiver," says Dr. Jeanette Betancourt, senior vice president of outreach and educational practices at Sesame Workshop.
The resource kits will be distributed to military and veteran families through partnerships with Military OneSource, Department of Veterans Affairs, The USO, and The Military Child Education Coalition. These resources are also being distributed to families in the general public through national partnerships with organizations such the Association of Family and Conciliation Courts and the National Council of Juvenile and Family Court Judges. On a local level, distribution will reach children and their families through faith-based programs, school and after-school programs, counseling and mental health services, parenting programs, and child care systems. Military families can contact Military OneSource directly at militaryonesource.mil to request a kit.