Is your Sleeping Beauty requesting a slumber party for her birthday party? We've got some sleepover tips, slumber party activities, and the perfect summer pajamas to make her birthday a success.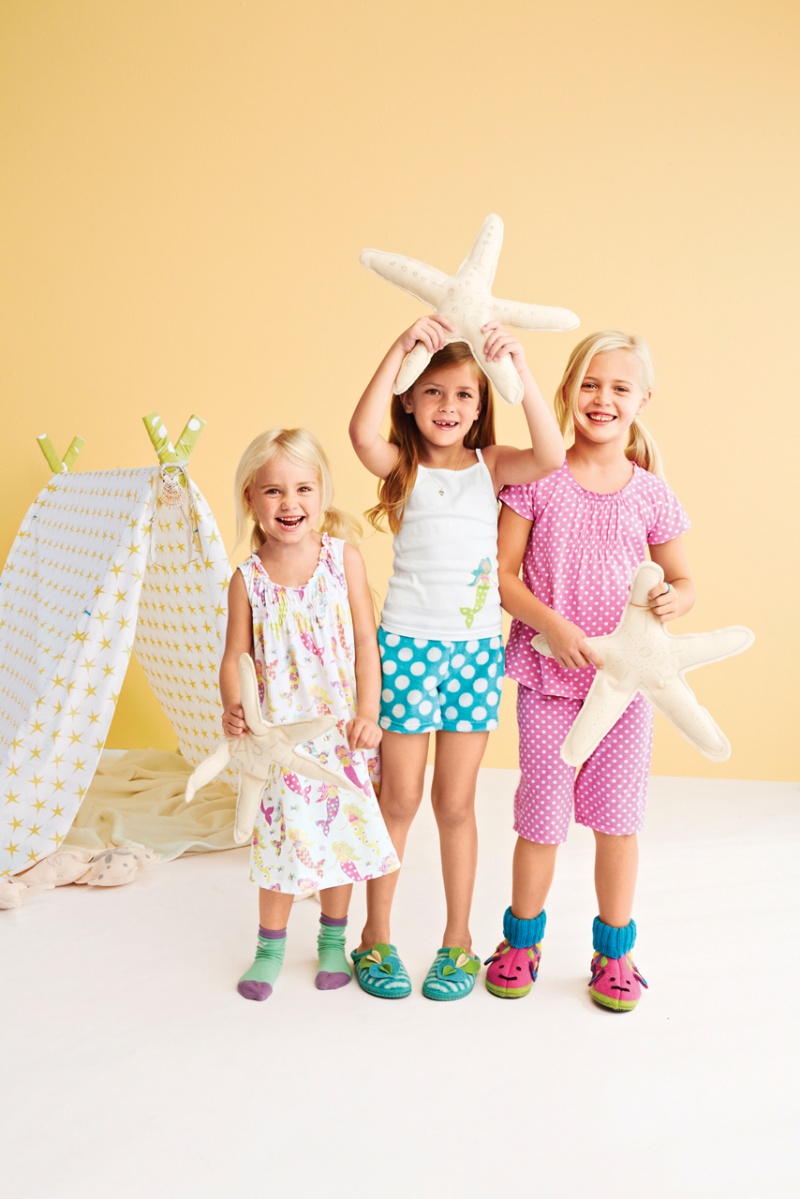 Pajama Party! These lightweight, colorful pajamas from Garnet Hill Kids are perfect for summer slumber. All made of cozy fleece or eco-friendly cotton, these coordinating pieces in polka dot, mermaid, flower, and bunny prints can be mixed and matched to add a little flair to a birthday sleepover, whether it's in a blanket-and-pillow fort in the living room or in a tent in the yard. (garnethill.com; $16-$48)
Is your birthday girl dreaming of a slumber party? Check out Birthday in a Box for some great tips and ideas to plan and host the "not-much-sleep"over bash. From invitations—if you're up to a crafty challenge, print the party details on a clean, white pillowcase, let the birthday girl decorate it, and mail it to the guest—to decorations (hang white twinkle lights and provide plenty of blankets, sleeping bags, and pillows for lounging), movies (think G and PG rated films like High School Musical, The Princess Diaries, and Sisterhood of the Traveling Pants), and what to serve for breakfast (an ultimate waffle bar with fresh fruit, chocolate chips, and whipped topping is sure to be a crowd pleaser), you'll find inspiration to create the perfect celebration for your sleeping beauty.
Birthday in a Box also provides some important party tips: Make a few ground rules and discuss them with your daughter before the guests arrive, gather all families' contact information in case of an emergency, and check with parents for any allergies or medications you may not know about.
For more slumber party ideas from Birthday in a Box, including party favors, activities, and supplies, visit birthdayinabox.com.
Happy JUNE Birthday to…

Sesame Street's Oscar the Grouch (June 1) … the voice of animated Tinker Bell Mae Whitman (June 9) …
Sasha Obama (June 10) ... Anne Frank (June 12) … Garfield (June 19) … U.S. Olympic swimmer Michael Phelps (June 30)
Your Party Planner
Search our extensive directory of resources including party places, entertainment, and more.
Get ideas: We've got fun party activity ideas, tips (like planning the perfect birthday bash), how to take the best pictures of your kids, and so much more.