Are you looking to save money for your child's future? TrustEgg, a trust account that is released to the child on his or her 18th birthday, is a great birthday gift that family and friends can participate in, too.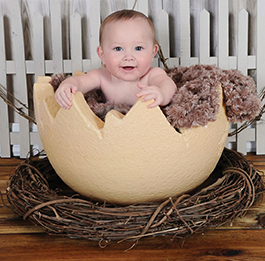 Build a Nest Egg ›› When his niece was born in 2005, Jeff Brice wanted an easy way to begin saving for her future in which the whole family could contribute. At the time, there weren't any options that fit the bill, so Brice, who was an accountant, came up with the idea for TrustEgg, a simple way for families to save for a child's future.
A TrustEgg account is a Uniform Transfer to Minors Act, where, once the money is deposited, it is protected from everyone until the child turns 18. "Parents and creditors can't get to it, and it's an actual trust," says Brice, who is the founder and CEO of TrustEgg. "When the child turns 18, they get this money without having to worry about someone else taking it along the way."
Parents can open a TrustEgg fund in a few minutes online—there is no need to go to the bank or fill out lengthy paperwork—for free, and there is no minimum for opening an account. "We want to make sure no one is turned away," Brice says. "You can open up an account and put in zero."
It's also easy for family and friends to contribute. For birthdays and other special occasions, parents can send an invitation and family and friends can deposit money directly (no contribution minimums) rather than buying toys and clothes the child will soon outgrow. One unique feature befitting birthday giving: Contributors can leave a personalized note that's saved for the child to read when he or she turns 18—think time capsule-cum-savings account. Unlike a 529 College Savings Plan (which can only be used to fund education), the money in TrustEgg can go toward college expenses, a car, making a down payment on a house—anything your grown child dreams of. What better gift than investing in a child's future?
Happy DECEMBER Birthday to…

Walt Disney (Dec. 5)… Hagrid, Harry Potter (Dec. 6) …
Kiara Muhammad, the voice of Doc McStuffins (Dec. 16) …
U.S. Olympic gold medal gymnast Gabby Douglas (Dec. 31) ... He-Who-Must-Not-Be-Named (Voldemort),
Harry Potter (Dec. 31)
Your Party Planner
Search our extensive directory of resources including party places, entertainment, and more.
Get ideas: We've got tips for decorating train and butterfly cupcakes, party planning ideas, how to deal with a rude guest, and so much more