With a catchy score and colorful characters, 'Wanda's Monster' is a book-turned-musical that preaches the importance of being open to new things -- even things that go bump in the night. Our theater editor reviews the show, playing at NYC's Dimson Theatre.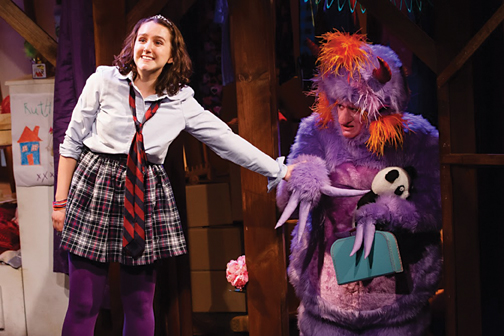 For a kids' show aimed at the 3-7 crowd, the ability to enchant grownups as much as its core demographic generally lands somewhere between "I don't think so" and "No way." Nevertheless, I've discovered a very cool exception to the rule: a savvy little musical called Wanda's Monster in which "mission impossible" happily translates to "mission accomplished" thanks to a rocking score, terrific performances, and a script that refuses to talk down to the audience.
Enter Monster
Rather than launch into the "play proper," this musical about acceptance, confronting fears, and making friends kicks off with a mini rock concert (featuring Jamie Kolnick and two back-up guitarists) that ratchets up the enthusiasm quotient by getting kids and parents on their feet, singing along and clapping. And there's a nice little twist tucked into this intro: Kolnick plays Wanda's grandmother, who just happens to be a biker chick with a couple of Blues Brother types playing backup in her Greenwich Village "Club Granny." (FYI, for fans of the original award-winning storybook by Eileen Spinelli, the Spandex-clad, leather-jacketed Kolnik is a far cry—and a welcome departure—from the gray-haired, central casting Granny of Nancy Hayashi's illustrations.)
Just as Granny is finishing her set (a bop-along number called "Wanda, Watcha Wanna Do?"), the Monster ambles toward the stage. He moves gingerly, although he can't resist grooving a bit to the music.
More Sendak than Barney, the Monster (James Ortiz) arrives sporting burly purple fur with orange tufts around the horns on his head, long lavender claws, and a seriously bulbous nose. Funny-looking yes, but pretty darn overwhelming for some little ones (the curly-haired 3-year-old next to me promptly buried her face in her mom's lap). Still, most of the kids in the audience were thrilled—pointing, laughing, and loving it when the Monster notices the kids for the first time and reveals himself to be shy and scared of them.
Should you find your little theatergoer to be skittish or even tearful, take comfort in the fact that she'll surely be won over before the show ends. And that's the whole point of the play: overcoming fear of the unknown. It's just a matter of being open to new things—even the things that go bump in the night.
An Unlikely Friendship
But back to the storyline. Once Granny and company exit, the lights come up on Wanda's bedroom and the title character bounds in, fresh from school, as the Monster attempts to hide. Wanda is played by Laura Hankin, a fully grown young actress who is nevertheless totally believable as the 5-year-old she portrays. Whether interacting with her toys or plucking dress-up paraphernalia from her scores of drawers, Wanda comes across as a typical, smart little girl trying to understand all kinds of confusing and frightening things that make childhood so challenging—including monsters, like the one she strongly suspects has taken up residence in her closet.
Not surprisingly, the songs she sings during the show track her concerns and gradual understanding of her not-so-unique situation, starting with fear ("There's a Monster in My Closet") and progressing to rationalization ("Monsters Aren't Real") and finally sympathetic acceptance, taught to her by her insightful Granny ("Monsters Are Shy"). And even though her brother Bobby (Nick Flatto) insists her Monster only exists in her imagination, Wanda slowly initiates a kid-monster détente by slipping the furry galoot little gifts each day—like a stuffed animal to keep him company, a pillow to make him comfortable, and a flashlight so he won't be scared in the dark.
Eventually, of course, the Monster lets down his guard, comes out of the closet, and lets his hair down (so to speak) during the "Monster Boogie," a wild song and dance extravaganza that jettisons kids and adults out of their seats to boogie down with the now ecstatically happy Monster. A Monster who has—tada!—discovered unconditional friendship from a girl who was once so afraid she couldn't fall asleep at night.
Oh the story doesn't end there—but it is where the bittersweet finale begins. I'll leave you and your tiny theatergoers to discover the rest for yourselves.
The Details
What: Wanda's Monster the Musical
Where: The Vineyard's Dimson Theatre, 108 E. 15th St. (just East of Union Square)
When: Through Sept. 8, 2013: Thursday-Friday at 10:30am; Saturday at 10:30am and 2pm; Sundays at 12:30pm and 3pm
Running Time: 60 minutes (no intermission)
Age Range: 3-7
Tickets: $39-$65; premium tickets include a copy of Laurie Berkner's album Rocketship Run, a show poster and front-of-the-line access at the post-show meet-and-greet/photo op.
Exclusive Discount: Use code PPSAVE to get a 25 percent discount on tickets
More Information: 646-601-1406 or wandasmonster.com
FYI & Such
Wanda's Monster marks the first collaboration between critically acclaimed Making Books Sing, the New York-based nonprofit pioneering organization promoting children's literacy and social development through professional theater productions and arts-in-education programs, and Laurie Berkner, the award-winning children's singer/songwriter who penned the show's music and lyrics.
Barbara Zinn Krieger founded Making Books Sing in 1996, during her 22-year tenure as executive director of Manhattan's Tony Award-winning Vineyard Theatre, a labor of love that has resulted in countless theatrical works based on contemporary children's books from diverse cultures. To date, Making Books Sing musical productions have had a significant impact on more than 100,000 school-aged children and their families.
As for Berkner (a.k.a. "the queen of children's music," according to People magazine), her contribution to the young children's music scene has been groundbreaking: She was the first recording artist to perform regularly on Nick Jr. and pops up regularly on the preschool network "Sprout." And in case, as a parent, you're looking for printed-word assurance, the Los Angeles Times has noted: "Laurie Berkner does what Fred Rogers did: respect, validate, and reassure young children."
The Director's Cut
Ever wonder what it would be like to direct a high-energy musical while pregnant? And not just "sort of" pregnant, either. Adrienne Kapstein, the director of Wanda's Monster, doesn't wonder—in fact she could give a seminar on the subject, since she's done it twice.
The musical debuted at the Mint Theater last spring. Kapstein says by the time she began rehearsals, "I was pretty pregnant with my second child." Not that carrying a baby girl stopped the mother of a 5-year old boy from being both active and hands-on as she brought the show to life. "I was jumping up and down a lot," she says, adding that it was fortunate the creative team was able to come up with a set for the rehearsal room. Still, by the time the show transferred to the Vineyard, she was on the cusp of giving birth.
Which she did less than three weeks before the official Vineyard debut. I know this for a fact, because I met baby Dulcie at the theater on opening day. And according to all reports—and audio transmission—she slept through the whole performance.
"Like most New York City women, I felt completely divided between home and work," Kapstein says. But, she admits, having her 5-year-old son—who is smack in the middle of the show's target age range—around during rehearsals was actually helpful. "I'd channel his reactions, watching for what would make him laugh," she says. "Not surprisingly, it was slapstick and physical comedy."