---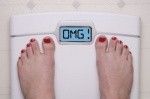 How to Live with Your Post-Baby Body (and Other Tips)
by Helene Byrne - November 04, 2011

It's hard to get back to your old self after you have a baby. Get some healthy tips on how to live with your mommy body and how to fit in fitness and exercise, plus advice on getting back your pre-baby bod.
---
You Stroll Girl! Great News for Stroller Moms
by Helene Byrne - April 11, 2008

The American Council on Exercise (ACE) has just released surprising results from a new study that measured the health benefits of fitness walking with your baby in a stroller. Research concludes that the intensity of the activity is almost double than previously assumed and meets current health guidelines.
---
Make Fitness Happen! 6 Easy Steps for New Moms
by Helene Byrne - December 06, 2006

The most challenging aspect of getting back into shape after pregnancy is not lack of desire, sleep deprivation, or bone-numbing fatigue — it's time.
---