---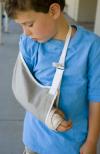 Caution: Children at Play
by Susan Newman, PhD - September 24, 2007

Be it soccer or swimming, tennis or baseball, year-round training or participation on too many teams can lead to burnout and overuse injuries. Both are on the rise, according to the American Academy of Pediatrics.
---
Are You a "Yes" Parent?
by Susan Newman, PhD - October 11, 2006

Admit it: How often do you really say "NO" (and mean it)?
---

Family Overload!
by Susan Newman, PhD - September 23, 2006

Fight the Pressure to Over-Schedule: 10 Tips to Take Back Your Family and kids
---