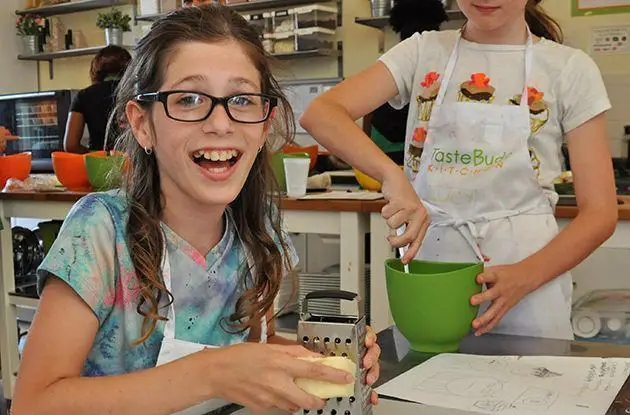 Kids' Cooking Classes in NYC: Kids Take Over the Kitchen!
Want more family activity ideas?
Get things to do with your kids
Delivered right to your inbox
The Creative Kitchen also hosts the annual Kids Food Festival at Bryant Park, a celebration to educate children on how to make balanced food choices through celebrity chef demos, sample mini classes, and entertainment.
For schedules, pricing, and more details, call 718-406-7506, or go to www.thecreativekitchen.com/
Taste Buds Kitchen
109 West 27th Street
Holidays are big deals at this kid-favorite venue all year round. Whether it's Columbus Day: Around the World Italy & France, Halloween Haunted House, or a Parent & Child Gingerbread Decorating Workshop, fall is just the start of the family-centric fun. Other workshops include Frozen's Olaf Cupcake, Super Foodie Semester, and Pinkalicious Cupcake Workshop.
Weekly Saturday morning classes are offered for kids ages 2-6 with a caregiver. They also offer an after-school program.
For schedules, pricing, and more details, call 212-242-2248, or go to tastebudskitchen.com/nyc/
Home Cooking NY
158 Grand Street
A Soho school with six chef-instructors, Home Cooking NY offers a really wide range of courses, from "never boiled an egg" basic to cultural cuisine favorites. Some of the more popular classes include Tasting Tours of NYC, Chinatown, and Farmer's Market. Teens 13 and older are welcome to join any of the adult workshops, including Culinary Boot Camp for Everyone, Six Basic Cooking Techniques, 20 Minute Meals, and How to Cook Fish, among many others. Each two and a half hour class culminates in a full sit-down dinner.
For schedules, pricing, and more details, call 917-803-6857 or go to www.homecookingny.com
Fresh Made NYC
636 Broadway
The curriculum is based on seasonal eating. For example, in the fall, classes focus on using fresh fruits and vegetables that are grown nearby, like apples, pumpkins, sweet potatoes, parsnips, and cranberries.
Classes are broken out by age group, starting with one-hour, with-caregiver options for ages 2-4. Those in the 5-7 and 8-10 groups may be dropped off. Fresh Made also conducts specialty drop-in classes for middle and high school students throughout the school year.
For schedules, pricing, and more details, call 212-475-0500 or go to freshmadenyc.com
Want more content like this? Receive our Scoop packed with great ideas