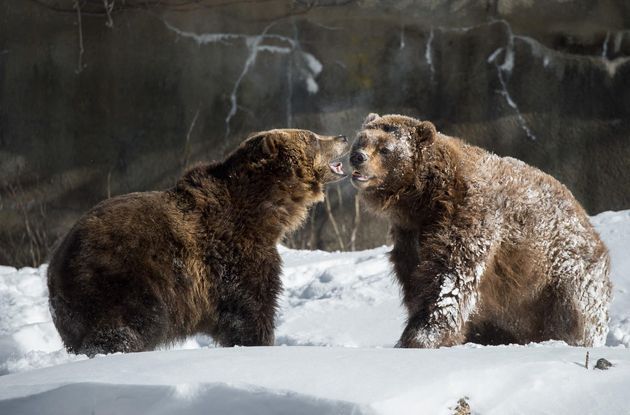 Zoos, Nature Centers, and Botanical Gardens in New Jersey and Staten Island
Don't miss out on family fun ideas!
Get Sanity Saving Ideas & Activities
Delivered right to your inbox
Staten Island Zoo
614 Broadway, West Brighton
718-442-3100
Hours: 10am-4:45pm daily; closed major holidays.
Admission: $10; $7 seniors; $6 children ages 3-14; free for children younger than 3; free for all on Wednesdays after 2pm. Free parking.
The zoo's mission is to instill in visitors, especially children, an understanding and appreciation of living creatures, through programs, camps, and various other events. Visitors can view small mammals, birds, reptiles, amphibians, and tropical fish in the zoo's exhibits. Zoo education programs are available for children of different age groups (see the website for details). All programs include live animal presentations and general admission to the zoo.
The Greenbelt Nature Center
700 Rockland Ave.
718-351-3450
Hours: Greenbelt is open dawn to dusk daily; nature center is open Tuesday-Sunday 10am-5pm (April-October). Carousel, in Willowbrook Pond (2 Eton Place, off Richmond Avenue) operates Friday-Sunday 11am-5:45pm in (May–October), Wednesday-Sunday 11am-5:45pm in June ($2 per ride).
Admission: FREE
The Greenbelt consists of 2,800 acres of woodlands, wetlands, and meadows. It features four major foot trails, each marked on trail maps (available online and at the nature center), and includes three easy-to-moderate trails ranging in length from 3.8 to 8 miles. The nature center offers a variety of environmental education programs, summer camps, and other family-friendly events and programs; see the website for a full calendar of events.
Zoos, Nature Centers, and Botanical Gardens in Fairfield County, CT
Audubon Center of Greenwich
613 Riversville Road, Greenwich
203-869-5272
Hours: Trails open sunrise to sunset daily; visitor center open 10am-5pm daily
Admission: $6; $3 children and seniors
The center's walking trails span 7 miles and 285 acres, past lakes, ponds, and rivers. The center also has bird blinds, which are spots to watch for birds—including the center's many species of hawks—where they can't see you. Visit the Nature Playscape, which is a play area for children made from natural materials.
Bartlett Arboretum
151 Brookdale Road, Stamford
203-322-6971
Hours: Grounds are open dawn to dusk daily. Silver Education Center is open Monday-Friday 9am-4pm.
Admission: Admission is free; donations are appreciated
The arboretum features extensive gardens and a collection of plants and trees, as well as hiking trails in the woodlands nearby. Silver Educational Center houses a horticultural resource library, a gallery featuring a variety of art exhibits, and a plant clinic during the growing season.
Connecticut Audubon Society Nature Center
2325 Burr St., Fairfield
203-259-6305
Hours: Monday-Saturday 10am-3pm
Admission (suggested): $2; $1 children
The birds of prey compound is a viewing area for raptors. The center also includes a sanctuary, wigwam replicas, and hiking trails and is home to animals like snakes, turtles, and millipedes.
Connecticut's Beardsley Zoo
1875 Noble Ave., Bridgeport
203-394-6565
Hours: 9am-4pm daily; closed major holidays
Admission: $15; $12 seniors and children ages 3-11; free for children younger than 3
The zoo includes the New England Farmyard, Wolf Observation Learning Facility, and South American Rainforest exhibits, with more than 300 animals representing mainly North and South America. Plus, keep a lookout for the peacocks wandering about!
Darien Nature Center
120 Brookside Road, Darien
203-655-7459
Hours (summer): Monday-Thursday 9am-2pm; Friday-Saturday 9am-1pm; closed during August
Admission: Minimum $5 donation suggested
The center features a small trail system, ideal for kids; a pond with ducks; and rotating exhibits as well as a permanent exhibit with more than 40 animal species.
Earthplace
10 Woodside Lane, Westport
203-557-4400
Hours: Monday-Saturday 9am-5pm; Sunday 1-4pm; grounds open dawn to dusk daily
Admission: $7; $5 seniors and children younger than 12; free admission to the grounds
With a mission to educate the community about nature and the environment, Earthplace offers 70 acres of wildlife sanctuary, which include hiking trails, an interactive natural history museum with live animals, and public nature programs and events. For kids, there are animal halls with more than 40 live species, a nature-themed playroom, an outdoor birds of prey exhibit, walking trails, and a playground open on the weekends.
Nature Conservancy's Devil's Den Preserve
33 Pent Road, Weston
203-226-4991
Hours: Sunrise to sunset daily
Admission: FREE
The preserve is the largest tract of protected land in Fairfield County. It offers more than 20 miles of trails, acts as a habitat to about 40 bird species, and holds the remains of charcoal and lumber production sites. The area is deeply wooded, with rock formations, streams, and swamps.
New Canaan Nature Center
144 Oenoke Ridge, New Canaan
203-966-9577
Hours: Visitor center and greenhouse: Monday-Saturday 9am-4pm; Birds of Prey, Arboretum, and Gardens: dawn to dusk daily.
Admission: FREE
The center includes 2 miles of hiking trails on the grounds, which include wet and dry meadows, two ponds, wet and dry woodlands, dense thickets, an old orchard, and a cattail marsh. The center also encompasses seven aviaries in its Birds of Prey exhibit, a world of bees exhibit, an arboretum full of native and nonnative trees, several specialty gardens including a Wildflower Garden and The Bird and Butterfly Garden, and a 4,000-square-foot greenhouse featuring exotic species of flora.
Stamford Museum & Nature Center
39 Scofieldtown Road, Stamford
203-322-1646
Hours: Monday-Saturday 9am-5pm; Sunday 11am-5pm
Admission: $10; $8 seniors; $6 students (with ID); $5 children ages 4-17; free for children 3 and younger. Observatory: $5; $3 children.
The center is a New England working farm with heirloom breeds of animals, an otter pond, an observatory with a 22-inch research telescope, changing exhibition galleries, a planetarium, early education classrooms, and a vast hardwood forest with 80 acres of hiking trails.
Woodcock Nature Center
56 Deer Run Road, Wilton
203-762-7280
Hours: Monday-Friday 9:30am-4:30pm; trails open dawn to dusk daily
Admission: FREE
The Center sits on 149 acres with trails, boardwalk trails, a pond, live animals and birds of prey. It offers environmental education programs and summer programs for kids.
Want more content like this? Like us on Facebook!