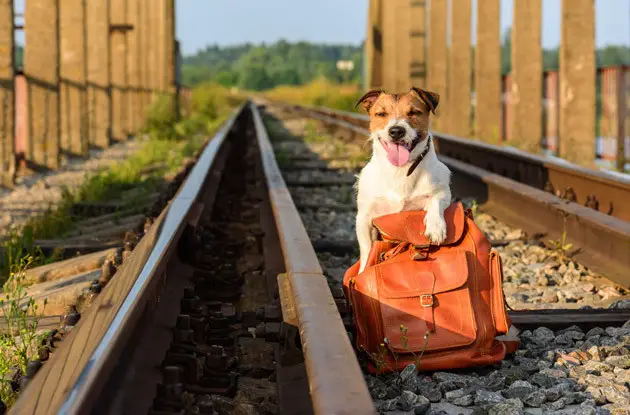 Best Practices for Traveling with Pets
It only takes seven minutes for a pet to overheat and pass away, so it is extremely important to pay attention to the happiness and safety of our pets when traveling.
Get can't-miss family activities sent to you!
Get the Best Family Activities
Sent to You Weekly!
"The soft carrier that may look cool and trendy is not necessarily catered for easy ventilation," said Dr. Bernal. "It only takes seven minutes for a pet to overheat and pass away, so air flow is crucial."
For bigger pets that may not comfortably fit in a crate, Dr. Bernal recommends special harnesses that go into car seatbelts in order to keep the pet stationary but comfortable.
Think before you sedate.
A lot of people think that in order to travel with a pet, you need to sedate him/her in order to relieve anxiety and stress. While there are pets that suffer from panic, car sickness, seizures, and other conditions that may cause restlessness during a trip, dogs and cats are generally more resilient than we realize. Generally, Dr. Bernal does not recommend sedating a pet unless it is absolutely necessary, as it can interfere with some of the key mechanisms that a pet needs to react to certain scenarios. The pet's ability to adjust to changing conditions and react to a possible emergency can be hindered by sedation and, unless there is something strategically wrong with the pet, it is best to stay away from forms of sedation. Your pet will be able to adapt and handle the changing situations, but continuously check to make sure she is okay.
Speak up for your pet.
When traveling with a pet, you are primarily responsible for his happiness and safety. Don't be afraid to ask the flight crew any and all questions about what practices are okay, if there will be enough room at your seat for your pet, if you can take your pet out to comfort him etc. Various airports have green space outside of the terminals that you can utilize to walk your pet around, take him to use the bathroom, or just to give him some fresh air. Exercise the rights you have as a passenger to protect your pet because he is a passenger as well.
"Raise any and all pet concerns when you are on a flight," said Dr. Bernal. "Ask for water, ask for a cold cloth if necessary, and be responsible for your pet and respectful of those around you on the flight who may not be comfortable around your pet."