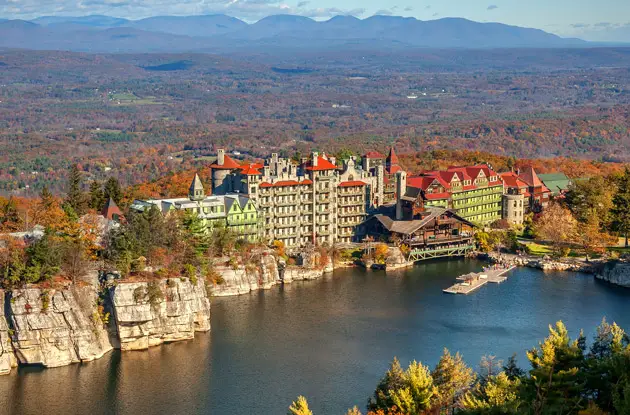 A Family Vacation at Mohonk Mountain House
This legendary resort in New Paltz offers multigenerational fun.
Get can't-miss family activities sent to you!
Get the Best Kid-Friendly Activities
Sent to You Weekly!
Ready to rest? The rooms at Mohonk Mountain House are generously sized, but nothing out of the ordinary. What makes them special are the amenities: Our room had a giant balcony overlooking the lake. The kids' room boasted a fireplace. The bathrooms are large and well-stocked. And the mountain air adds that little touch of fairy dust, which, combined with all that food and all that tomahawk throwing, sends you right off to dreamland.
A few things you should know if you go to Mohonk Mountain House:
Book ahead. Waaaay ahead. While we were checking in, one couple arrived to celebrate their anniversary, and they asked to be switched from a room with twin beds. (I know. Ugh.) Nothing doing; every bed in the place was taken. And, when we say "book ahead," we don't mean only rooms. When we called the week before our trip to make appointments for trail rides through the stables and treatments at the award-winning spa, they were totally booked up. Not a single appointment. Not one.
Bring your dancing (and hiking, and riding) shoes. At night, we particularly enjoyed the square dancing and the cover bands.
Let the little ones run wild. Well, maybe not wild, but one thing that's nice about this place is that you feel safe and secure. The kids can go up to the buffet or to the game room by themselves. You can sit and have another glass of wine. It's all good.
Plan to leave late. Even though checkout is in the morning, you can still use the facilities all day long. Enjoy the pool and the library, pick up some gift shop swag, and put the kids in their PJ's for the ride home. They'll be dreaming of their next trip to Mohonk.

RELATED:
Leaf Peeping: A Fun Family Activity in the Fall
A Family Road Trip to Pennsylvania
Main image: Mohonk Mountain House in New Paltz
Courtesy Mohonk Mountain House