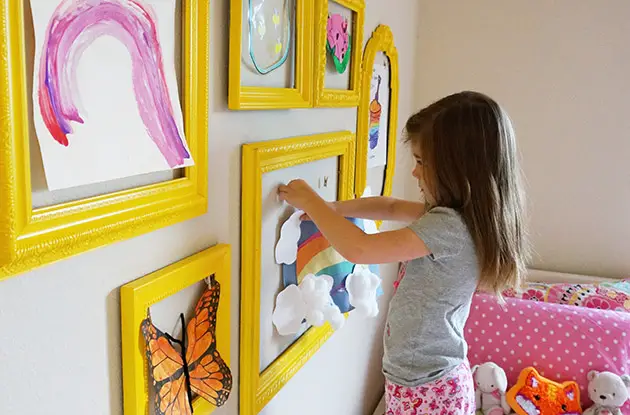 Tips for Storing and Displaying Your Kids' Art
Get family activities sent to you
Get things to do with your kids
Delivered right to your inbox
If throwing your kid's art away just simply isn't your style you always have the option of gifting it to friends or relatives. Sending several pieces to Grandma and Grandpa is a great way free up space in your house, while at the same time deepening their relationship with their grandkids and reminding them just how important they are to your kids.

Turn to Tech
These days, there are tons of ways to store your kids' art and schoolwork on the web. Apps like Keepy allow you to store, save, and even privately share your children's artwork and schoolwork. All the photos you take of your child's work is uploaded to the cloud, which is backed up on Keepy's own server to insure your stuff is always safe.
Similarly, the app Art My Kid Made is like an Instagram for kids' art. Parents take a photograph of the artwork, upload it, tag it, and share. You can also upload to other social networks through the app, and there is even an option to print.

Storage Ideas
After putting pieces on display for a certain period, it might be time to put them away to make room for newer pieces of artwork from the creation machines all children are. Here are some great ways to store your kids' art:
Souvenarte Books will make a coffee table book of your child's art. "It's a great way to honor your child's creations without having to save them all," Lowenheim says.

Snap a photo. Even without a dedicated app, photos of kids' art can be uploaded to the family computer, where they can be viewed at any time or put into a photo album that is easily accessible when you're feeling nostalgic. Or, if you have a digital photo frame, you can display your child's art on rotation.

Make your own storage binder using clear sheet protectors. Much like a photo album, you and your children can go through it together and see their progress through the years.

For larger artwork and projects, Bonnie Dewkett of The Joyful Organizer suggests, "For three-dimensional pieces of art, the easiest thing to do is take a photo of your child with the piece; keep it [the project] for a little while, and then dispose of it. I usually suggest moving it to another area of the house, such as the garage, after a period of time. If it's not missed, you can easily get rid of it."
As much as we want to honor our kids' work by keeping and displaying it, it is also important for children to understand organization and tidiness, and how to know when to keep and when to throw away certain items. Letting your little Picasso curate her own bedroom gallery might have you well on your way to a more organized home.

RELATED:
Get Exciting Area Events in Your Inbox

Main image: A child hangs her artwork in frames her parents have hung on the wall for this purpose.
Heather Bauer, thecaterpillaryears.com

Want more content like this? Receive our Scoop packed with great ideas