Not So Blonde Brownies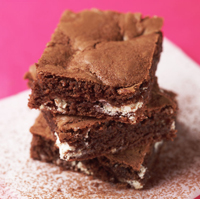 1 ¼ cups unbleached all-purpose flour
¼ cup unsweetened cocoa
½ teaspoon baking soda
¼ teaspoon salt
½ cup (1 stick) butter, softened
½ cup firmly packed dark brown sugar
1 cup granulated sugar
2 teaspoons Nielsen-Massey Madagascar Bourbon Pure Vanilla Extract
3 eggs
½ teaspoon Nielsen-Massey Pure Chocolate Extract
2 tablespoons Kahlúa
1 cup coarsely shopped white chocolate
¾ cup coarsely chopped nuts of choice (optional)
Preheat the oven to 350 degrees. Sift the flour, cocoa, baking soda and salt together. Set aside.
Cream the butter, brown sugar, granulated sugar and vanilla extract in a mixing bowl using an electric mixer on medium speed. Add the eggs one at a time, beating well after each addition. Beat in the chocolate extract and Kahlúa. Add the sifted dry ingredients in two additions, beating well after each addition. Fold in the white chocolate chunks and nuts.
Spray a 9x13-inch baking pan with nonstick cooking spray. Spread the batter over the bottom of the pan with a rubber spatula. Bake for 30 to 35 minutes or until the brownies begin to pull away from the sides of the pan.
Serves 15
Enter today to win a copy of Nielsen-Massey Vanillas "A Century of Flavor" Cookbook!