"This is the only industrial society where there is a growing amount of boys being raised without fathers."
  Dr. Janice Kelly's statement sends a resounding message. Fathers are being "displaced in the family." And it's an issue all parents, especially fathers, should take seriously.   
  "The research clearly shows that if children have no involvement with a male role figure, they are much more likely to get into trouble at school, have sex early, get into drugs, and possibly end up in jail," points out Dr. Kelly, a communications professor at St. John's University and author of the recent dissertation,
A Comparison of Prime-Time Situation Comedy Fathers on Involvement, Communication, and Affection.  
 An academic approach to sitcom dads?  
  Dr. Kelly, married 15 years and mom to a 3-year-old son, says she had been interested in the role fathers play for quite some time. Her interest was finally piqued by a chance encounter on the sidewalks of Manhattan. "I was walking down the street and there was a man with his two sons; he was quoting, word for word, one of the talks Bill Cosby had with the Rudy character in
The Cosby Show
. He was telling them that there were people in the world who aren't the same as mom and dad and would want to hurt them. I thought that it was really interesting that this man was taking TV and making it a sort of parenting guide."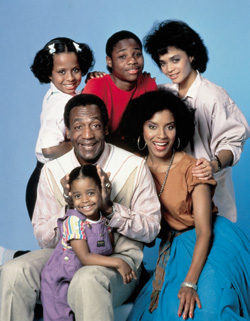 This spurred a fascination with the portrayal of fathers in the media. Dr. Kelly began focusing on family sitcoms like
The Cosby Show, Everybody Loves Raymond
, and yes,
The Simpsons
. The focus of her studies was to determine whether the media produced an image of fathers that was more positive and attractive to kids than what they were actually experiencing at home.  
  To gather her data, Dr. Kelly conducted a study of 200 incoming college freshmen, and found some interesting results. When asked open-ended questions comparing TV fathers to their own, the students rated the sitcom fathers better 62 percent of the time — especially in the areas of support, guidance, and acceptance. One student wrote: "Media fathers are more caring and involved than real fathers. They want to know what's going on from day to day, not just when big things happen." Dr. Kelly also strove to get the most diverse sample possible; her participants were 75 percent white, 21 percent black, 2 percent Latino, and 3 percent 'other'. She found that race, gender, and even religion played a part in responses to media fathers. In general, females responded more favorably to sitcom fathers than males, and Muslim students responded much less favorably to the sitcom dads.   
   According to Dr. Kelly:  "The Muslim subjects still had a very conservative view of what the role of a father should be. They felt that fathers were supposed to teach obedience and communicate morals and values. Because they had a much sterner template for fathers, they didn't for the most part see TV dads in a favorable light."   
   And an Asian American student said he wished his dad was more like the ones he saw on TV: "My dad and I have a linear relationship where parents talk and children listen. My parents don't listen to me," he said.  
  To the credit of real dads, the students recognized that in part it was unfair to compare their fathers to sitcom dads. One saw the media fathers as too perfect, pampering their children too much. Another commented that TV fathers are unrealistic. "The majorities of real fathers I know work hard and rarely have time to spend with their kids," observed one student.    
  This may however, be part of the problem. If fathers don't get home from work until 8pm or later, tired, disgruntled, and in no mood to play, they are sending the message that their children are less important than their jobs. This is almost never the case with sitcom fathers. TV dads are almost always comedians by profession, funny and charismatic; and family sitcoms target the 6- to 14-year-old demographic (which means that kids are often seeing as much or more of sitcom fathers than their own). So is it really a surprise that a child would view Tim-the-Tool-Man-Taylor or Dr. Huxtable as a better dad than their own?     
  Quoted recently in
USA Today
that "fathers in the USA are a lot less supportive and accepting than TV sitcom dads, even falling short of the low bar set by Homer Simpson," Dr. Kelly clarified: "The point I was making was that children like the fact that Homer has decided to largely forfeit Corporate America to be part of his family; that's attractive to young kids. According to my research, time is what kids want. Homer actually is able to be part of the family; not be part of the family on the weekends while checking his email, and his Blackberry, and making calls. Homer is really there for his kids — or he's at least trying to be!"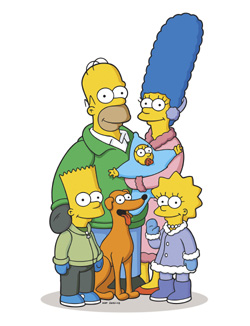 What's the solution in our modern world? No dad wants to hear:  "Daddy, why can't you be more like Homer?" Time is the answer — spend time with your children. Sit down and watch the shows they're watching, and make sure that these shows are teaching them values because it's not just sitcom dads that Dr. Kelly is noticing on TV.  
  "I'm concerned that the image of family is becoming less and less welcoming during prime time, especially the 8:00 hour in network television," she says. It is a sentiment that the Parents Television Council (PTC) echoed in their recent plea to Rupert Murdoch and Fox Broadcasting to "stop airing graphic and grotesque content on Fox Broadcasting channels during hours when children are watching." These admonishments were especially targeted at
Family Guy
and
American Dad
, which air at 8pm and 8:30pm on Sundays.   
  "If working late is an issue," says Dr. Kelly, "get up early on the weekends and make pancakes." The point is, be aware of what your children are watching, because the days of
Leave it to Beaver
are over; and although some TV dads are great, you might not want them to raise your kids for you.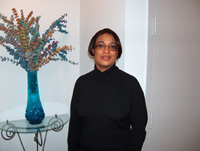 Dad Stats


   Dr. Kelly makes these points:
—"I would like to see a good single father show, where the father has not just comedy but lesson learning dialogue as well…There are approximately 2.1 million single dads in this country, a number that's continuing to grow. We don't see the challenges a lot of parents are facing."
—"Corporate America is not kind to men who want to stay home or work part time to raise their kids… Bill Clinton signed into law The Parent Act, giving fathers leave to help their wives. But according to research, only 2 percent of fathers take any type of maternity leave because they're afraid of losing their job to someone who'll take their position, and that they'll be viewed as not caring about their job, or not having their priorities straight."
The sitcoms they studied
Dr. Kelly's freshmen students watched and commented on these shows:
The Bernie Mac Show
The George Lopez Show
The Simpsons
The Family Guy
Everyone Loves Raymond
My Wife and Kids
Malcolm in the Middle
8 Simple Rules
Life According to Jim
That 70s show
Yes Dear
The Parkers
Life with Bonnie